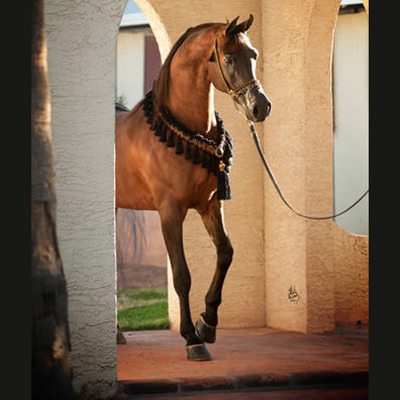 da Valentino . . . Once in a Lifetime
February 28, 2003 ~ April 8, 2011
Now and then, on the rarest of occasion, God sends us the gift of a creature so close to perfection as to challenge our understanding of the natural order. In such Divine bequests we are offered a glimpse of the nobility we admire, the courage we wish to emulate, the heroism for which we hunger. Such a gift was a horse called Valentino.
Through the horse, our Creator gave to humankind a certain liberty, a form of independence that can neither be described nor replicated. And so it is that our passions are ignited by our love affairs with this animal, in a way and to a degree that is without parallel in the human experience.
In greatness, there is hope. And so it is that our spirits yearn toward the exalted, seeking hope made manifest therein.
Valentino was a gift from God that embodied all of these elements. He was a stallion of extraordinary greatness, a creature that represented the liberty we so desire, ignited our passions, and gave us hope.
He was with us for only a brief moment in time. But his great heart will go on, and the memory of what we saw in him will live within us, always.
Although the emotion is certainly the essence of the matter, there are more tangible elements to this story, and a history that is without equal.
Looking back . . . In his time, da Valentino reigned supreme as the unchallenged king of both the Arabian horse show arena and this breed's marketplace. In the show ring, he became the most decorated Arabian halter stallion in breed history. In the market, he held the record sale price for a single horse purchased by an individual buyer in the 21st century. And, even in a distressed economy, millions of dollars have been exchanged for the purchase of his magnificent sons and daughters since the first were born in 2006.
Then there's his unmatched show record
In Valentino's career, he was undefeated in Arabian horse show breeding division competition.
He began his career with Rob Bick at the 2004 Region 12 Championships where he earned the title of Sweepstakes Champion Yearling Colt.
Shortly thereafter, da Valentino was purchased by David Boggs for his long time friends, Dan and Maureen Grossman. Thus began one of those partnerships of man and horse that achieves all that is possible, as it makes history and defies description. In five years of competition, David Boggs and da Valentino performed their dance with destiny, setting a record that could, quite possibly, remain forever unchallenged.
It was said by all who were close to the stallion that Valentino loved to show. All of us who saw him in the ring had to agree. What he attained attests to truth of this assertion.
With David, Valentino was . . .
2004 United States National Champion Sweepstakes Yearling Colt
2006 Canadian National Champion Stallion
2006 United States National Champion Jr. Stallion
2006 United States National Champion Futurity Colt
2007 Scottsdale Champion Stallion
2007 United States National Champion Junior Stallion
2008 Scottsdale Champion Stallion and Supreme Show Champion
2008 United States National Champion Junior Stallion
He leaves us with more than a memory. As of this date, there are 218 da Valentino sons and daughters registered with the Arabian Horse Registry of America. Many of these horses are champions at all levels. Others are taking their places in breeding programs the world over. So, along with his heart, his legacy will live on through the genetic contribution that was his and his alone.
Many of us cried together on the night of his passing. We wept for bright dreams unrealized and for hope dimmed by sorrow. Our tears were for one another, and for those who had loved this horse too dearly. We mourned because we were reminded of our own mortality and that of our own best loved horses. And, in our shared sorrow, we became once more the family we are meant to be.
Now, in the springtime of this year, we look back in gratitude for the glimpse of greatness with which we have been Blessed; and we look forward with hopeful anticipation to all that lies ahead.
Via con Dios, Valentino. You will be missed!
Story by ~ j.l. Hardesty
| | |
| --- | --- |
| Year Foaled | 2003 |
| Gender | Stallion |
| Color | Bay |
| Breeding | Purebred Arabian |