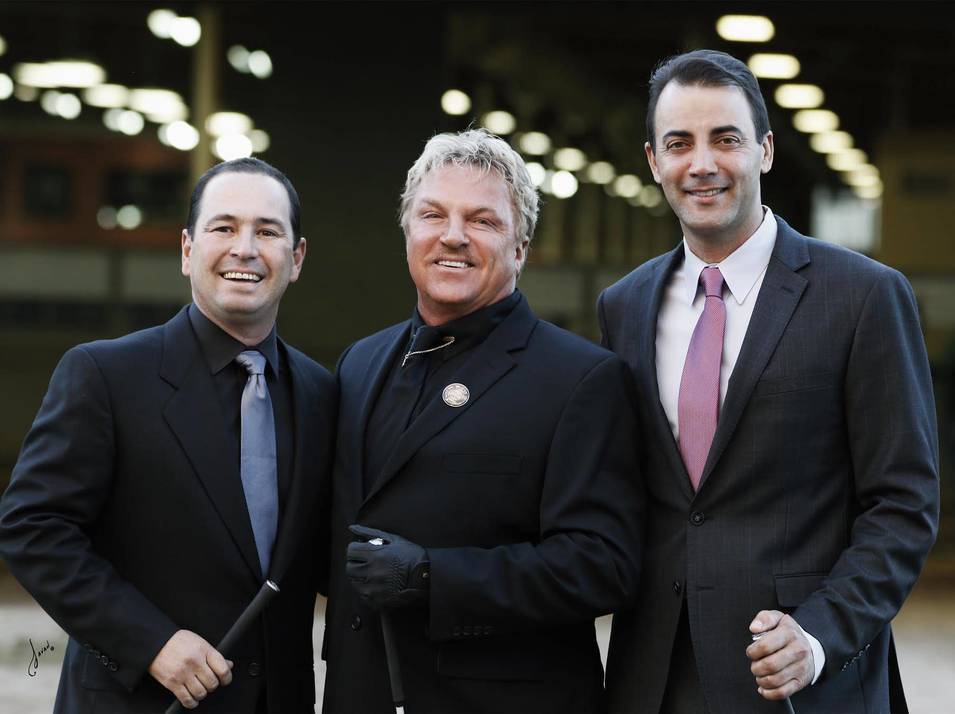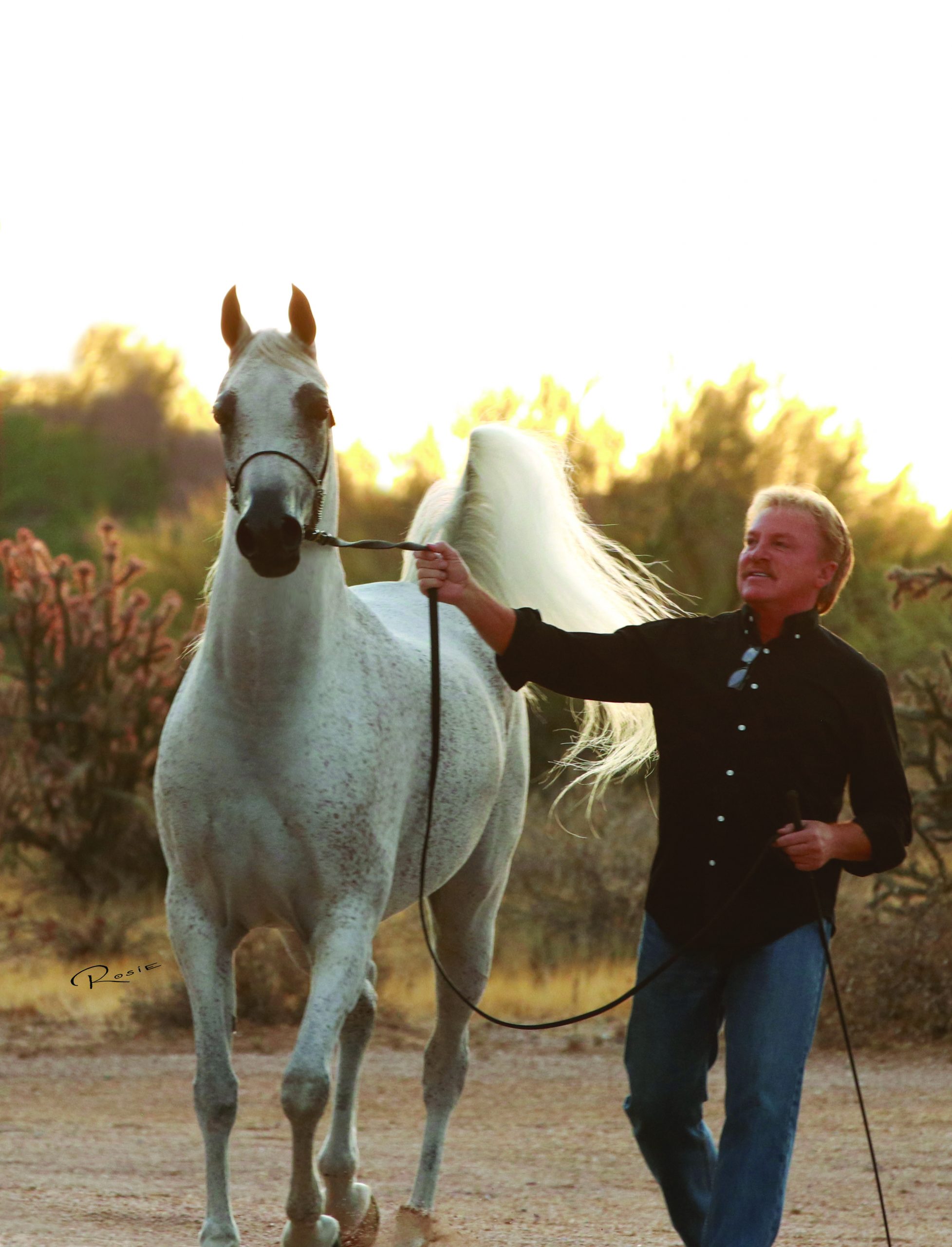 David Boggs
Owner – Founder of Midwest
David Boggs has enjoyed a career in the Arabian business that is really unparalleled. It is a career that he orchestrated himself, on the foundation of the love he has for Arabian horses that was instilled in him from birth by his mother and father. He did it with the support of his close-knit family, many of whom have worked alongside him. He was also blessed with the love and commitment of the friends, employees, and clients that make up Midwest Training and Breeding Stations. Year after year, David has done his part to realize his many successes, but he is also grateful for the help that comes from above. Owners from all over the world have entrusted him with some of the finest Arabian horses ever born. Countless national and international champions have come through his barn. He has met every challenge that has come down over the years, and emerged with flying colors. This year, he faced a different kind of personal challenge, throughout which he has relied on that carefully woven network of support. It is the tapestry of family, faith, and friends, and the magic of the magnificent horses in his care that keep him positive, passionate and moving ever forward.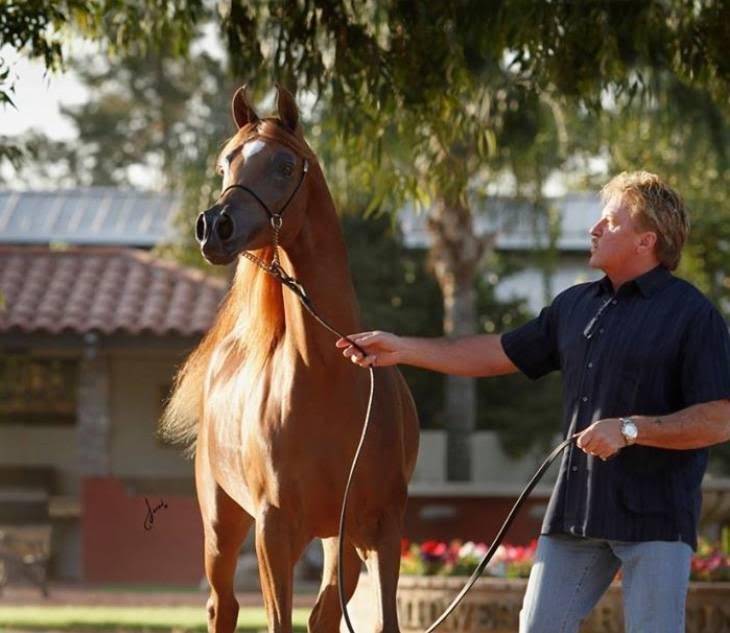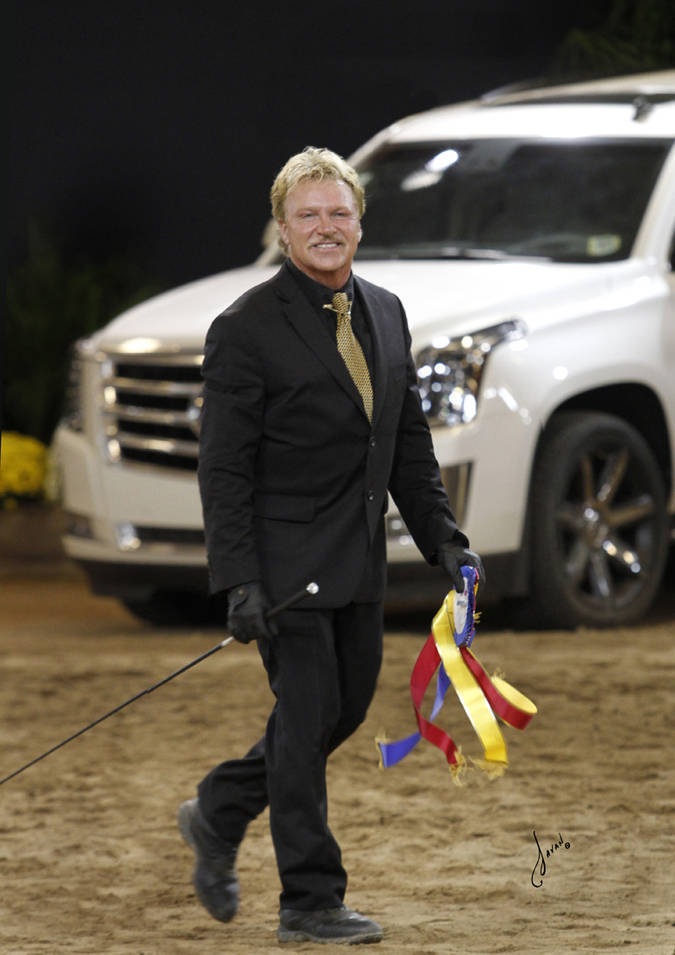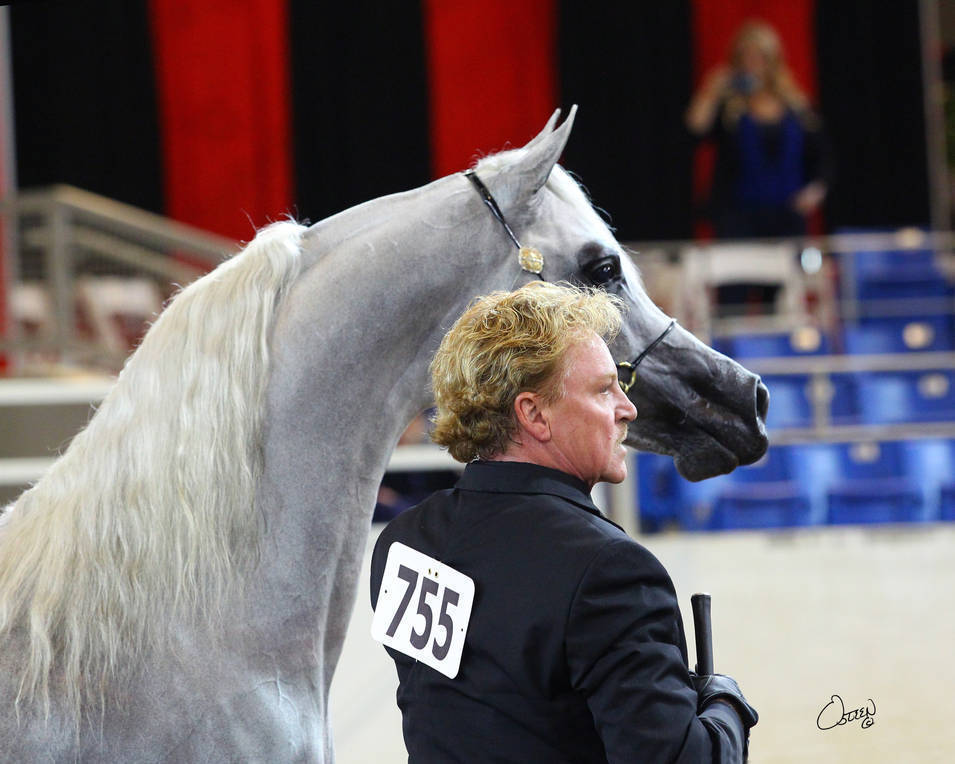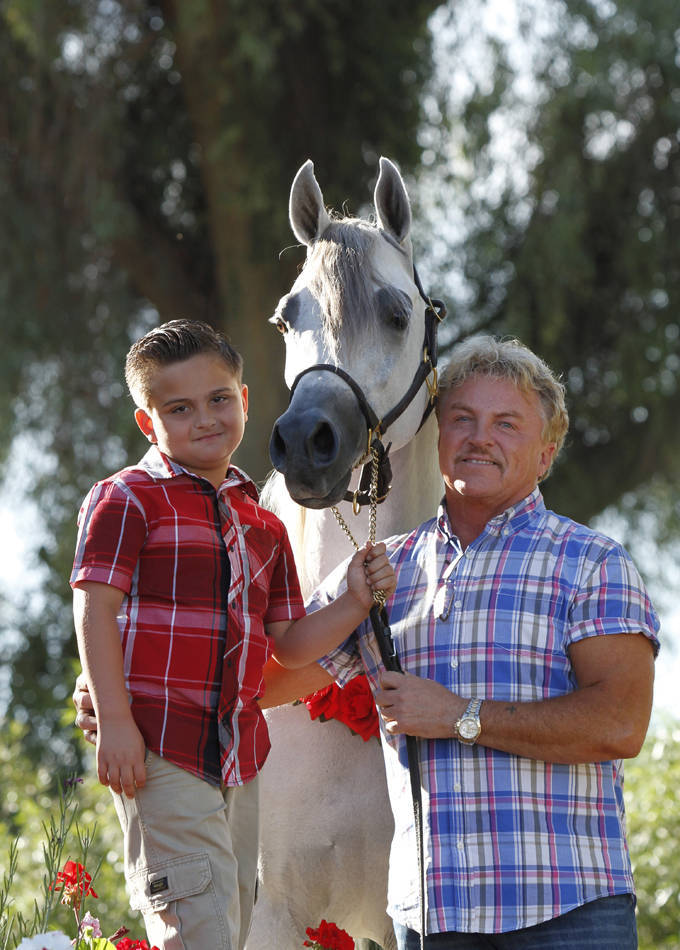 Foremost in David's life are his children. David considers them to be his greatest treasures and his greatest motivation to continue to excel. They are what drive him to be the best that he can be. His twin daughters, Lyndsey and Courtney, are deep into their college careers and have grown into amazing young adults who fill their father's heart with pride. As hard as it was to send his youngest daughter, Emma, off to begin her new life as a college freshman, he looks forward to seeing her explore her future. Jake has begun a new school year in Scottsdale, joining his dad on the horse farm nearly every day, and giving David the supreme pleasure of sharing his passion for horses. The Boggs children are a testament to the man who raised them, and the source of his deepest joy.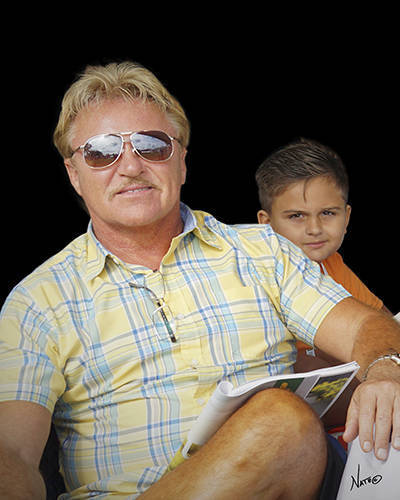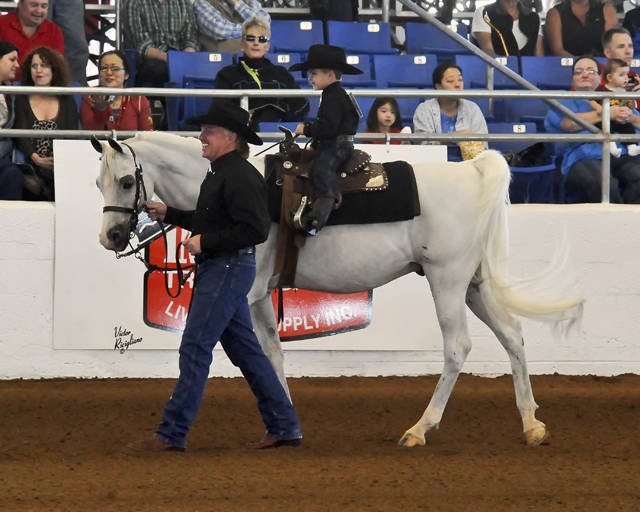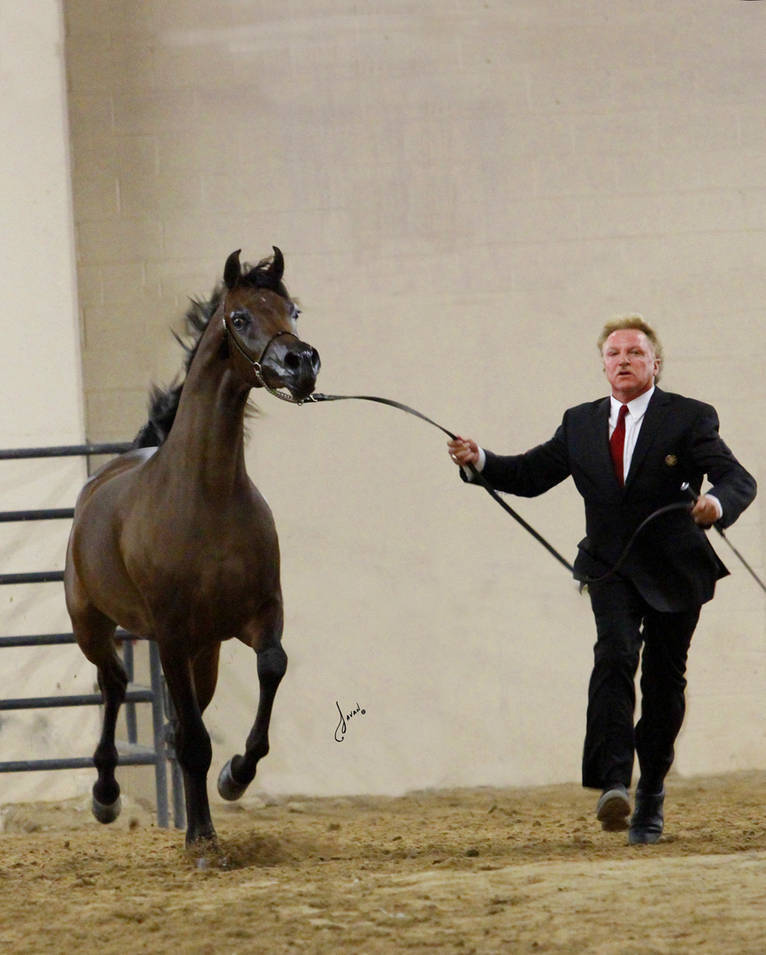 It has been a year of incredible highs for Midwest's stable of amazing clients. While each and every shared victory warms David's heart, there are two relationships that have taken a skyrocketing trajectory, that with Janey Morse of Oak Ridge Arabians, and Al Shaqab – Member of Qatar Foundation. Janey's lease of Wieza Mocy the prior year lit the fuse on an explosive American show career for the Polish Princess. Once settled into the care of David Boggs and the fantastic Team Midwest staff, there was no need for a Gold Rush … David simply presented Wieza Mocy, and the golds quickly found her. What is to be next for David and this once-in-a-lifetime horse? Just close your eyes and visualize this now legendary mare dancing her way through the City of Lights. David and Janey are both greatly looking forward to the return of Janey's beloved Vitorio TO, who has been on lease to Michalów State Stud in Poland. Already the sire of national champions in America, his amazing foals from some of Poland's finest mares are being talked about all over the world. David and Vitorio TO have a special bond that makes his homecoming particularly exciting. It is a connection that comes along rarely, but when it does, it lasts forever. He has nothing but the highest admiration for Vitorio TO and sees endless possibilities for his future.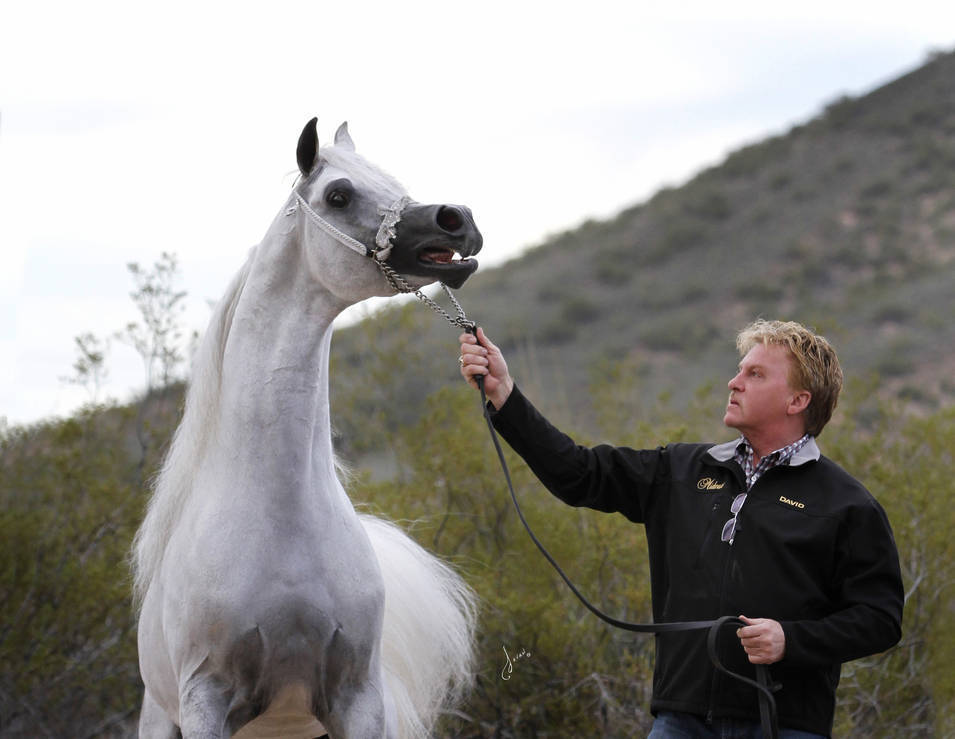 David has also been honored to show the horses of Al Shaqab, particularly the charismatic and undefeated Hariry Al Shaqab, who David describes as, "Six tigers by the tail to show and absolutely a thrill to present." With Hariry's return to Europe, David is elated to have another magnificent Al Shaqab stallion in his care, that being double World Champion Kahil Al Shaqab. Kahil has also served two seasons inside the Polish State Studs, leaving Polish national champion offspring in his wake. David is extremely excited to present Kahil Al Shaqab to the American public in the very near future. These exhilarating wins and testing times have given David a new realization. By looking back at the hurdles he had encountered through the year, through all of the ups and downs, he had always been taken care of … therefore, why would he not always be? David was able to lean into his faith and know that indeed he would be, as indeed he has. For that, he is eternally grateful.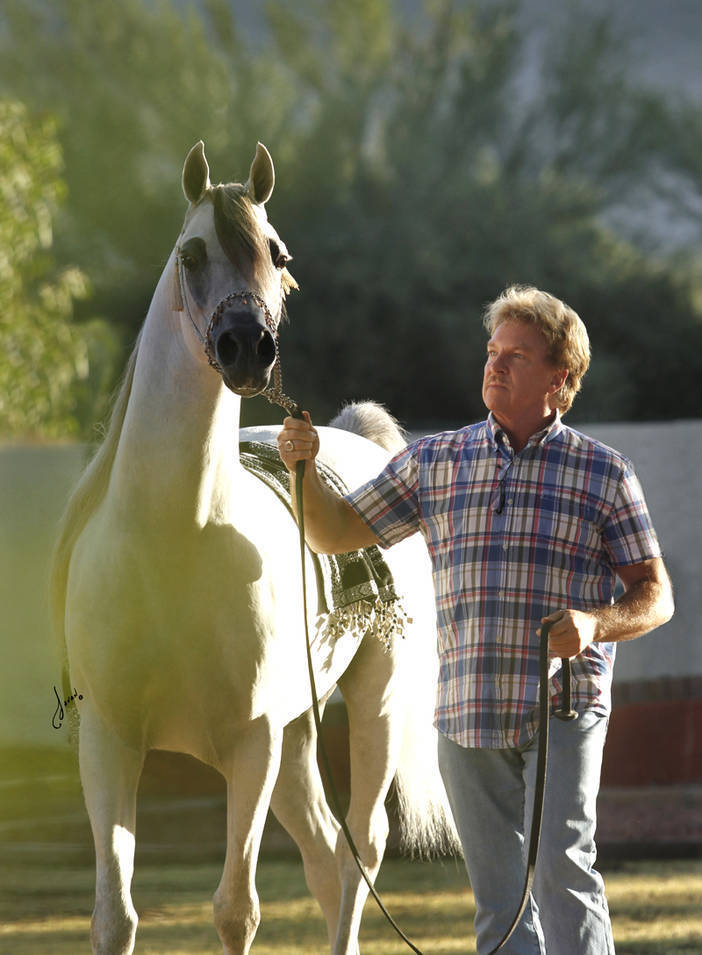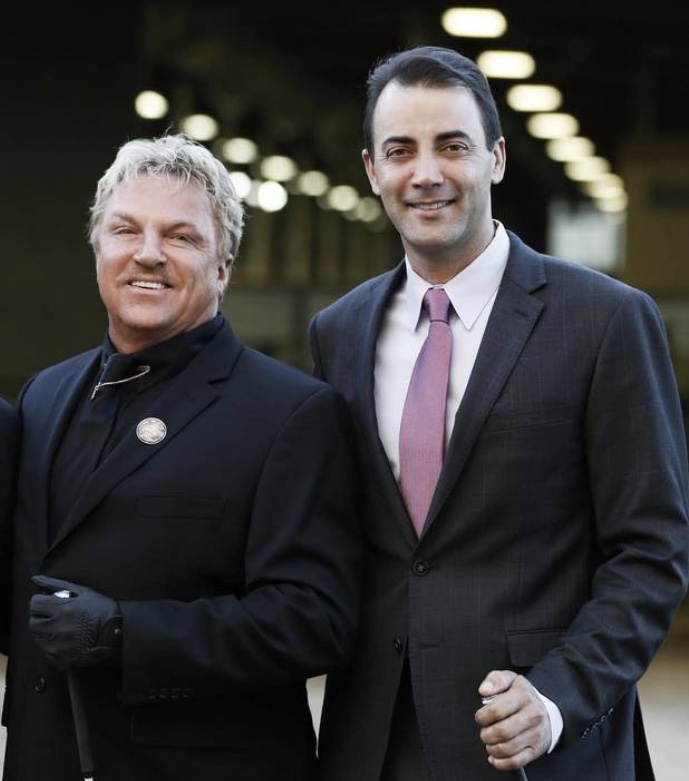 Learn More about David Boggs – Arabian Horse Times – Meet The Personalities
David Boggs – CLICK HERE
---
Dagmar Gordiano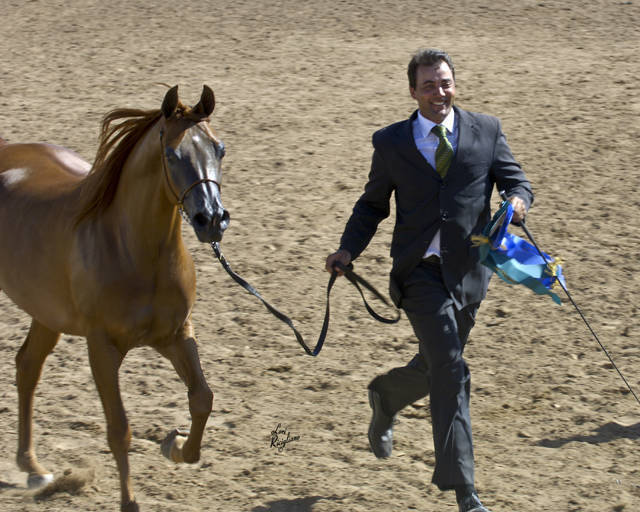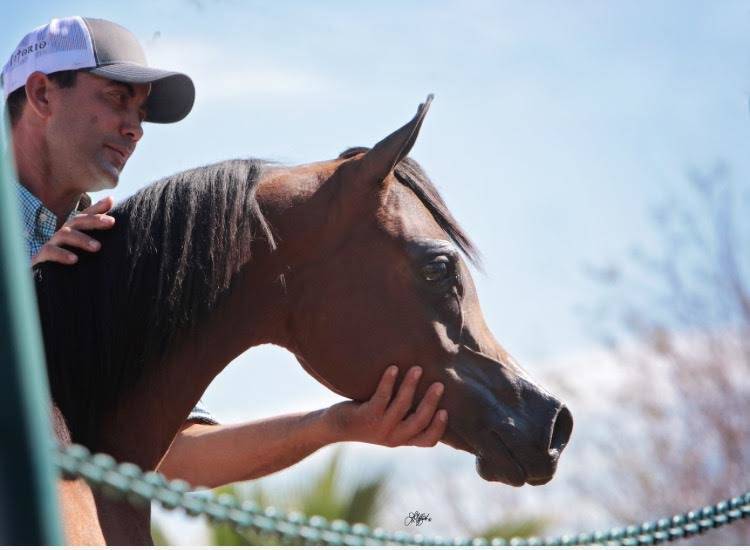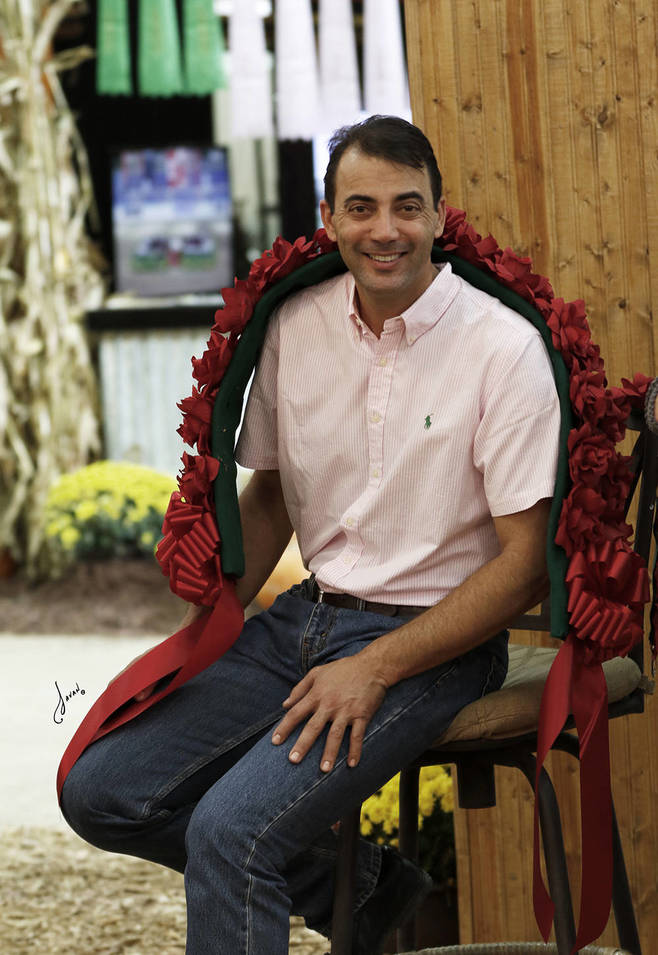 Dagmar Gordiano has the responsibility of assisting David in the training of the horses that come to Midwest. His boyhood dream to come to America to do just that has become a reality, and he has made the most of his opportunity. He appreciates being able to work with horses of the caliber seen at Midwest. A consummate professional, Dagmar is another key to Midwest's continuing success. Hailing from Brazil, Dagmar is an expert showman who takes the lead for Midwest clients in some of the biggest venues on the planet. In 2014, Dagmar and the beautiful Al Saqran Stud mare Luxemere Jizette walked away with the Scottsdale Champion Mare title—a very impressive win in a class stacked with quality. Dagmar has become well known as a handler whose horses are happy and willing to perform, which allows him to consistently lead his charges to victory.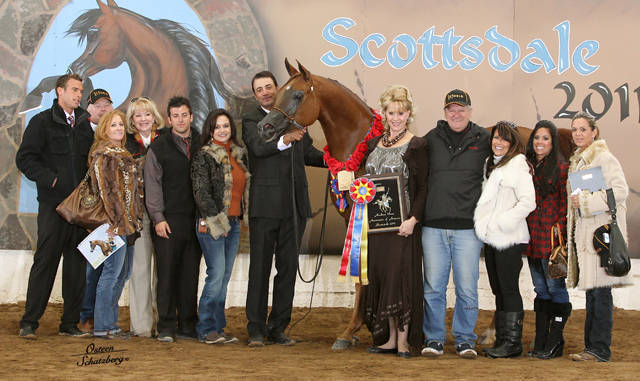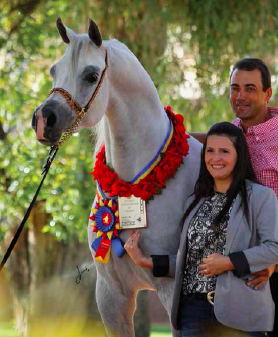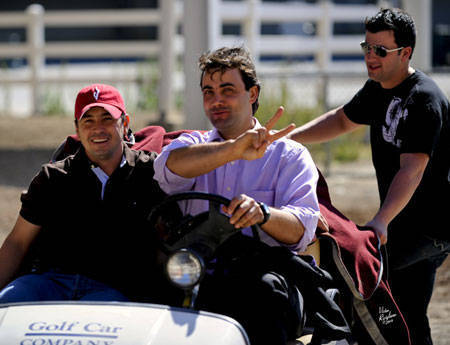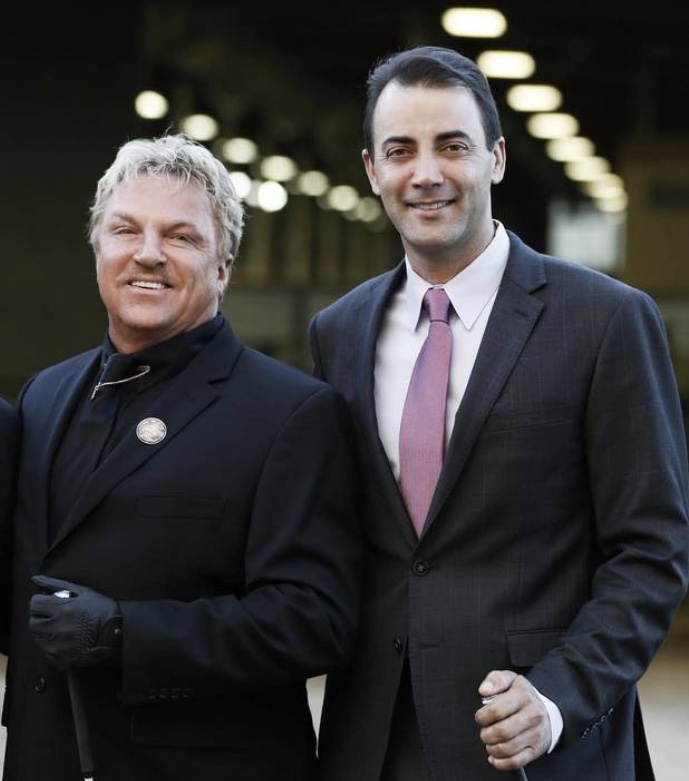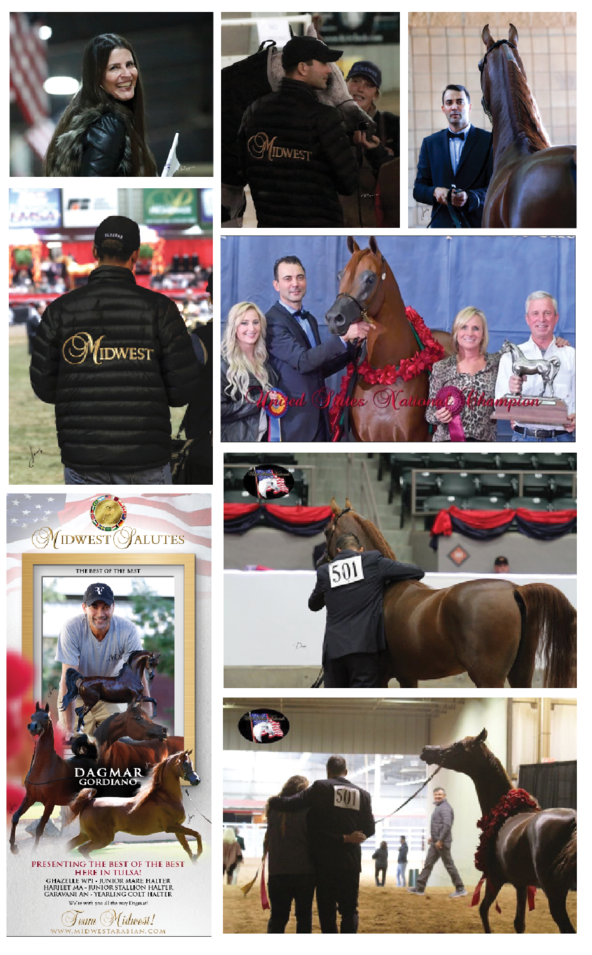 ---
Glossary of Horse Terms
Hock: Financial condition of all horse owners.
Stall: What your rig does at rush hour in an unfamiliar city on the way to a big horse show .
A Bit: What you have left in your pocket after you've been to your favorite tack shop.
Fence: Decorative structure built to provide your horse with something to chew on.
Horse Auction: What you think of having after your horse bucks you off.
Pinto: Green coat pattern found on freshly washed light colored horses left unattended for 2 minutes.
Well Mannered: Hasn't stepped on, bitten, or kicked anyone for a week.
Rasp: Abrasive metal tool used to remove excess skin from ones knuckles.
Lunging: Popular training method in which a horse exercises their owner by spinning them in circles until dizzy.
Gallop: Customary gait a horse chooses when returning back to the barn.
Nicely Started: Lunges, but not enough health insurance to even think about riding him.
Colic: Gastrointestinal result of eating at horse fair food stands.
Colt: What your mare gives you when you want a filly.
Easy to Load: Only takes 3 hours, 4 men, a 50lb bag of oats, and a tractor with loader.
Easy to Catch: In a 10×10 stall.
Easy Rider: Rides good in a trailer; not to be confused with "ride-able".
Endurance Ride: End result when your horse spooks and runs away with you.
Hives: What you get when receive the vet bill for your 6 horses, 3 dogs, 4 cats, and 1 donkey.
Hobbles: Walking gait of a horse owner after their foot has been stepped on by their horse.
Feed: Expensive substance used to manufacture manure.
Dog House: What you are in when you spend too much money on grooming supplies and pretty halters.
Light Cribber: We can't afford to build anymore fencing or box stalls for this buzz saw on four legs.
Three Gaited Horse: A horse that. 1) trips, 2) stumbles, 3) falls.
THE 12 "MOST IMPORTANT" THINGS YOU NEED TO KNOW IF YOU OWN A HORSE….
To induce labor in a mare? Take a nap.
To cure equine constipation? Load them in a clean trailer.
To cure equine insomnia? Take them in a halter class.
To get a horse to stay very calm and laid back? Enter them in a liberty class.
To get a horse to wash their own feet? Clean the water trough and fill it with fresh water.
To get a mare to come in heat? Take her to a show.
To get a mare in foal the first cover? Let the wrong stallion get out of his stall.
To make sure that a mare has that beautiful, perfectly marked foal you always wanted? Sell her before she foals.
To get a show horse to set up perfect and really stretch? Get him out late at night or anytime no one is a round to see him.
To induce a cold snap in the weather? Clip a horse.
To make it rain? Mow a field of hay.
To make a small fortune in the horse business? Start with a large one.
Have A Great Day, Your Friends at Midwest.