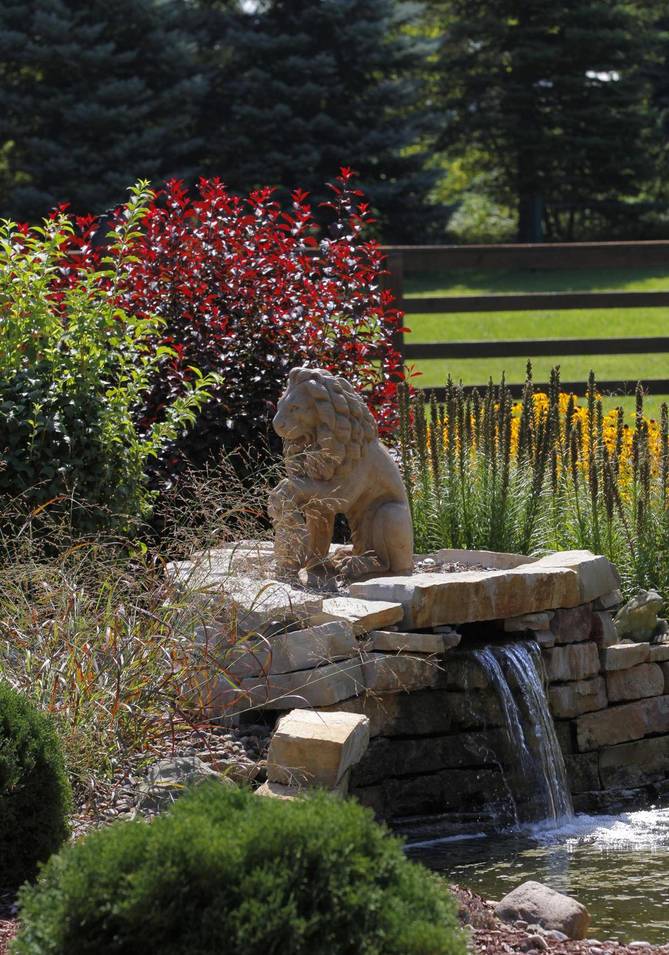 MIDWEST – The Power of Possibility and Sharing Success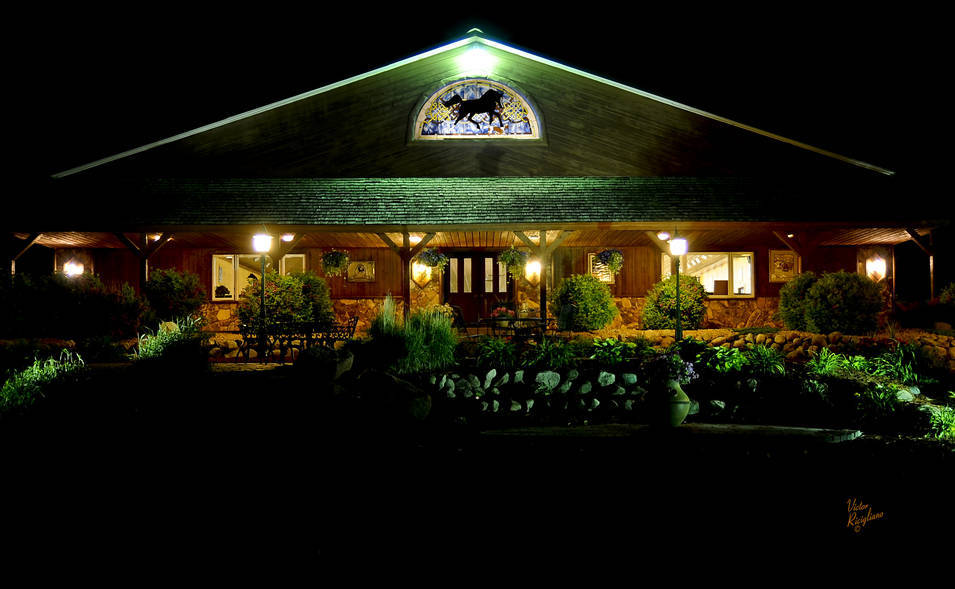 The love of the Arabian horse has been a life long passion for internationally acclaimed horseman, David Boggs, and his greatest joy is sharing that passion with those he loves – his family and friends…
"The Arabian horse has enriched my life in countless ways, most significantly, through my family. My father and mother shared their love of the horses with my siblings and me, and now I am able to share that same love with my own family. I am fortunate that my children Lindsay and Courtney, who are twins, my daughter, Emma, and my son Jake, all enjoy the horses. The special friends we have made and the wonderful people we have met, the beautiful places we have visited and the exciting adventures we have had, are all because of the Arabian horse. Words cannot describe how blessed I feel. I want to share that with others."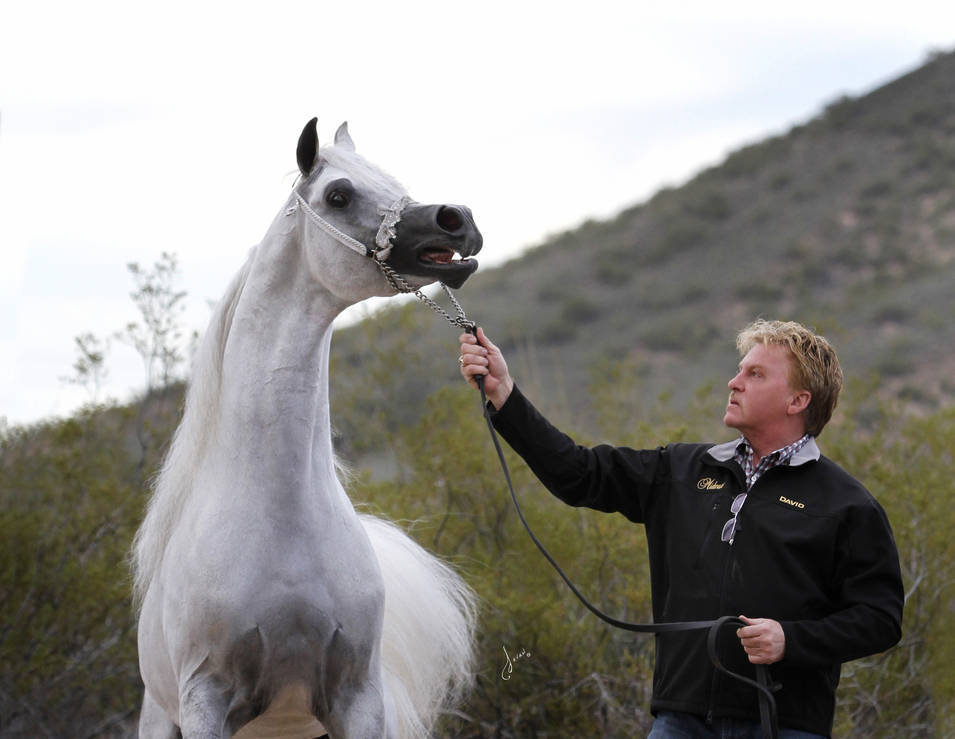 David Boggs' heartfelt desire has become his life's work. Over the past 30 years, he has traveled the world from Paris, France to Pewaukee, Wisconsin, from Dubai City, Dubai to Des Moines, Iowa, from Sao Paulo, Brazil to Santa Ynez, California; David has visited every continent where Arabian horses live. Along the way, he has met members of royal families, rulers of nations, aristocrats, titans of industry, movie stars and rock stars. However, his favorite people are those who love the Arabian horse – breeders, trainers, grooms, those who own Arabian horses and those who dream of the possibility, especially the children.
"I love everything about the Arabian horse. To me, it is one of the most perfect creatures on earth. The beauty of the Arabian is incomparable, and their spirit, kindness, intelligence, courage, heart, gentleness, and love of people captivated me when I was just a boy. That connection has never diminished – every day I find something new to love about the horses. To work with them is a dream come true. Sure, it's demanding – the horses need attention and care 24 hours a day and 365 days a year – but the personal and professional rewards are worth every minute."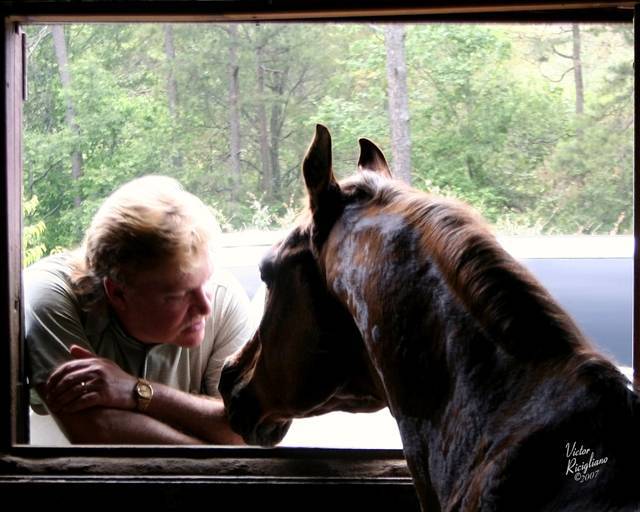 David Boggs' passion for the Arabian horse is the key to the success of Midwest Training Center. His passion created his vision, it provides his energy, and it sustains his commitment to search out and find, acquire, transform, and showcase the crème de la crème of the breed. Thirty years of experience has trained David's eye to see what others miss – potential. His ability to see beyond the immediate, and visualize the possibility, is not a skill – it is a gift.
David's vision of the ideal Arabian horse has evolved over the years. Throughout his career, he has seen and evaluated thousands of Arabian horses. He studied, and mentally filed away, every facet, every conformational detail, and each individual's pedigree in order to better understand their physical and genetic potential. His goal has always been to find horses that come the closest to his ideal – horses whose beauty, carriage, and attitude take his breath away.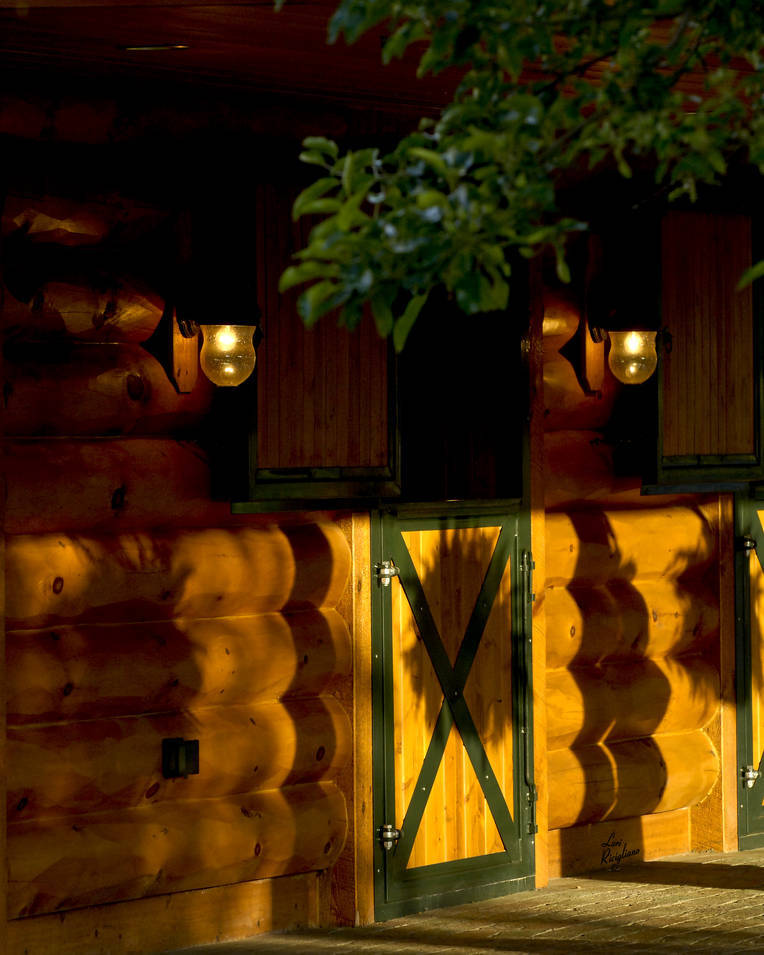 "In my search for truly great Arabian horses, I keep an open mind. When a small breeder comes to me and tells me they have a super star, I listen. Many of the most influential horses in history are the result of small breeders' programs. I believe these dedicated people are the backbone of our industry. I totally appreciate their commitment and respect the importance of their contributions. There is an indescribable thrill when I see a special horse that comes from a small breeder. I can see their pride in their accomplishment – it's very rewarding!
Generally, if I see a horse that really impresses me, I am confident that I can find a buyer for it. If it's a horse I would want to own for myself, then I know I can work with it – even if it's not conditioned or trained. For me, finding a diamond in the rough is often the most exciting opportunity. Taking a horse that has unrealized potential and developing it into a show ring super star is a fantastic experience – it really doesn't get much better than that."
David Boggs' success with Midwest Training Center was not achieved overnight. It is the result of more than 30 years of hard work and focused vision. David's career began in the early 1970's when he started grooming and training his parent's horses, and then showing them on the local, regional and eventually the national level. David's home state of Minnesota, as well as the neighboring state of Wisconsin, had some of the most active and influential Arabian horse breeders and owners in the world, including his parents, Don and Shorty Boggs. Among the other noteworthy breeders of the time were Daniel Gainey Sr. of Gainey Arabians, home of the great stallion Ferzon and the legendary Gainey-bred mares; Lloyd and Evelyn Burton's Burton Arabians, home of Aramus; the Forehands, home of Gamaar; Dick and Lollie Ames' Cedar Ridge Arabians, home of Hal Gazal and the great Bask son Brass; Paul and Ann Emerson's Horseshoe Lake Arabians, home of Laddin's Fire, and Walter Mishek of Misheks Arabians, home to many great, national champion Arabian mares.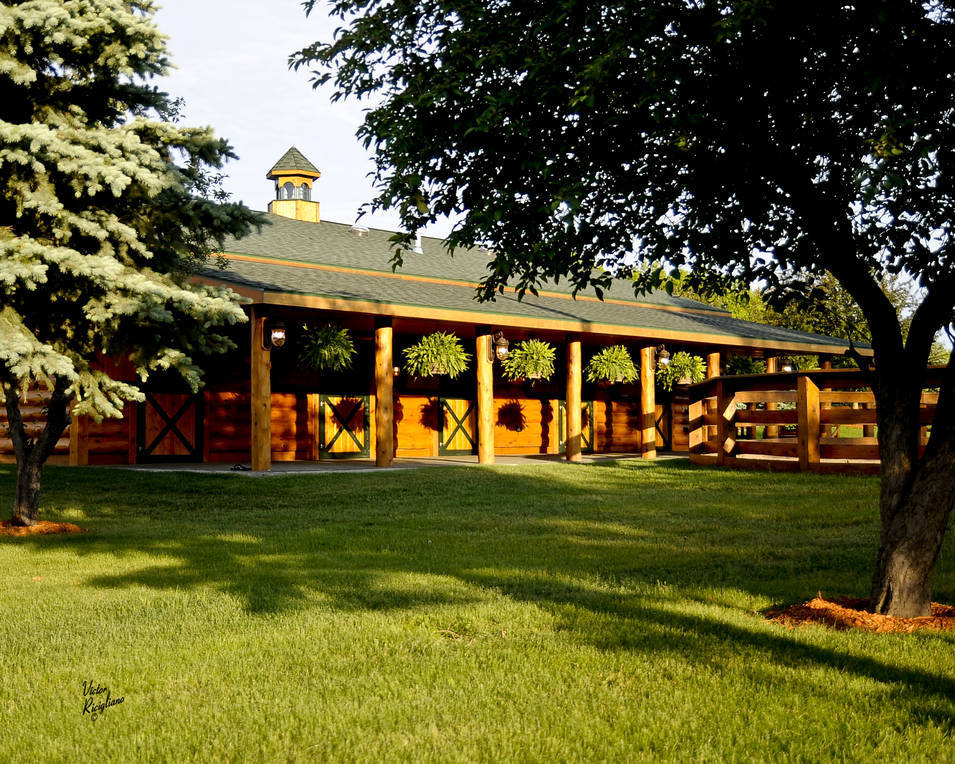 This was David's foundation; these were his family, mentors, and friends. Many of David's first moments of success included showing the world class horses bred and owned by these influential people. With David's undeniable talent, work ethic, and horses of this quality, it didn't take long for him to come to the attention of other Arabian horse owners and breeders around the country. By the late 1970's, David Boggs had made a name for himself in the show ring and the market for top quality Arabian horses.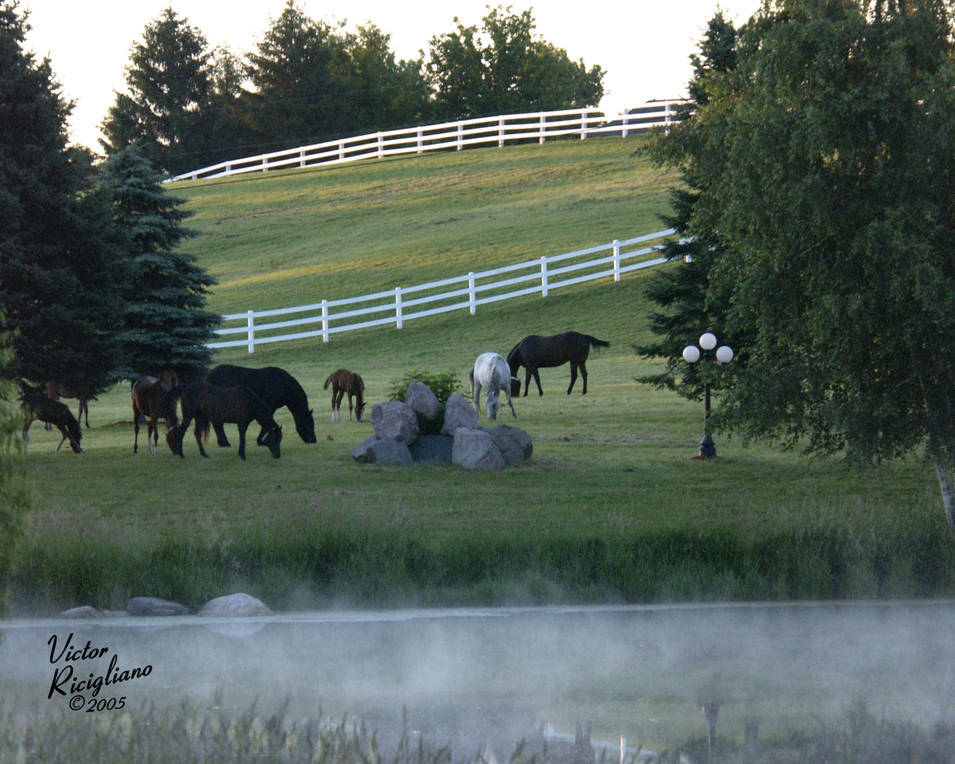 As people took notice of David's accomplishments, more and more of them turned to him for his expertise. This swell of interest brought some very special horses into his life. Some people describe a horse that has a profound influence on them as their "once-in-a-lifetime" horse. David met a "once-in-a-lifetime-horse" when he was introduced the stallion Padron. Together they made history and shaped the future of the Arabian horse breed. David showed Padron to the "Triple Crown" of the Arabian horse breed – the Scottsdale, Canadian and U.S. National Championships titles. Then, in 1983, David syndicated the stallion for a record breaking $11 million dollars. He completed the unimaginable feat in just 90 days. Equally important, David created and implemented the plan that enabled Padron to become one of the most successful and influential sires in the history of the breed.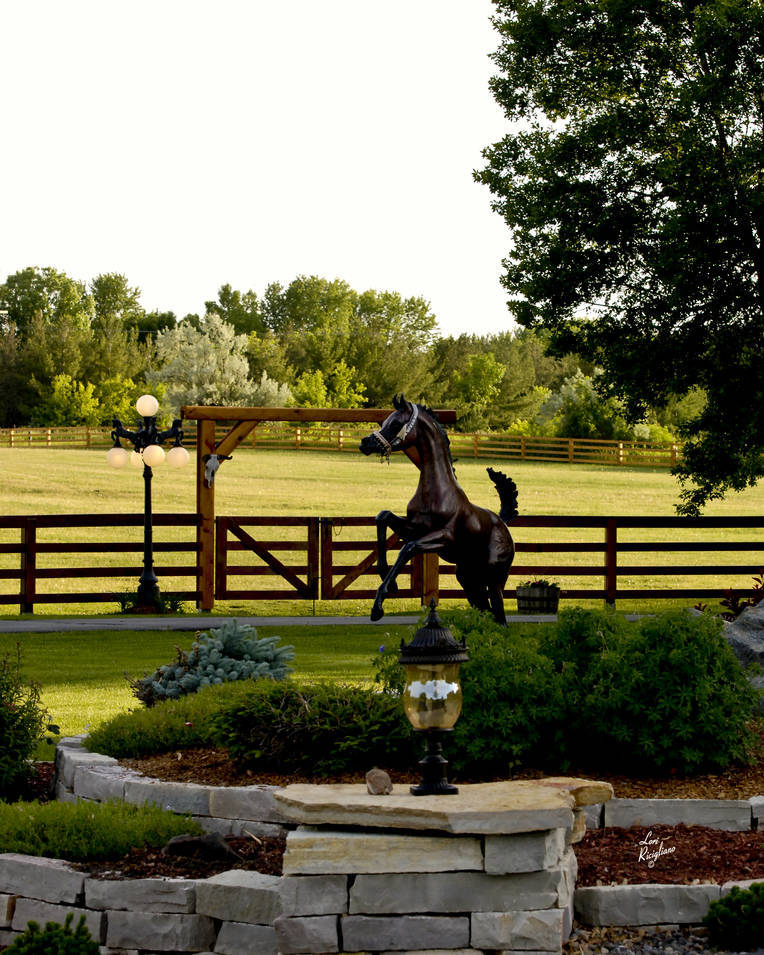 Throughout the 1980's, hard work and talent proved to be the keys to success for David Boggs. It seems that each of his accomplishments created new opportunities. Year after year, with each show ring win and satisfied client, David Boggs built Midwest Training Center into a thriving business. His success in the show ring attracted the best of the best in the breed, and people from around the world brought their superstar horses to Midwest Training Center to be shown and marketed. People everywhere want to be associated with excellence and in the Arabian horse industry the pinnacle of excellence was found at Midwest. Strolling along the pristine aisle ways and looking into the sunlit stables was like walking into Tiffany's – each filly and colt, each mare and stallion were glittering gems among the breed. Access to great horses like these created a market that brought buyers from around world to Midwest Training Center. By the end of the decade, the names of David Boggs and Midwest Training Center were synonymous with the highest levels of show ring and marketing success in the Arabian horse industry.
David's success with Padron was not a one-time stroke of luck. In 1991, David marketed Padron's son, Padrons Psyche as a three-year-old, showed him to the title of 1991 U.S. National Reserve Champion Stallion – the youngest horse in the history of the breed at the time to win that title – and then marketed the stallion again – all while promoting him as a sire and helping to create the next generation of Arabian horse super stars. It takes an owner with a deep passion, as well as the resources to care for a world class stallion and sire of influence such as Padrons Psyche. David found the perfect match with Dixie and Bob North of North Arabians, who owned and cared for Psyche for more than 10 years. Under their stewardship, Padrons Psyche was able to achieve his ultimate destiny as one of the leading sires of the Arabian horse breed on a global basis. David Boggs successfully marketed Padrons Psyche's top offspring to almost every continent on earth, which greatly contributed to Psyche becoming a sire of international influence. Among Padrons Psyche's magnificent offspring were individuals who would deeply affect David Boggs' life and the future of Midwest Training Center.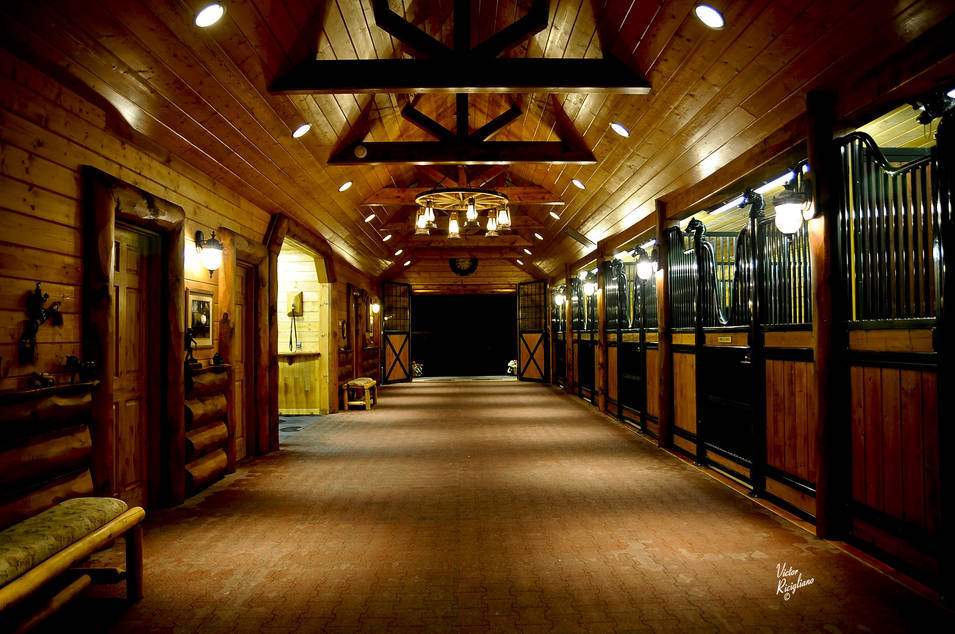 Following in the success of Padrons Psyche came his very special son, Magnum Psyche. A stallion as incomparable as Magnum Psyche deserved an owner who understood his potential, who could accept the responsibility, and embrace the experience of owning and caring for one of the most important Arabian stallions of our generation. The father and son team of Fernando and Joaquin de Santibanes possessed the desire, the dedication and the ability to provide every opportunity for Magnum Psyche to achieve his full potential – it too was a perfect match.
Magnum Psyche proved his show ring potential with his stunning physical excellence and earned five National Championship titles in halter. However, his most important achievement took place in the breeding barn. Magnum Psyche's amazing ability to sire offspring of exceptional beauty and quality earned him a ranking among the Arabian Horse Data Source's Top Ten Leading Sires of the World. The list of Magnum sons and daughters, grandsons and granddaughters, that have been shown to national and international championships, who have been marketed for record breaking prices through Midwest Training Center, and gone on to become the foundation for successful breeding programs around the world has significantly increased the influence of Magnum Psyche and the account of David Boggs' achievements.
The foundation of Midwest Training Center's success was built like that of a great monument – one that endures the test of time – one stone at a time, or in the case of Midwest Training Center, one horse at a time. It took years of endless effort, focused attention to detail, and a keen understanding of the importance of customer service to establish and build the Midwest Training Center that we know today. These efforts are sustained by the inspiration of this enterprise – David Boggs' passion for the Arabian horse. This is the fuel that provides the energy and commitment to provide excellence – on every level – to the clients of Midwest Training Center.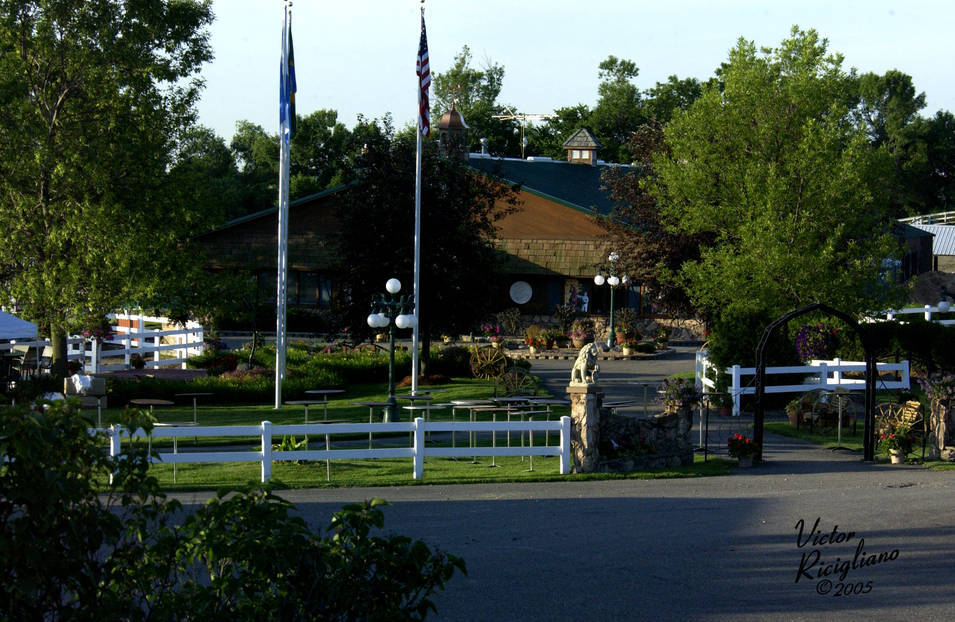 "The horses come first at Midwest – after all, they are the reason this business even exists. We're all here because we love the Arabian horse. Really – I can't imagine my life without them. But the clients make it all possible. Believe me, I never underestimate the importance of my relationship with our clients and the importance of first class customer service. I know our clients can take their business anywhere, so I truly appreciate the fact they choose Midwest Training Center to represent them, and to show and market their horses. I believe people come to Midwest because of the great horses, and they stay with us because of the first class amenities we offer.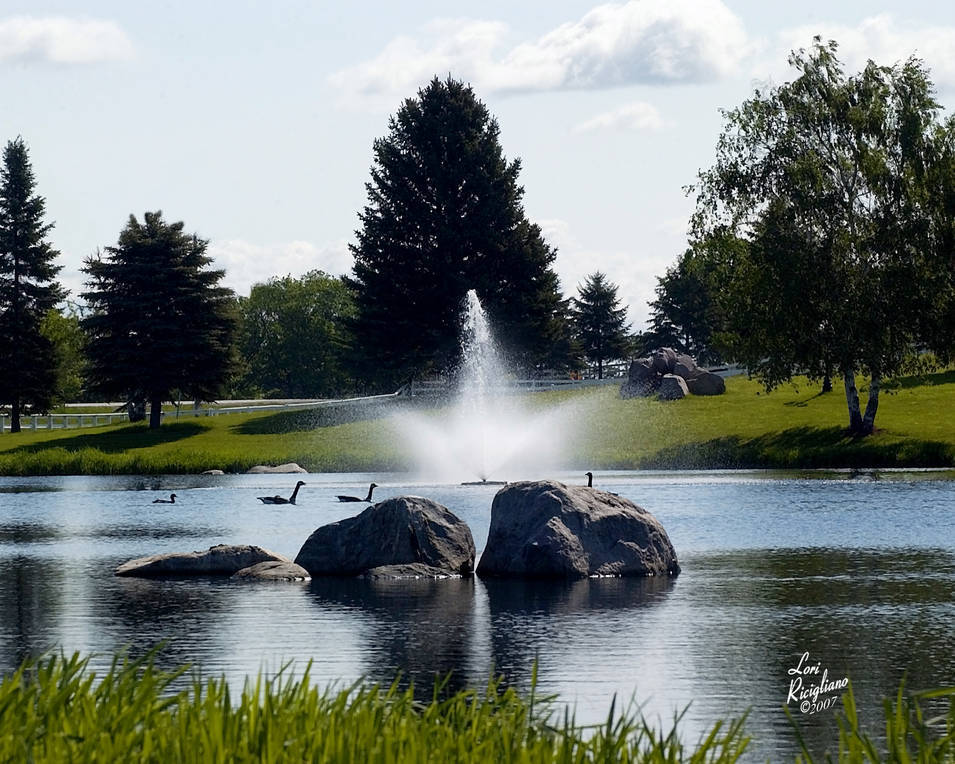 We strive to provide the absolute best, the most comprehensive services, the most positive experience, and the most fun possible for our clients. For example, if we have a great horse to sell, we offer to care for the horse, guide the owner and the horse through its career in the show ring, and then plan for its future breeding career. If it's a stallion, we offer to stand and manage the horse, market his semen, and promote his offspring. If our client buys a mare, we will help them to achieve her highest potential in the show ring and then guide them in selecting the stallion with the greatest potential to "nick" with her to produce a great foal. We will keep and care for the mare, have her bred, and foal her out. Basically, our clients can enjoy all of the wonderful benefits of owning one, or even 100, world-class Arabian horses without the cost or effort of maintaining a farm. For some owners, our farm has become their farm, and in the process, our family becomes like their family. We enjoy so much together the horses, the foals, the shows, picnics and parties – it's a lot of fun!
I have the most amazing job in the world! Sure it's a lot of work – but I wouldn't have it any other way. My father told me that if something is worth having – then it's worth working for. He also taught me, by his own example, the honor of a hard day's work. It's a principle I never forgot and one that I live by each day. At our farm, we offer five-star services to our clients and their horses. We are available to them 24 hours a day, 365 days a year. That's what it's all about – surrounding ourselves with the very best horses and offering the absolute best services. I believe that's what has made Midwest Training Center the best farm in the business."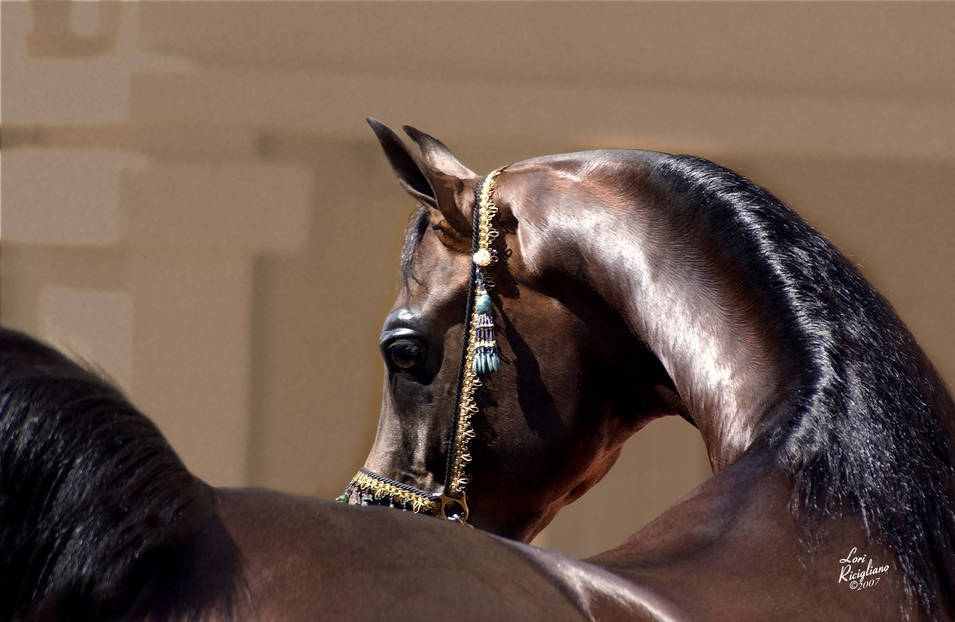 David Boggs is correct when he says that hard work and customer service have positioned Midwest as a leader in the industry. However for his clients, David's consistent track record of success in the show ring and in the marketplace are highly motivating reasons to choose Midwest and to stay with them. Dan and Maureen Grossman have been involved with Arabian horses for over 30 years and have owned and bred some of the most noteworthy individuals of the breed, including the great sire, Bey Shah. The Grossmans stood the stallion at Midwest Training Center with tremendous success. In 1991 alone, David sold $1.5 million in Bey Shah breeding packages. Then, in 1998, David sold Bey Shah for the Grossmans to Shellbird Inc. Several years later, in 2003, David brought another superstar stallion into the lives of Dan and Maureen Grossman; the breath-taking bay, yearling colt named DA Valentino. David saw the potential and believed wholeheartedly in the possibility of this colt. The Grossmans knew they could depend on David's expertise – they were not disappointed. DA Valentino earned SIX national championship titles. Tragedy struck as we were preparing this story. DA Valentino passed away very quickly and unexpectedly. We mourn our loss of this great stallion and all that he meant to the Arabian breed. At just eight years old, DA Valentino was already one of the most successful sires of his generation.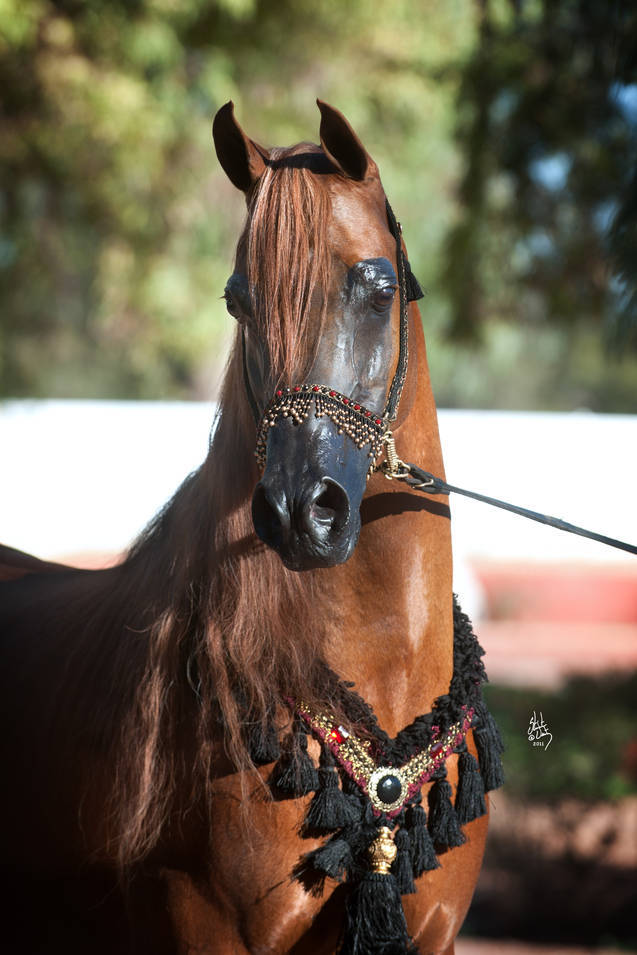 Another example of long-term success is Fernando and Joaquin de Santibanes, the owners of the international superstar, Magnum Psyche. David facilitated the sale of Magnum Psyche to Fernando and Joaquin in 1997 and sold an unheard of number of breedings to the colt when he was still just a yearling. Since that time, David has been instrumental in guiding Magnum's show career to five national championship titles and perhaps more importantly, guided his breeding career resulting in over 1,200 registered offspring, and hundreds of national and international champion get and grandget.
In turn, David has assisted in marketing many of Magnum's top offspring including the exquisite daughter, Maggdalina, a four time national champion mare and twice reserve national champion, owned by Walter Mishek and sold to Strawberry Banks Farm. David and Walter Mishek have been friends for over 40 years and together they have shown and sold millions of dollars worth of champion Arabian horses all around the world. David also marketed the exquisite Magnum daughter, JJ La Estrella, bred by Fernando and Joaquin de Santibanes, and sold to Janey and Don Morse. The Morses have been Midwest clients since 2003. During that time, David has won numerous national championships for the couple, and also oversaw millions of dollars in sales for them; in the process, they have become great friends.
By providing Magnum Psyche with the best care and promotional services possible, the stallion has returned the favor by producing amazing offspring. Magnum has proven that he crosses well with a variety of mares. However, there is one mare in particular, that seems to be a match made in heaven – the lovely Ames Mirage – dam of a dynasty of champions. Ames Mirage was bred and is owned by Dick and Lollie Ames of Cedar Ridge Arabians. The Ames and the Boggs families have a long history. More than 40 years ago, Dick and Lollie Ames joined with other progressive Minnesota breeders, including David Boggs' parents, Don and Shorty Boggs, to create the Minnesota Breeders Medallion Stallion Program – the largest and richest futurity in the United States. David respects and admires the Ames family's commitment to the Arabian horse and all their valuable contributions to the breed. Lollie Ames chose Magnum Psyche for Ames Mirage. This cross has produced a champion every time, including the phenomenal national and international champion stallion Ames Charisma; national champion halter colt, Ames Image and the recently crowned Scottsdale Signature Stallion English Pleasure Futurity Champion, Xanthuss. David Boggs has assisted the Ames family in marketing several of these beautiful and talented champions.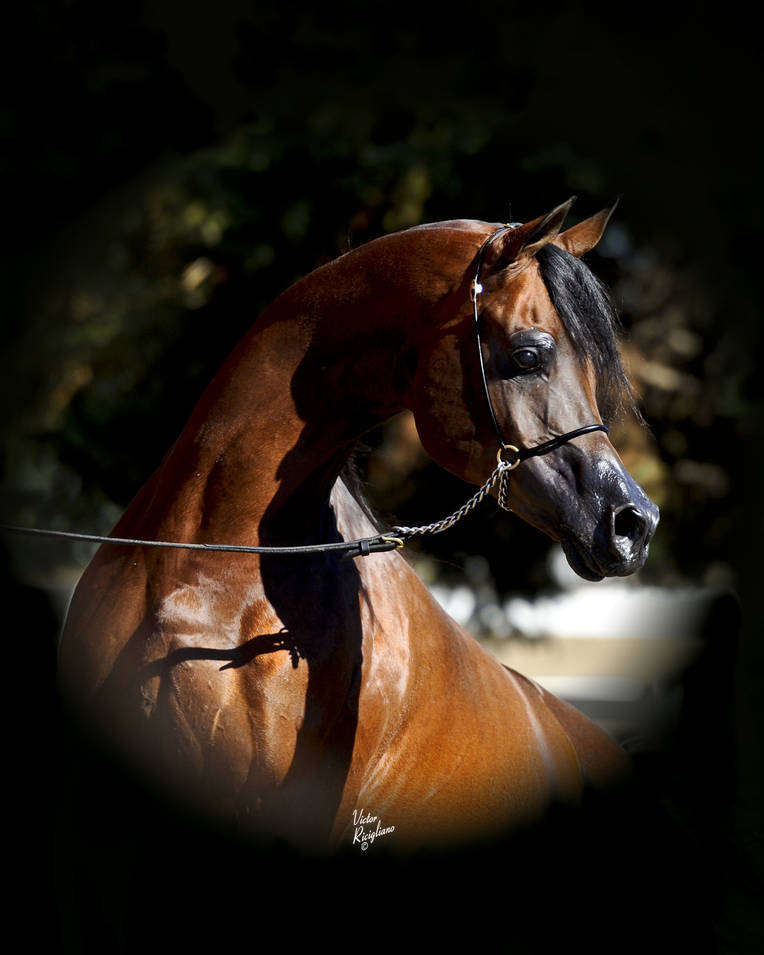 David Boggs has shown national and international champion Arabian horses through out the United States, Canada, South America, Europe, the Middle East, Africa and Australia. Midwest Training Center's show record is unmatched. When you consistently show the best horses, it's not surprising to consistently win the top awards. Reviewing the list of national and international champions presented by Midwest Training Center would be like a trip to the Arabian horse Hall of Fame: Padron, Bask Calonett, NH Love Potion, Amber Satin, La Duquesa, Magnum Psyche, Magnum Chall, Maggdalina, JJ La Estrella, LD Pistal, DA Valentino, Vitorio TO and so many more – too many to name and most of them with multiple championships titles. The number of awards earned by Midwest, their clients and horses add up quickly; from 2004 through 2009, the Midwest team earned 76 U.S. National and Reserve National Championship titles! Add to that impressive number, the amount of championship titles from Canada, Brazil, Argentina and all of the other national and international shows they have attended and you get an idea of the consistency this team delivers and the quality of the horses they present.
That same levels of consistency and quality carry over from the show ring to the marketing department of Midwest. Wherever excellence is appreciated there is the desire to acquire, and breed for the best. The market for the top Arabian horses has no bounds. Over the past 30 years, David Boggs estimated that Midwest has marketed more than $30 million dollars worth of international, national and reserve national champion mares and over $40 million dollars in stallions with those same credentials. Add to that number, the income generated through the sales of leading sires such as El Shaklan, Fame VF, Almaden, DA Valentino, and Da Vinci FM, as well as other important and prospective show and breeding bloodstock, the estimate for that category alone is over $20 million dollars. The total is well over $90 million dollars in the last 30 years. That is why owners, breeders and trainers look to Midwest Training Center as the leader in the industry for marketing top quality Arabian horses.
Creating the super successful marketing program at Midwest didn't just happen – it took a tremendous amount of planning, promotion, work and follow through. The year 2007 was especially successful for the farm with just over $20 million in sales during Midwest Training Center's Invitational Sale, an annual event that takes palace in Scottsdale, Arizona over the course of several months, and which peaks during the big Scottsdale All Arabian Show. Now referred to as, "The Scottsdale Season", because of the length of time breeders, owners, and trainers converge there, it is a wonderful opportunity for people from around the world to visit the area and see some of the finest Arabian horses in the world – the best of which are offered by Midwest Training Center at their resort-like facility in the heart of beautiful Scottsdale, Arizona. During the 2011 Scottsdale Season and through out the Midwest Invitational Sale, David Boggs and his team sold 37 horses to breeders around the world.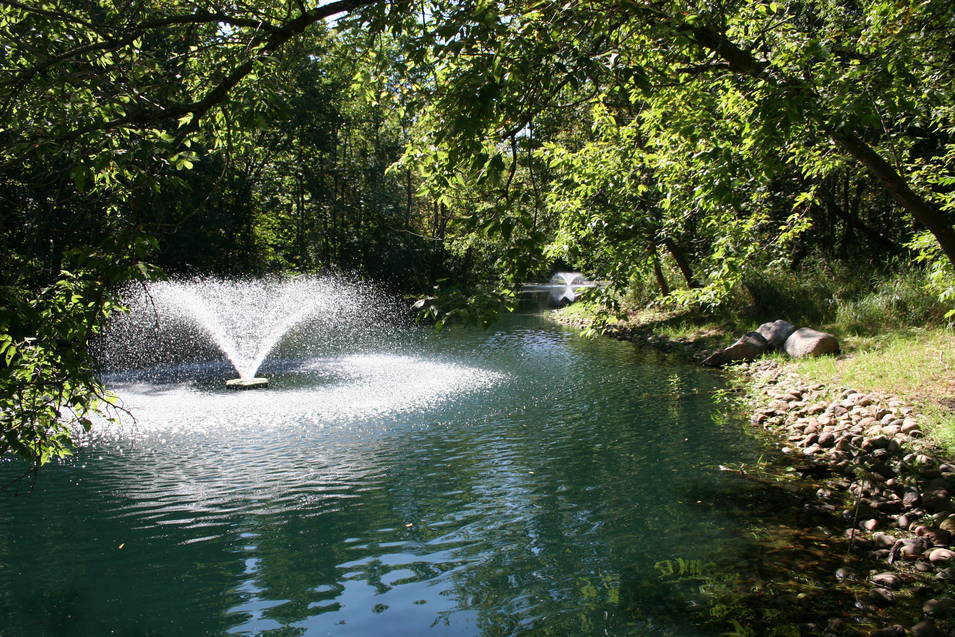 The "Scottsdale Season" is one of the most highly anticipated times of the year for people who love the Arabian horse. There is nothing that compares in terms of opportunities for farm visits, open houses, parties, presentations, and of course "The Scottsdale Show" – it's the largest Arabian horse show in the world. David Boggs and Midwest Training Center have been exhibiting horses at the Scottsdale show since 1975. Over those 35 years, David worked to prove himself worthy of his client's trust with presenting their horses – always seeking out the best  – to ensure continued success for his customers and ultimately, for his business. Although some years were more successful than others, each year brought progress and the results were happy, satisfied clients – as well as lots and lots of roses, ribbons, and trophies!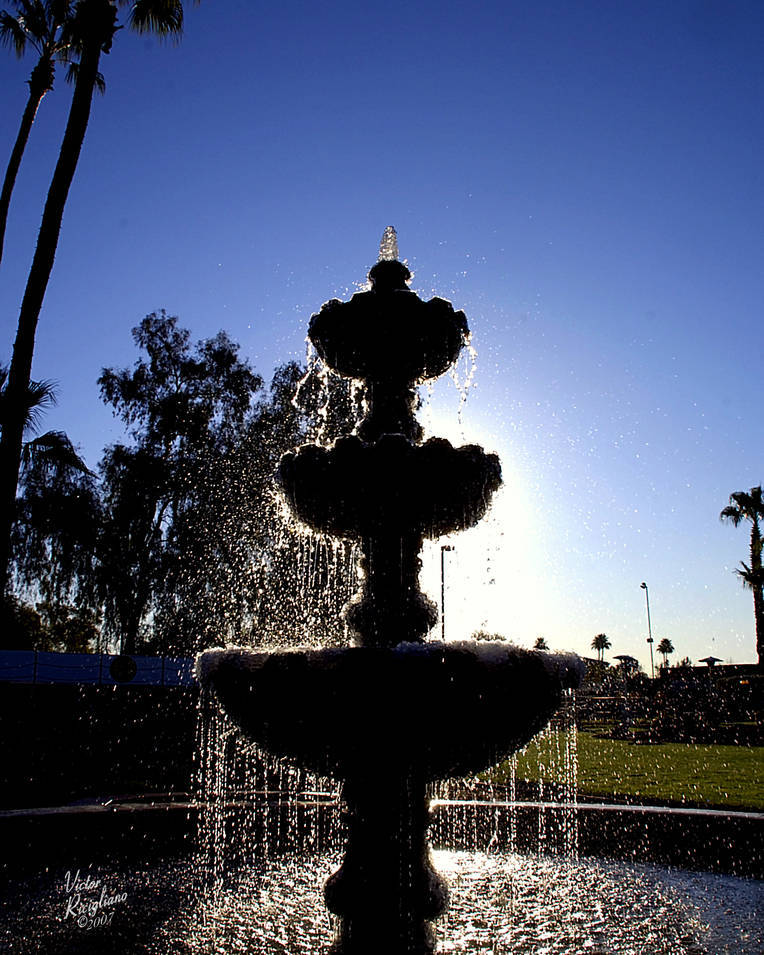 In 2011, the Scottsdale show was especially thrilling. Three months of hard work and preparation all came down to that week. The anticipation and excitement was electrifying! The first days of the show are dedicated to the youth exhibitors. David was extremely proud of his childrens' efforts and achievements. Miss Courtney Boggs claimed two of the first weekend's top ten awards, along with a reserve championship in Arabian English Show Hack, JTR 14-17 with BP Klassique Bey. It was a fantastic start to a great show! Miss Emma Boggs showed in the youth division of halter competition and won a clean sweep of six consecutive Scottsdale halter wins! Emma presented Rohara Mademoiselle, Ebony by Valentino, Symphony of Love, Anna Marie BHF, Valente LD and DC Magnum Storm to Scottsdale Arabian Classic Champions in the JTH division. Mr. Jake Boggs, the youngest member of the Boggs family, joined the ranks of champions when he was named Grand Champion in Lead line Equitation for Riders 2 to 7 Years of age. As her twin and sibling displayed their talents in the show ring, Lyndsey Boggs enjoyed the show through one of her passions, the art of photography. As you read through this editorial, note the photographers – some of the best photos in this layout are the work of Lindsey Boggs.
A special moment at the Scottsdale show came when the exciting, silver stallion Maddox Van Ryad, amazed the judges and the audience with his bold performance for which he was awarded the "perfect score" of 150 points to win $5,000 in the Platinum Performance Arabian Liberty Final. Alcides Rodrigues and Jason Tackett were his "ring men" for owners Jim and Sally Bedeker.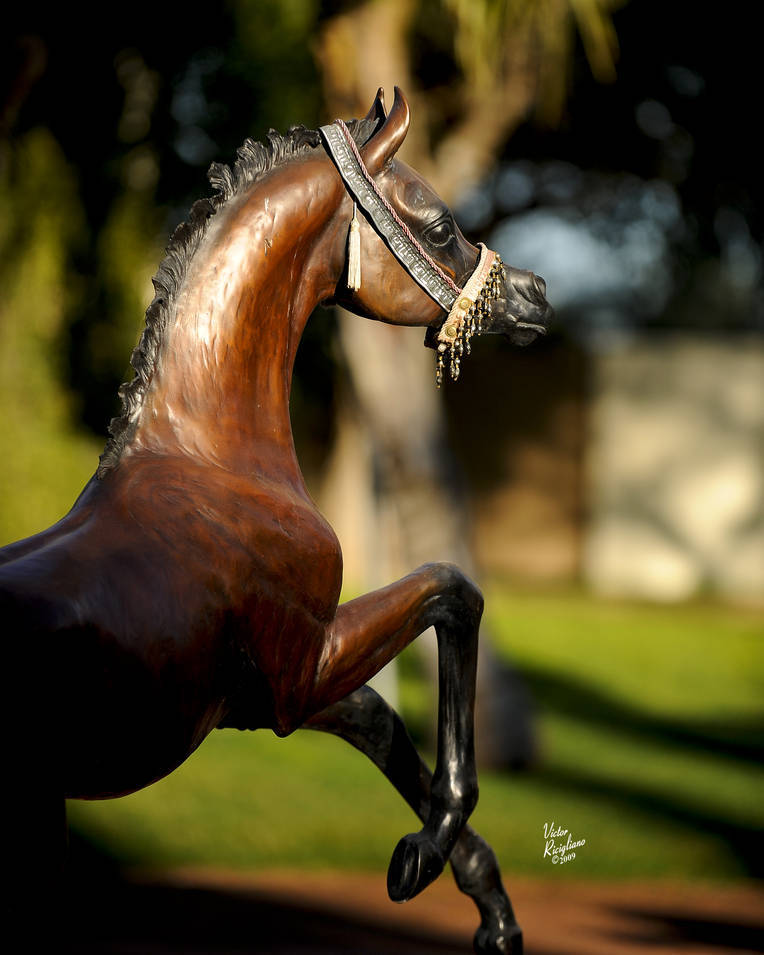 After only the first few days of the show, the entryway to Midwest's show stalls began looking like a grand garden as it filled up with Championship Roses! Although the weather was quite cold and wet, it could not dampen the spirits of the Midwest team and each day brought more success. It's a well-established consensus within the Arabian horse community that the competition at Scottsdale is tougher than at any other show in the world. This event brings together the best horses, the best trainers, the best judges, and the most discriminating and enthusiastic spectators! So, everyone at Midwest was extremely proud and honored to have won nine Scottsdale Championships on the final Sunday morning of the 2011 show – it truly was an amazing accomplishment!
Among the Purebred Halter Champions shown by Midwest Training Center at the Scottsdale show was Goddess of Da Vinci
(Da Vinci FM x Goddess of Marwan). She had been named
Champion Yearling Filly, from Jan. 1st – April 15, earlier in the week, and Sunday morning, she was named Scottsdale Unanimous Grand Champion Junior Filly for owners Sally and Jim Bedeker.
The exotic mare, French Psylk
(Echo Magnifficoo x Indianne Psylk), had been named Unanimous Champion Senior Mares, 8 Years & Over. In the Sunday morning Classic Championships, this highly accomplished mare was crowned Scottsdale Unanimous Classic Senior Champion Mare and Grand Champion Senior Mare
for owner Carlos Roizner. Numerous Championship titles were awarded to other horses presented by the farm including DC Magnum Storm; Grand Champion Senior Gelding, Unanimous Champion Senior Gelding with Dagmar Gordiano, Champion and Grand Champion Gelding, JTH with Emma Boggs.
After the final championship class, the Midwest team gathered together at the end of the event, and surveyed the scene – almost every inch of stall curtains were covered with an astonishing array of roses, ribbons, plaques, awards, and trophies – all served as brilliant, colorful testimonies to the stellar achievements of the great horses of Midwest Training Center, their owners, trainers, grooms and handlers. It was a wonderful display of teamwork, which resulted in 50 Scottsdale Top Ten Awards, 17 Reserve Championships, 38 Championships and two Scottsdale Supreme Championships! It was a time for deep reflection of personal and professional achievements, and to express thankfulness for all of the good fortune that this exceptional group has enjoyed – then it was time to celebrate! Bring on the champagne!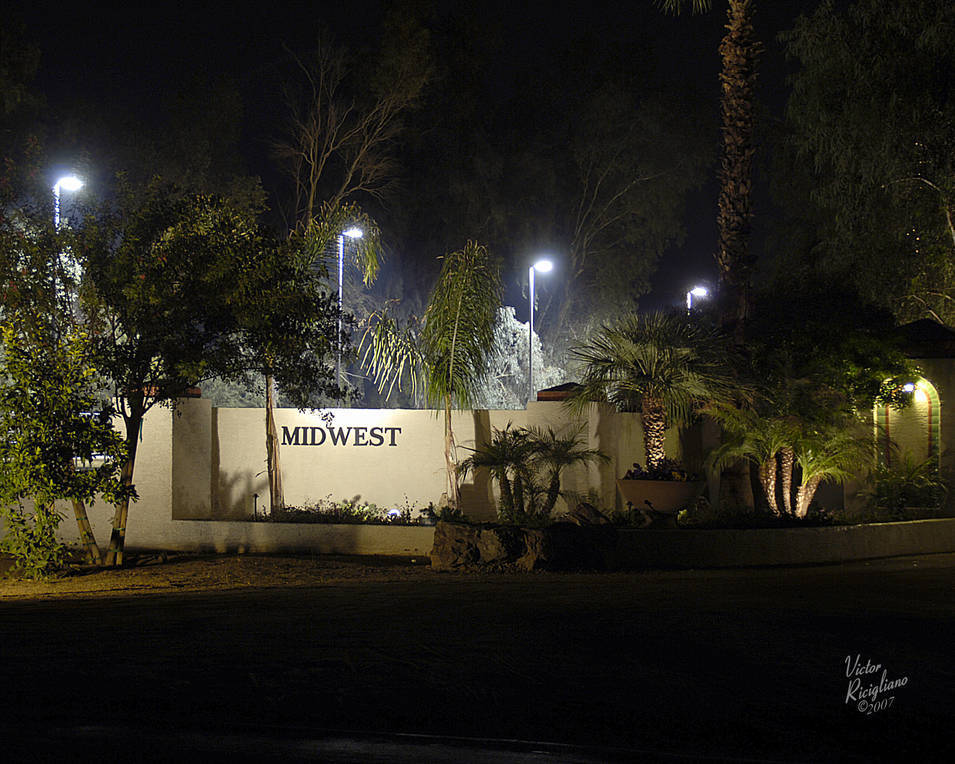 Photo Gallery