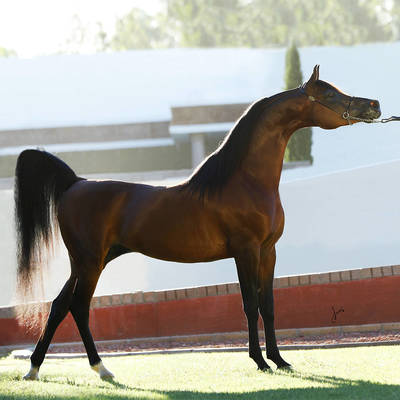 The Leading Sire of United States National Champions in Halter 2013-2020
Owned by: Oak Ridge Arabians
When Don and Janey first purchased the beautiful Vitorio from breeders Ed and Maureen Horton, as a weanling, they of course hoped for great success. They could not have imagined however, that his success would take form at warp speed!
At just 2 years of age, Vitorio has garnered more prestigious awards than the most accomplished stallions of all time have achieved in their life time; United States National Champion – Canadian National Champion – Brazilian National Champion.
It is not by accident that this young 'dream come true' exhibits quality that cannot be denied. His sire, DA Valentino is one of the most accomplished halter stallions of all time and is producing greatness far beyond his own. Vitorio's dam line leads to the great sire's of yester year, *Salon, El Paso and *Naborr. Quality, substance, confirmation and elegance are present both in the flesh and on paper!
The combination of these outstanding breeding horses in Vitorio's pedigree ensure not only the success that he has exhibited himself in the show ring, but a certain future as an outstanding breeding stallion!
Don't miss the opportunity to see Vitorio in person during this show and breeding season at Midwest Arabians in Scottsdale. Don, Janey and David look forward to the opportunity to share this beautiful young stallion with you!
2009 United States National Champion Yearling Colt
2010 Canadian National Champion 2 Year Old Colt
2010 Brazilian National Champion Junior Colt
2011 United States National Champion 3 Year Old Colt
2011 United States National Champion Futurity Colt

Nominated for:

AHA Nominated Sire

AHAA Signature Stallion

AHBA Vegas World Cup

Silver Sire Breeders

Arabian Breeders Finals

MAHB Minnesota Medallion Stallion

AWPA - Arabian Western Pleasure Association

www.VitorioTO.com
| | |
| --- | --- |
| Year Foaled | 2008 |
| Gender | Stallion |
| Color | Bay |
| Breeding | Purebred Arabian |