*MIDWEST
2014 Scottsdale Arabain Horse Show Results
"Setting the Bar even Higher!"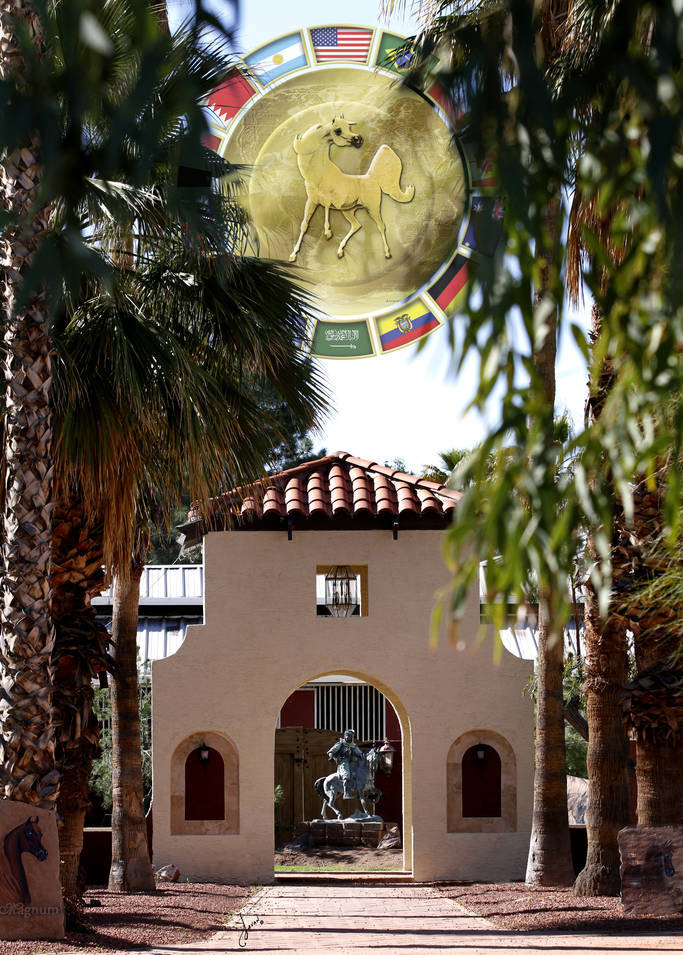 In 2014 – Team Midwest earned
32 Scottsdale Championships and Reserve Championships,
including both Scottsdale Supreme Halter Championships,
as well as 47 Top Ten Awards!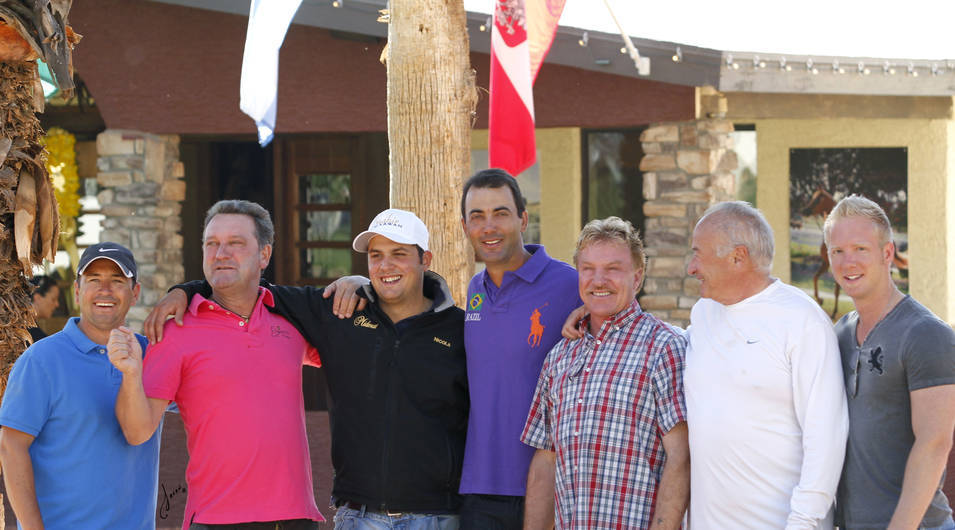 David Boggs and Midwest Training Centre have presented horses at the prestigious Scottsdale All Arabian Show for more than 25 years. Over the years, Team Midwest has set the record for success with SEVEN Scottsdale Supreme Halter Champions – more than any other farm during the 59-year history of the show!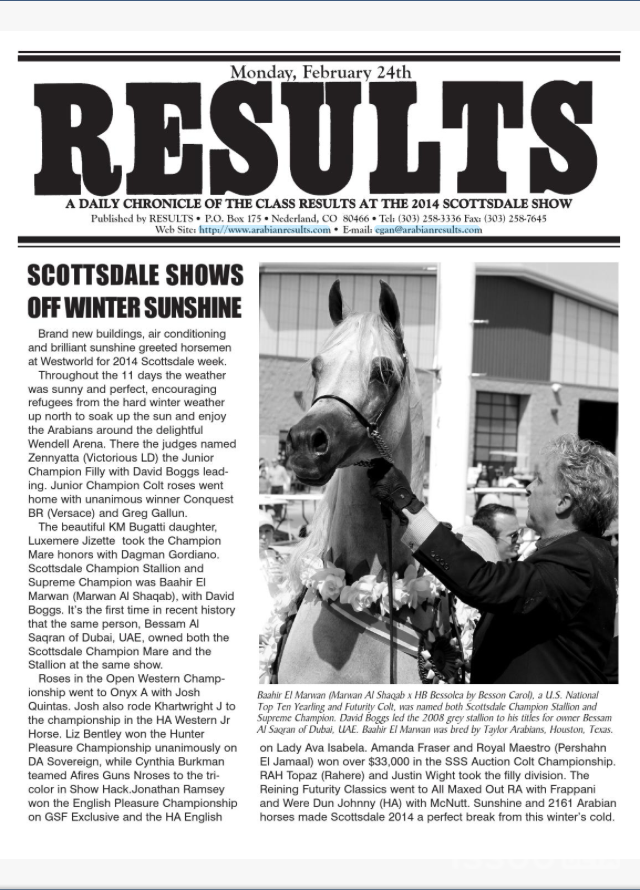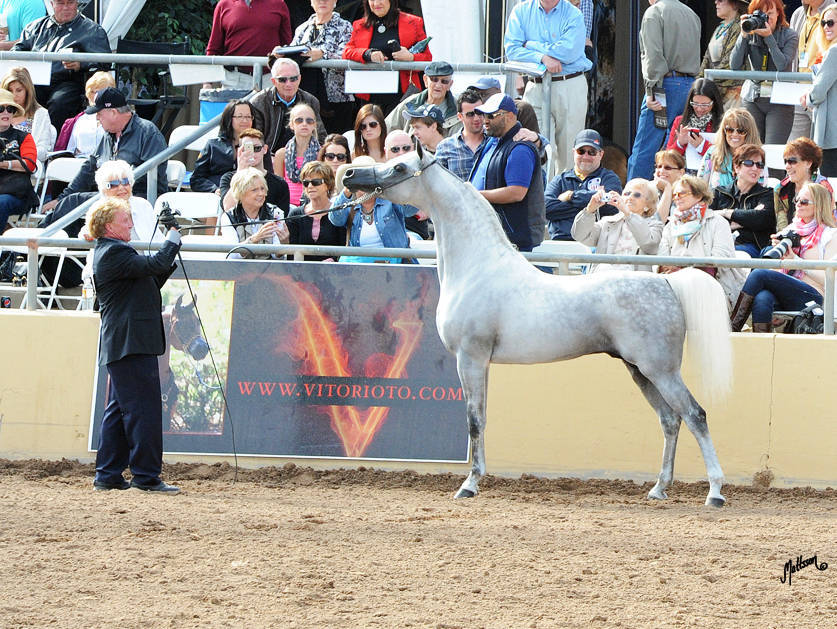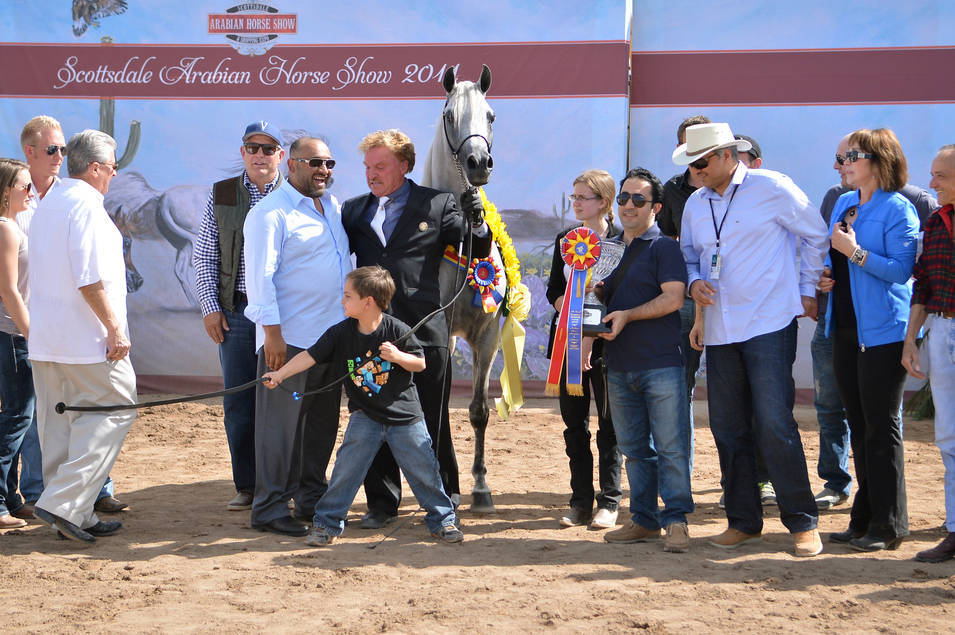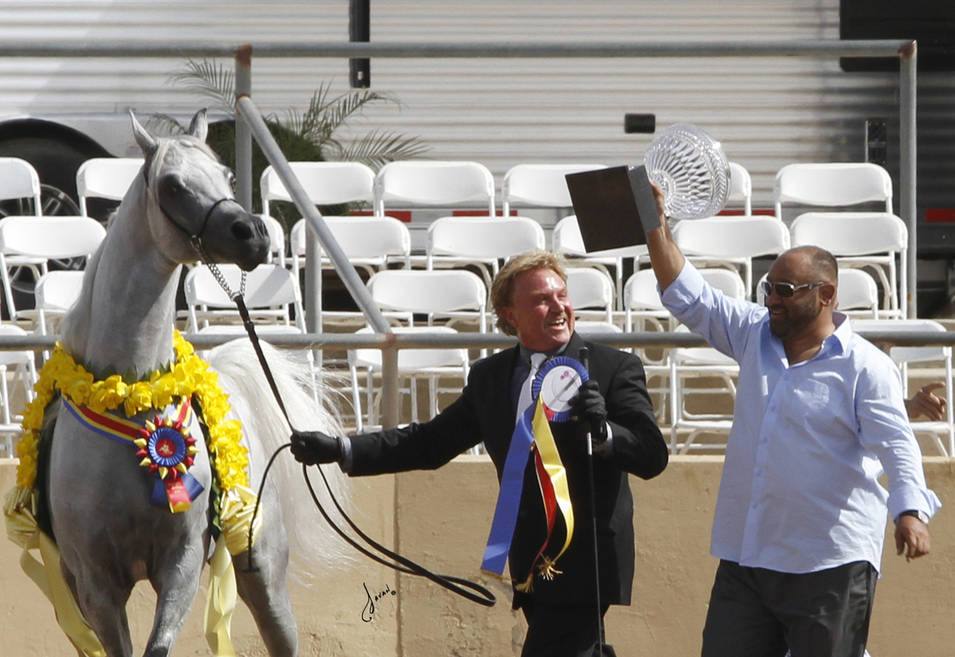 It all began in 2008 with the first Supreme Halter Champion; DA Valentino. Year after year, Team Midwest continued their winning ways. In 2009, Magnum Psyche won the coveted title. In 2011, LD Pistal brought home the prize. In 2012, the judges awarded Aria Impresario with the honor. In 2013, the international sensation *Pogrom was crowned Supreme Champion. Now, in 2014, the Scottsdale Supreme Halter Champion was the magnificent stallion, Baahir El Marwan! We congratulate Bassam Al Saqran, owner of both the Supreme Halter Champion, Baahir El Marwan and the Grand Champion Senior Halter Mare, Luxemere Jizette.
In 2014, Team Midwest earned a total of 32 Scottsdale Championships and Reserve Championships, as well as 47 Top Ten Awards! No other farm equaled the success achieved by the dedicated and skilled Team Midwest and the world-class Arabian and Half-Arabians horses they presented for clients from around the world. There is no secret to Team Midwest's unprecedented success. The champions they presented at the Scottsdale show are among the crème de la crème of the breed here in the United States and we are confident they will be future top contenders in international show rings as well.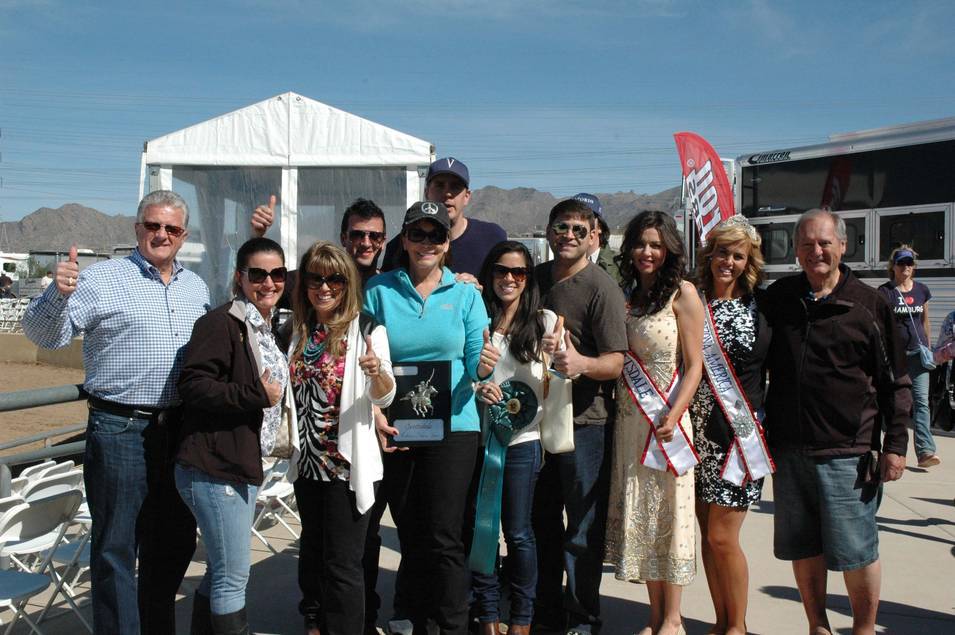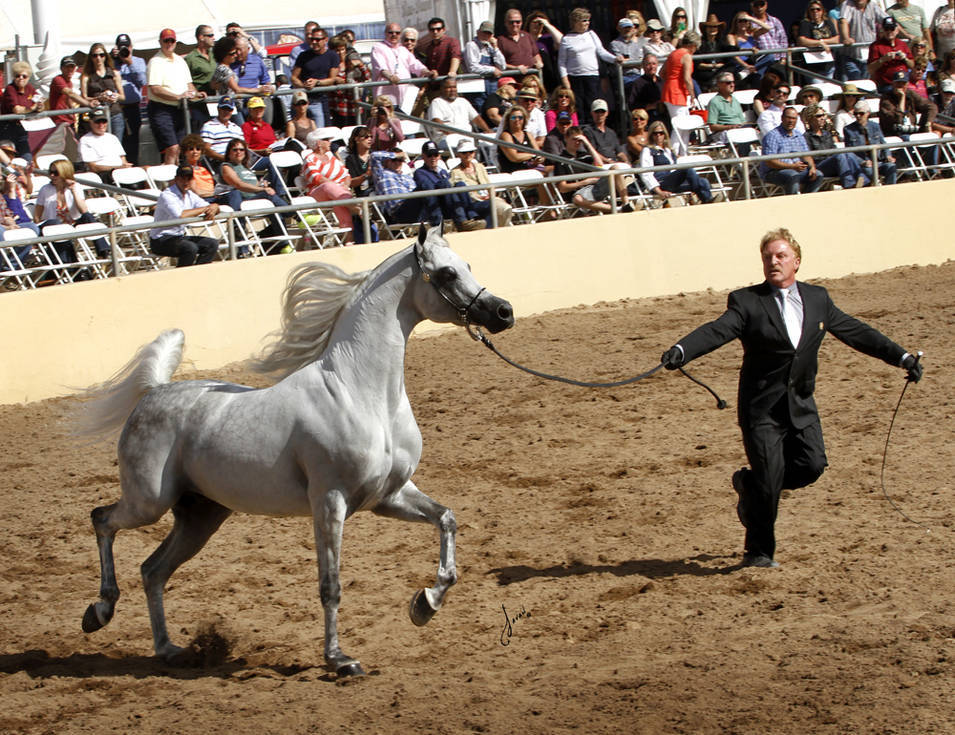 With out a doubt, the star of the 2014 Scottsdale Show was the incomparable stallion, Baahir El Marwan. This ethereal creature is a vision in white. Baahir boldly fulfilled the prophetic words, "The White Horse cometh!" INDEED! He came, he saw, and he conquered! No one could deny Baahir El Marwan's near perfect conformation or resist his extraordinary beauty and inspiring spirit. Crowds gathered with great anticipation to see Baahir enter the ring with David Boggs. In their first class, Baahir El Marwan was named Unanimous Champion 6 & 7 Year Old Stallion. Later, on the final Sunday of the show, Baahir El Marwan was crowned Unanimous Grand Champion Senior Halter Stallion and ultimately, Scottsdale Supreme Champion Halter Horse for his ecstatic owner Mr. Bassam Al Saqran of Kuwait.
Throughout the week, people clamored to see Baahir El Marwan whenever he was brought out during the daily presentations at the farm. Baahir was unquestionably the crowd favorite. Over 30 breedings were sold to this magnificent stallion, who is a son of the great Marwan Al Shaqab and out of the wonderful mare, HB Bessolea, by Besson Carol. Not only is Baahir El Marwan a spectacular physical specimen of everything an Arabian stallion should be, his genetic heritage and production potential make him one of the most important breeding horses of his generation and beyond.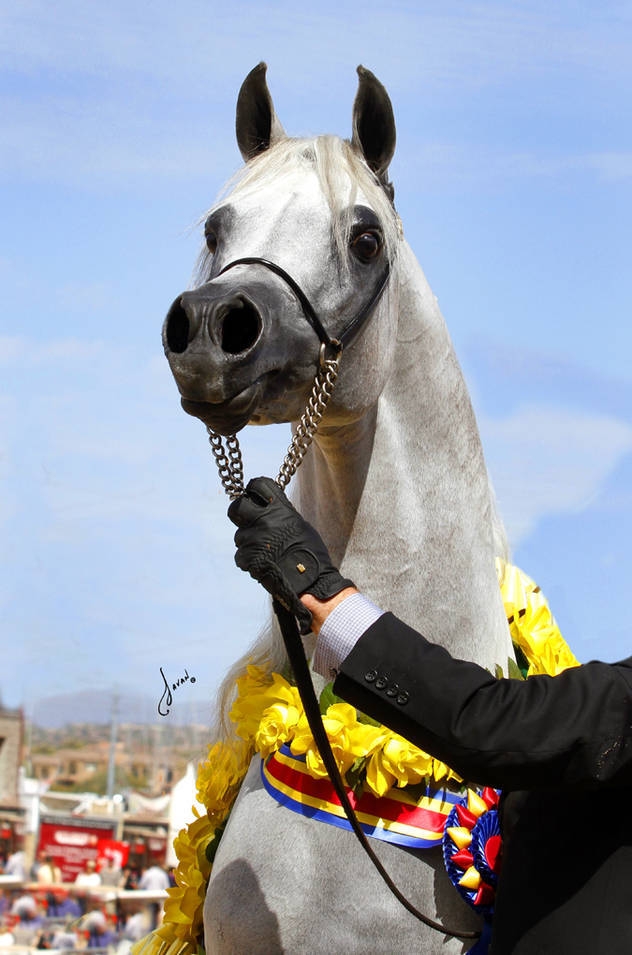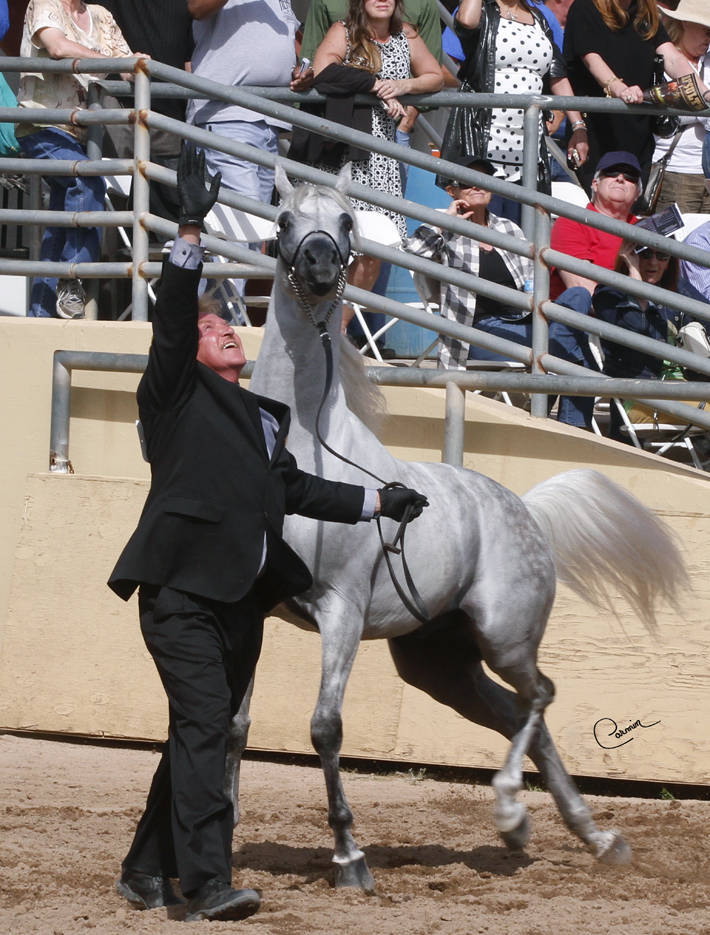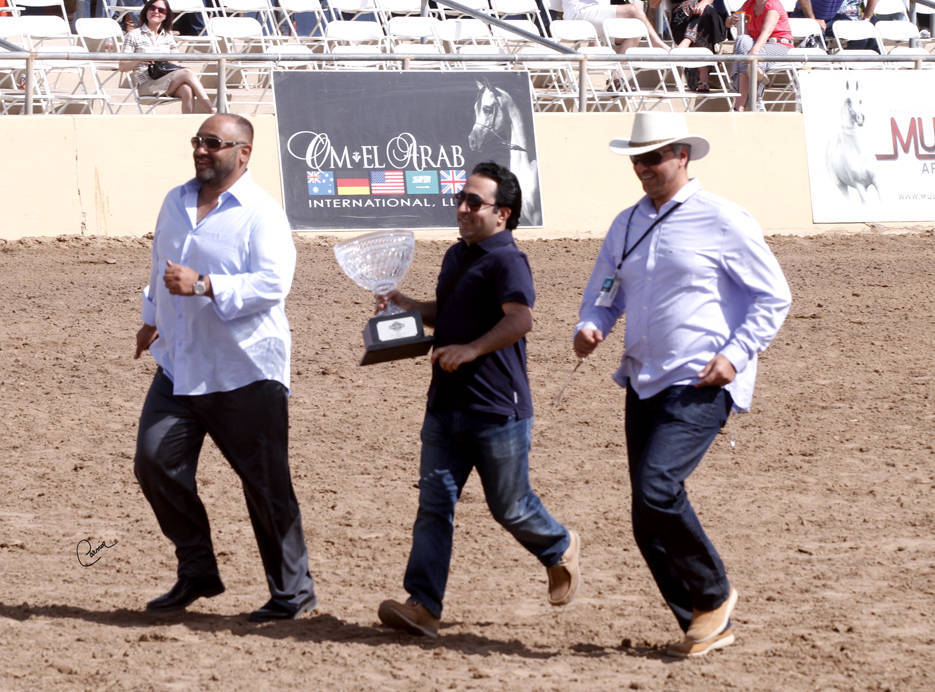 The record-breaking success at the 2014 Scottsdale show continued into the mare competition when the alabaster beauty Luxemere Jizette was crowned Scottsdale Grand Champion Senior Halter Mare, Champion Five-Year-Old Mare, Grand Champion Senior Mare AAOTH and Champion Mare Five-Years & Older AAOTH. Baahir El Marwan was the undisputed "King" of the Scottsdale Ring and Luxemere Jizette was his glorious "Queen"!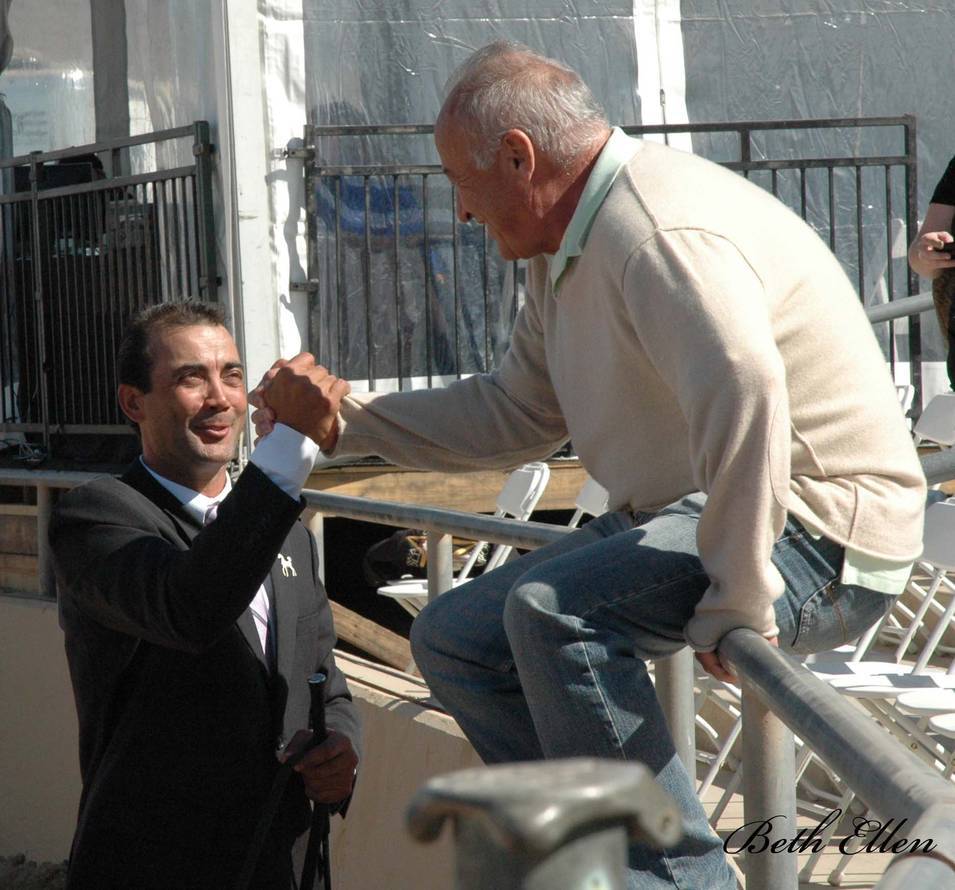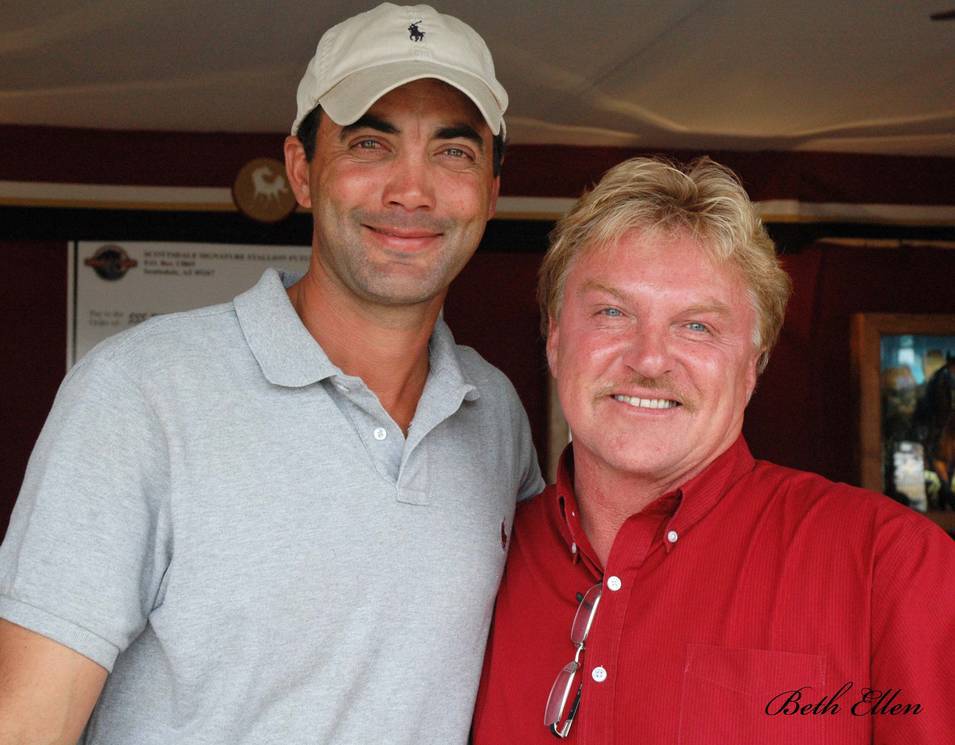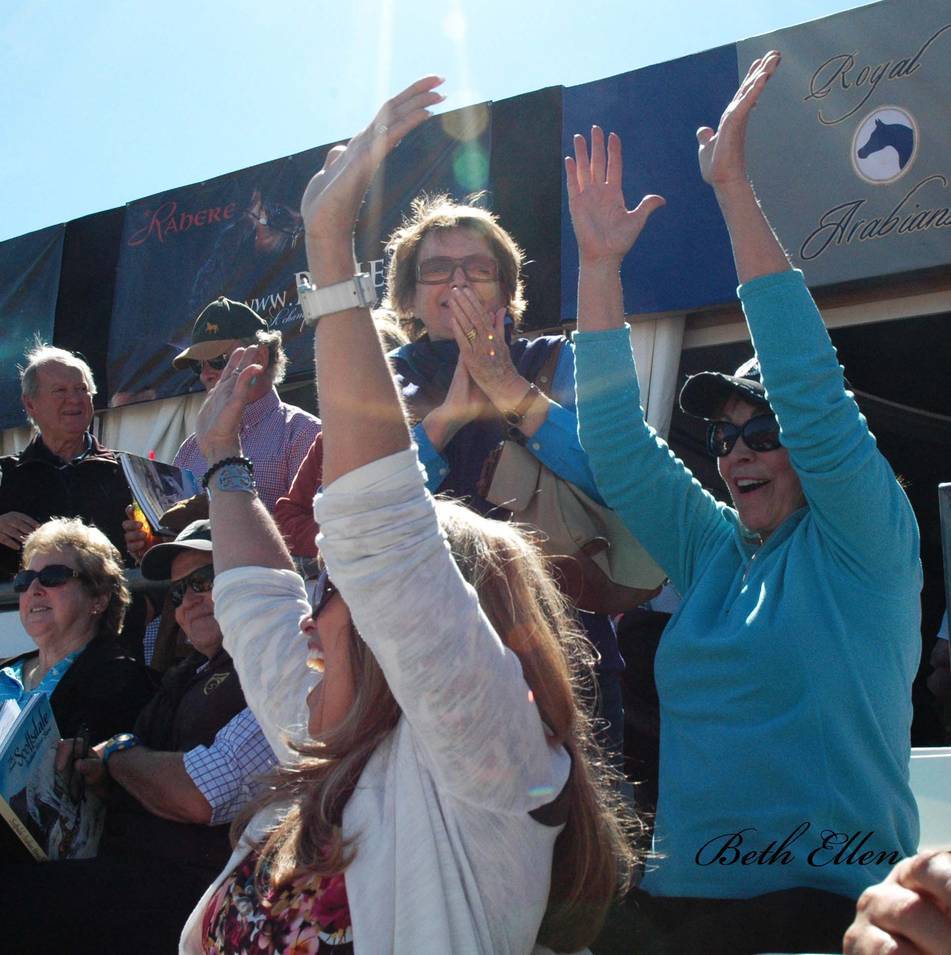 The excitement surrounding the lovely Luxemere Jizette was contagious. This shimmering beauty is a daughter of KM Bugatti and TA Jihana Bey by Genesis C. Jizette has a powerful pedigree, which predicted her extreme beauty, powerful movement and her future as a dam of distinction. Jizette was owned by the A.J. Marino family and presented by A.J. Marino, Jr. to her AAOTH Championship titles. However, in the midst of all the excitement, Mr. Bassam Al Saqran purchased Jizette and so shared in the joy of her being named Scottsdale Grand Champion Senior Mare. It was a great honor for Luxemere Jizette to be named Grand Champion in a class of truly exceptional Arabian mares and an unforgettable personal and professional accomplishment by Dagmar Gordiano, who presented Jizette so beautifully.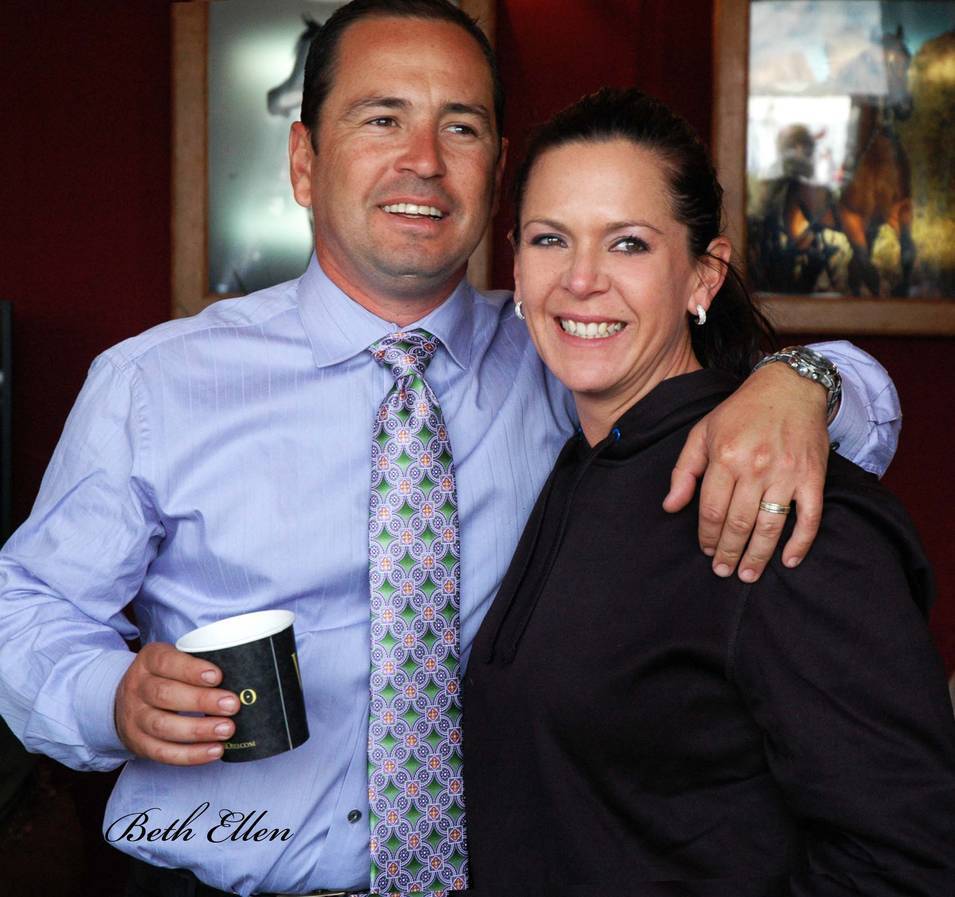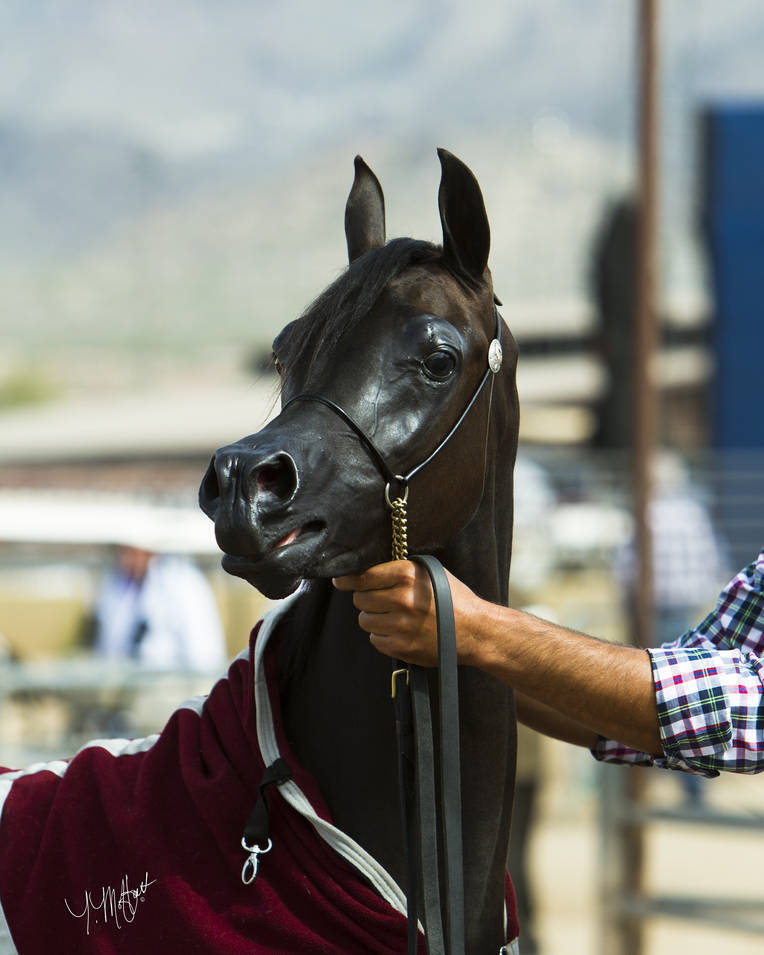 Every year, thousands of people come to the Scottsdale show with one purpose: to see the young new superstars of the Arabian breed. They were not disappointed this year! The dark, delicate and dramatic yearling filly, Zennyatta (Victorious LD x Love Chimes LD by KM Bugatti) was one of the most exciting horses at the entire show. Looking like a gleaming onyx sculpture from an artist's dream, Zennyatta was pure perfection as she was presented by David Boggs! She was first crowned Champion Yearling Filly (April 16th – July 31st) and later, during the Sunday morning finals, the spectacular Zennyatta was also named Grand Champion Junior Filly for her owners, The Zennyatta Partners.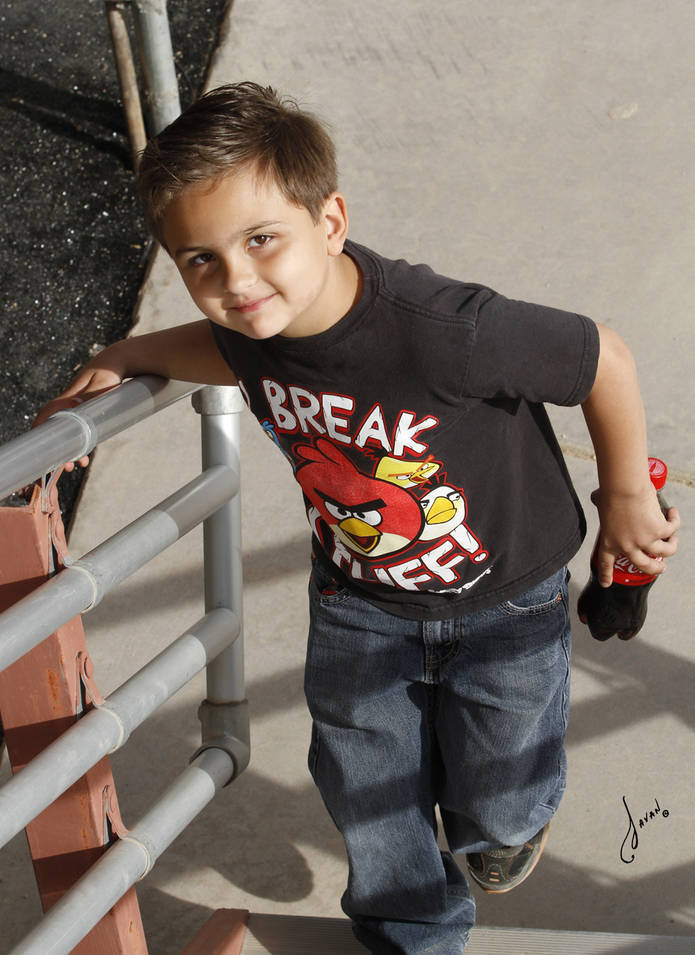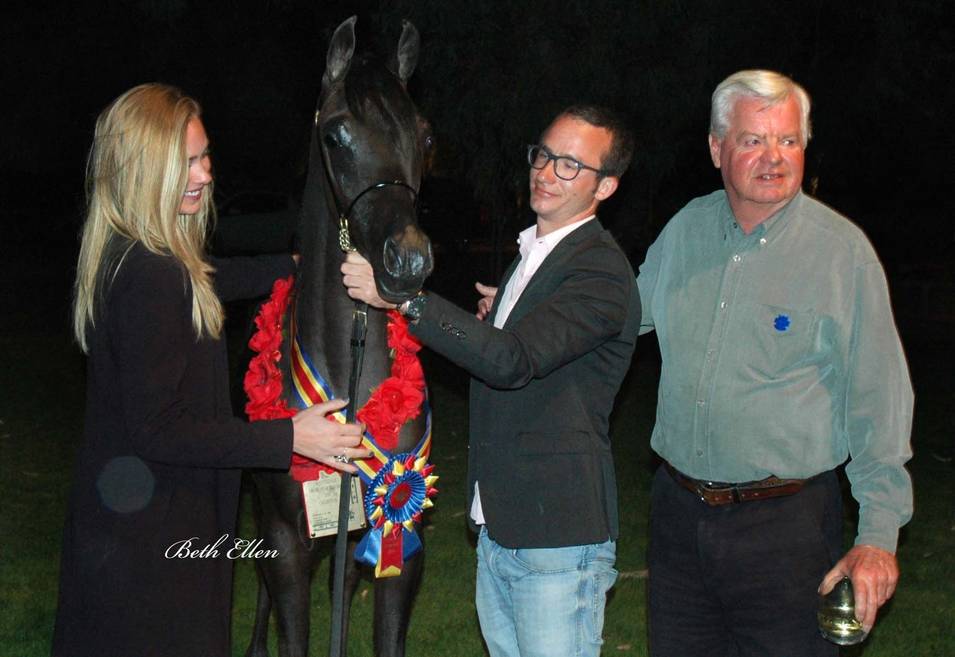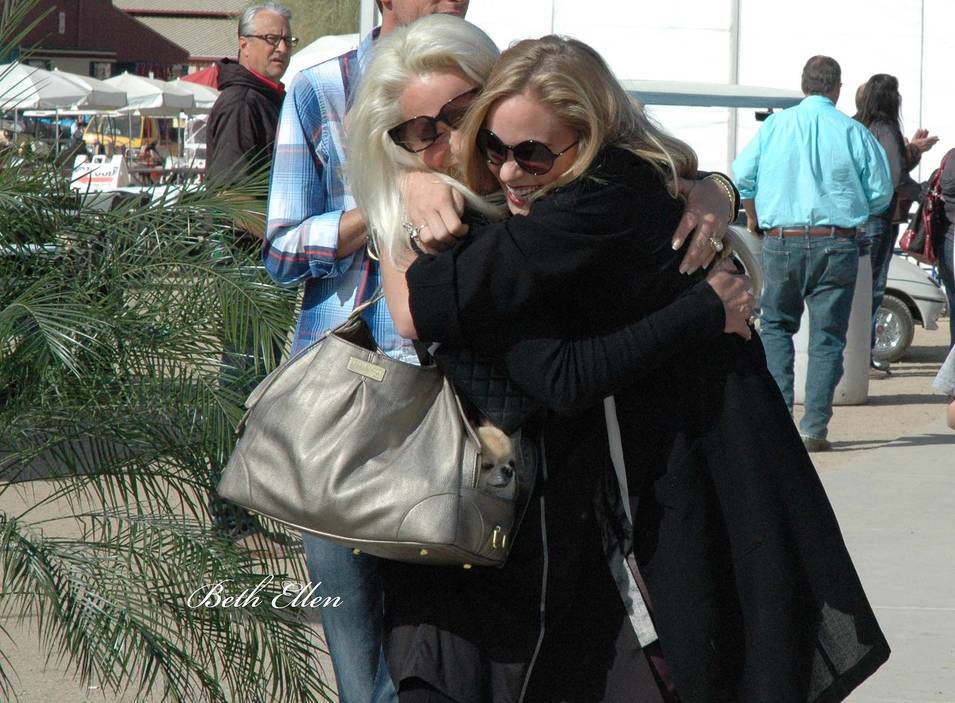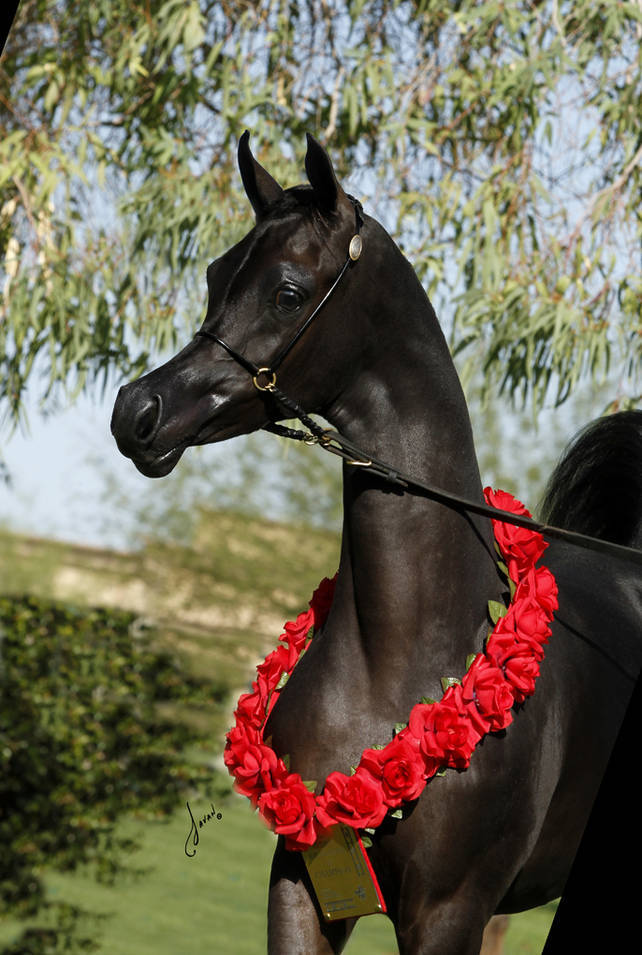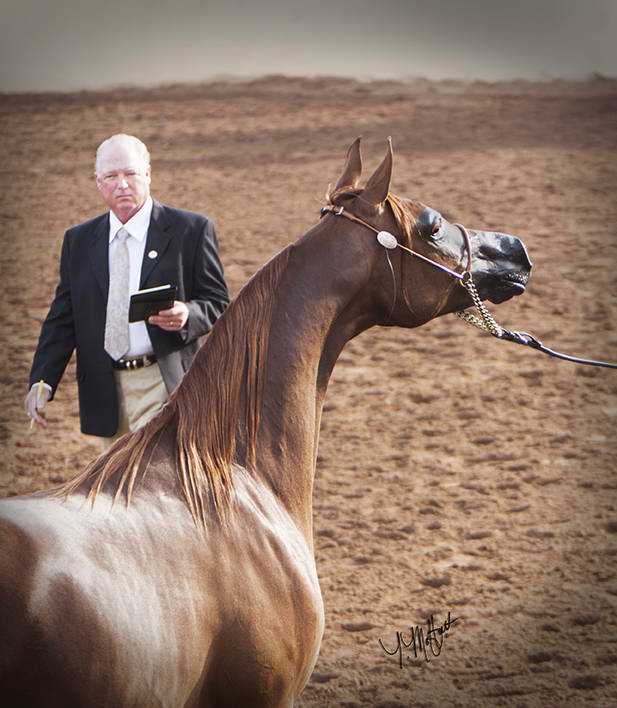 Another filly at the show made spectators look twice because of her startling resemblance to another famous Scottsdale Champion. She is the gleaming chestnut filly, Merveille (Padrons Psyche x A Fancy Miracle), a full sister to the Leading Living Arabian Sire of the World and international Champion Stallion, Magnum Psyche. Merveille was named Scottsdale Champion Two-Year-Old Filly (January 1st – April 15th). Congratulations to Lank and Karen Havice, her breeders and owners, as well as the breeders of Magnum Psyche. We all owe the Havices a huge debt of thanks – they are proof that small breeders can make huge contributions to the Arabian horse and to our community.
Some of the most important competitions of the show are the Scottsdale Signature Stallion (SSS) Yearling Auction Futurities and Scottsdale Signature Stallion classes for Yearlings, Two-Year-Olds, Three-Year-Olds and Four Years & Over purebred horses. Leading Team Midwest's SSS winners was the Champion Scottsdale Signature Stallion Auction Yearling Filly, RAH Topaz (Rahere x Magnums Caress IA), bred by Janice McCrea Wight and Alex Chrys and owned by Janice McCrea Wight. Dr. J.W. Wight beautifully presented RAH Topaz who won the championship roses and a check for $33,346.95!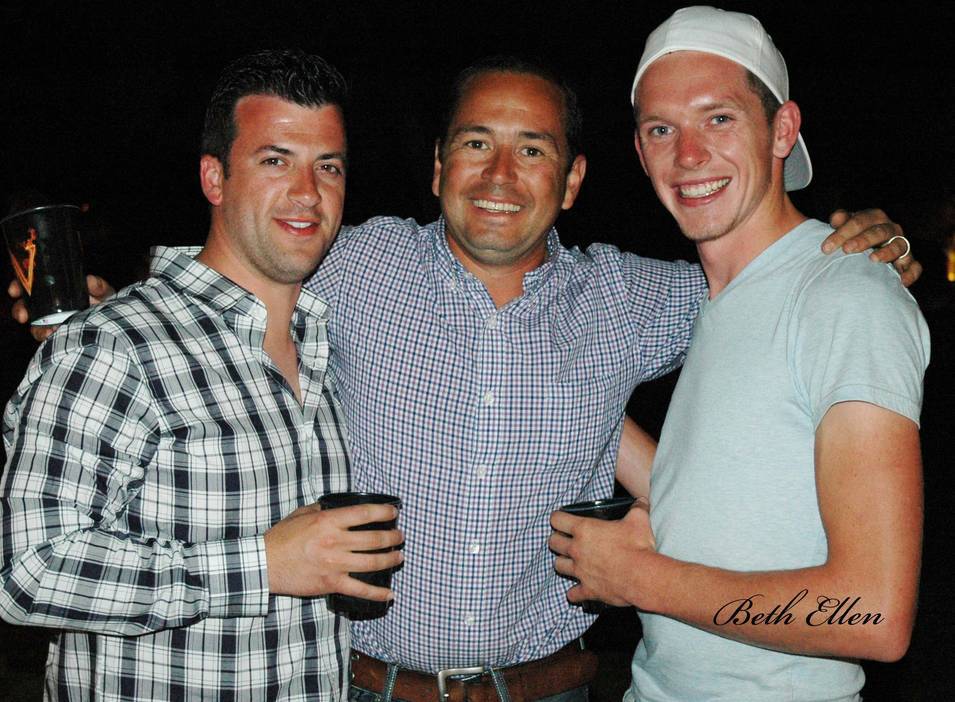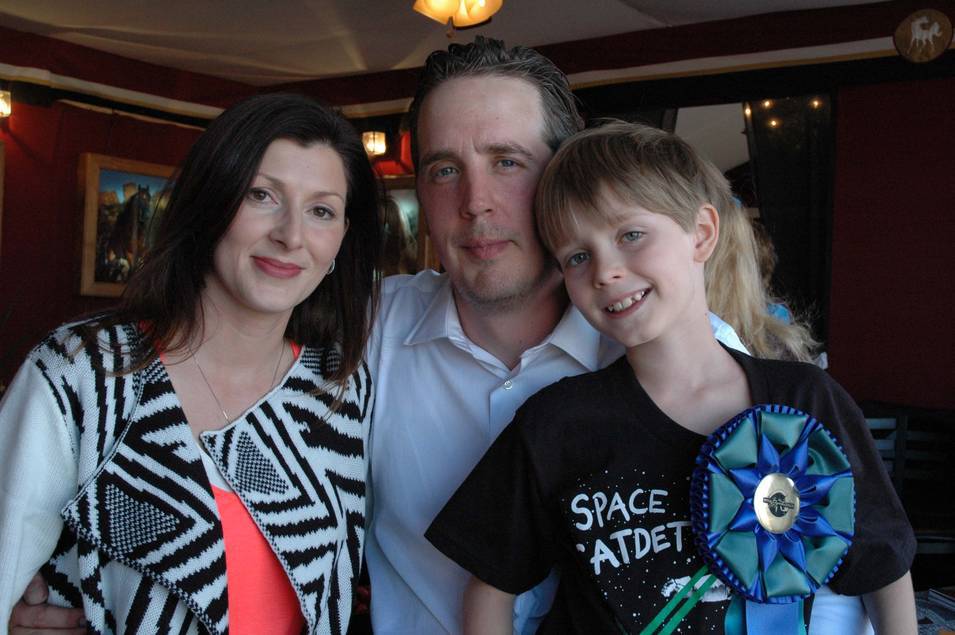 Team Midwest brought home numerous SSS Champions including: SSS Champion Two-Year-Old Filly Chantilly Lace ORA (Vitorio TO x Raherra), bred and owned by Oak Ridge Arabians; SSS Reserve Champion Yearling Colt/Gelding MC Vulcan (Vitorio TO x Lovins Khrush SSA), owned by Oak Ridge Arabians; SSS Champion Four-Years & Over Mare Kharisma M (DA Valentino x Kharmel BR), bred and owned by Anthony Marino or Anthony Marino, Jr.; and also Mi Grand Valentino (DA Valentino x Mi Grand Lady) SSS Reserve Champion Four-Years & Over Stallion, as well as the Champion Platinum Performance Liberty Horse! Note the breeding on each of these champions; it is not a coincidence they are all sired by multi-national champion stallion Vitorio TO or his sire, the great DA Valentino. Midwest Training Centre represents both Vitorio TO and DA Valentino. Team Midwest showed an additional seven SSS Top Ten winners.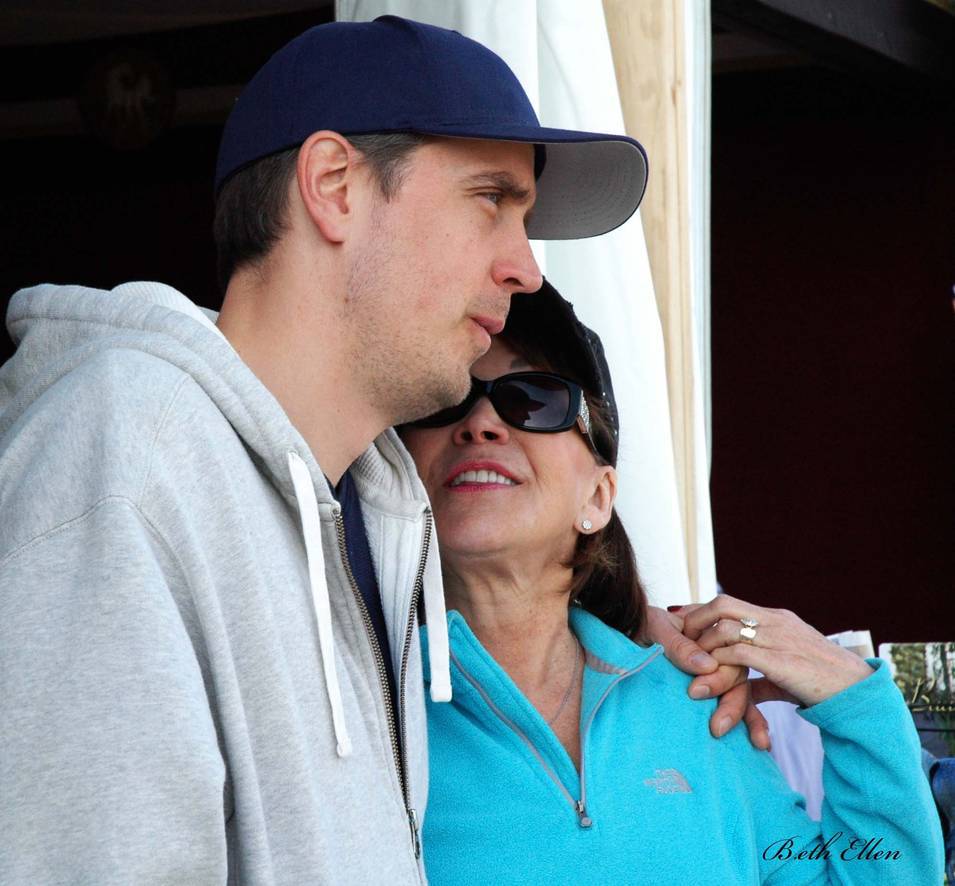 Contributing to Team Midwest's record-breaking success at the 2014 Scottsdale show was the exciting half-Arabian champion, The Big Bopper ORA, bred and owned by the Janey Morse family and presented in the amateur classes by Janey's son, Don Morse, Jr. The Arabian horses are an adventure the Morse family truly enjoys together. The Big Bopper ORA is a very special horse. Making the wins even more meaningful is the fact that he was sired the Morse's super star stallion, Vitorio TO, who is currently on lease to the Michalow Polish State Stud. The Big Bopper ORA is one of the many champions sired by Vitorio TO and bred by Oak Ridge Arabians. Big Bopper's 2014 Scottsdale titles include Supreme Half Arabian Halter Horse, Grand Champion HA Junior Geldings, Champion HA 2 Year Old Gelding, Champion HA 2 Year Old Gelding AAOTH, Reserve Grand Champion HA Gelding AAOTH, Grand Champion HA Gelding JTH and Champion HA Gelding 3 & Under JTH. We congratulate Dagmar Gordiano who showed The Big Bopper to his titles in the open classes.
Midwest Training Centre has always strived to represent the very finest horses of our breed. Over the years, their services have expanded from training, conditioning, showing and marketing to include breeding and stallion management. Midwest has had the privilege of standing some of the most important and influential stallions in the world. Today, Midwest stands stallions from around the global, offering breeders the opportunity to select from leading sires of the breed, as well as new and emerging super star sires. One of the top sires at the Scottsdale show was Vitorio TO, owned by Oak Ridge Arabians, the Janey Morse family. This multi-national champion stallion is on lease to Michalow State Stud in Poland. We congratulate all of his winning offspring!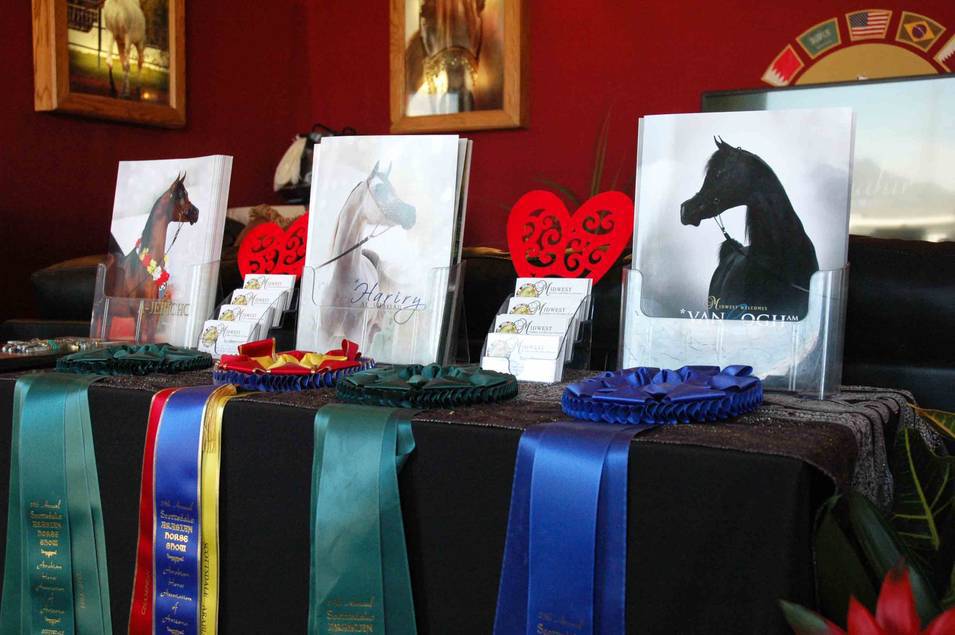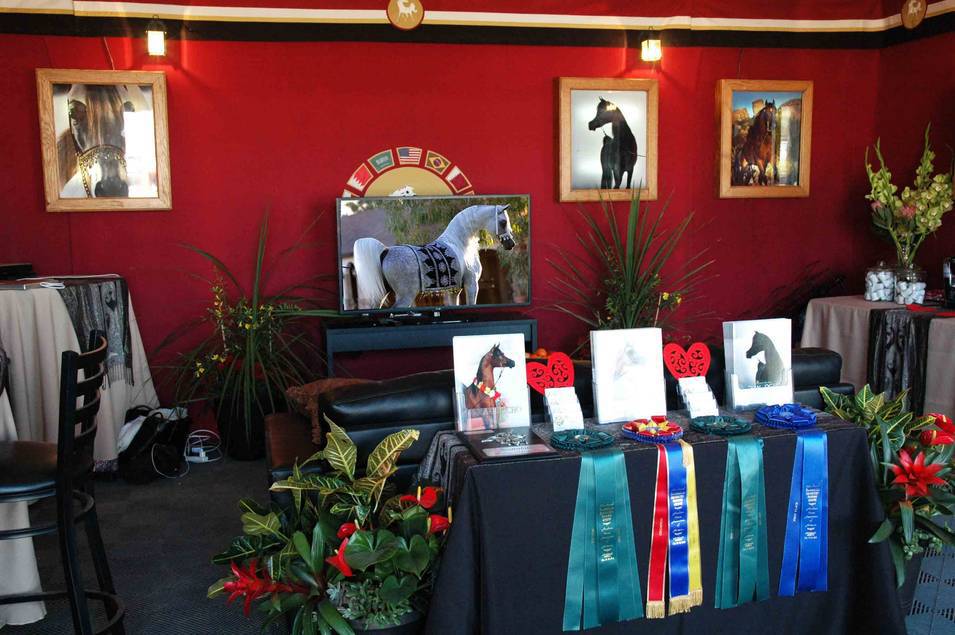 We also thank all the breeders who visited the booth and the farm and who confirmed bookings to the Midwest stallions including the international sensation and U.S. National Champion, Hariry Al Shaqab (Marwan Al Shaqab x White Silkk), owned by Al Shaqab Member Qatar Foundation; and the extraordinary young stallion, Van Gogh (Magnum Psyche x Ynazia HCF), owned by HRH Prince Abdullah Bin Fahad Al Saud from the Kingdom of Saudi Arabian. We believe these young stallions are the next generation of greatness and are destined to sire future generations of champions!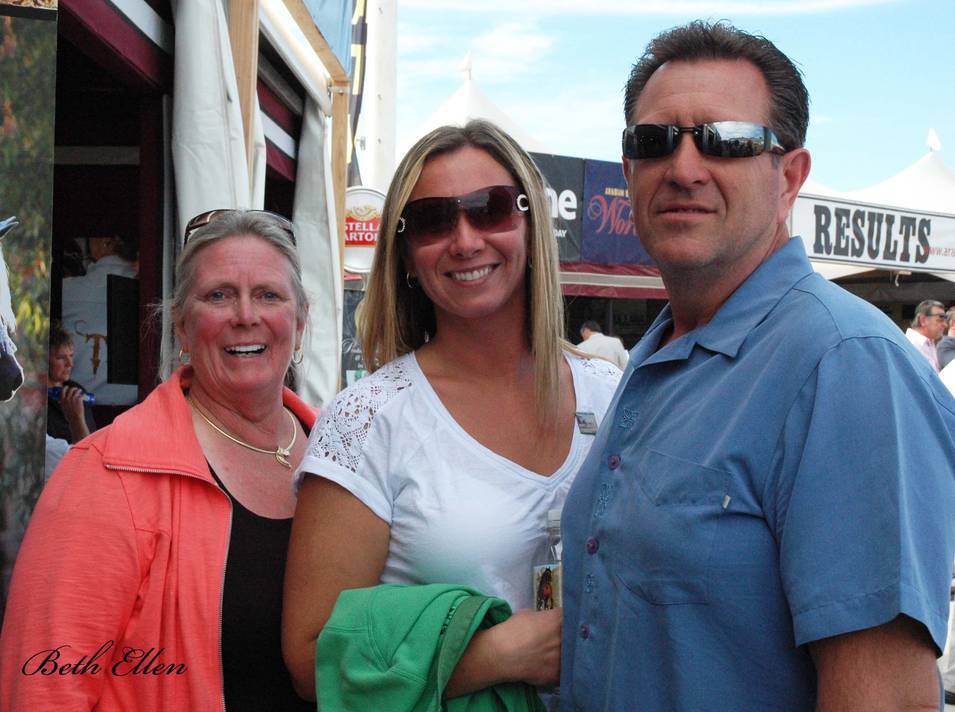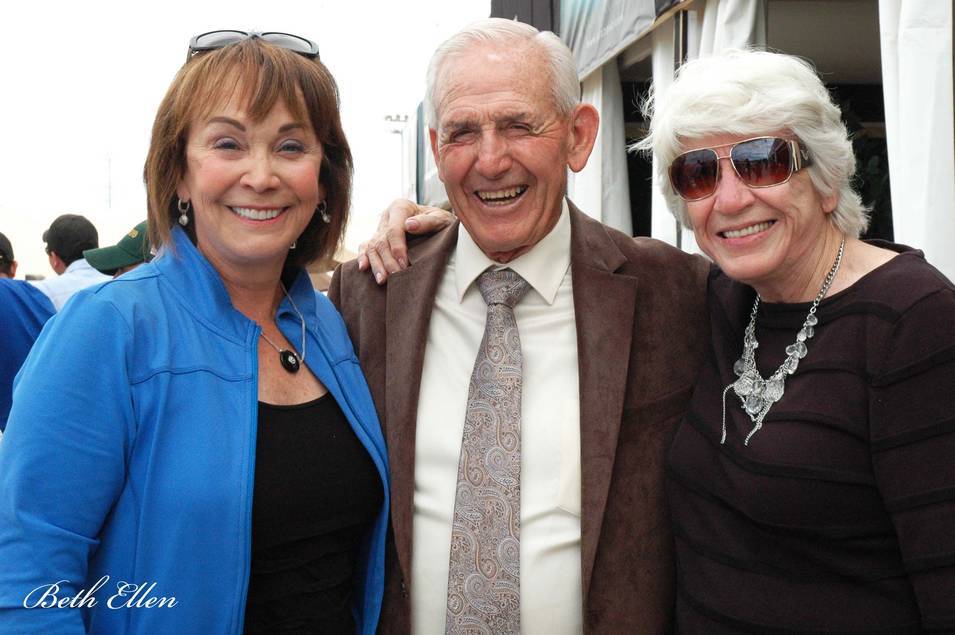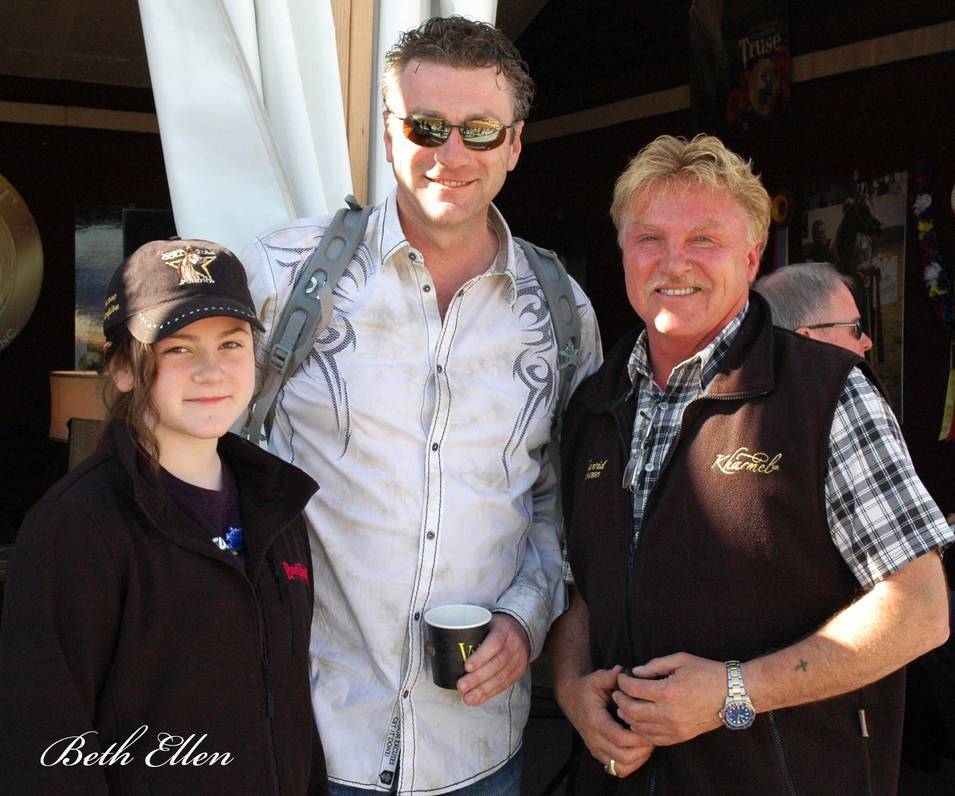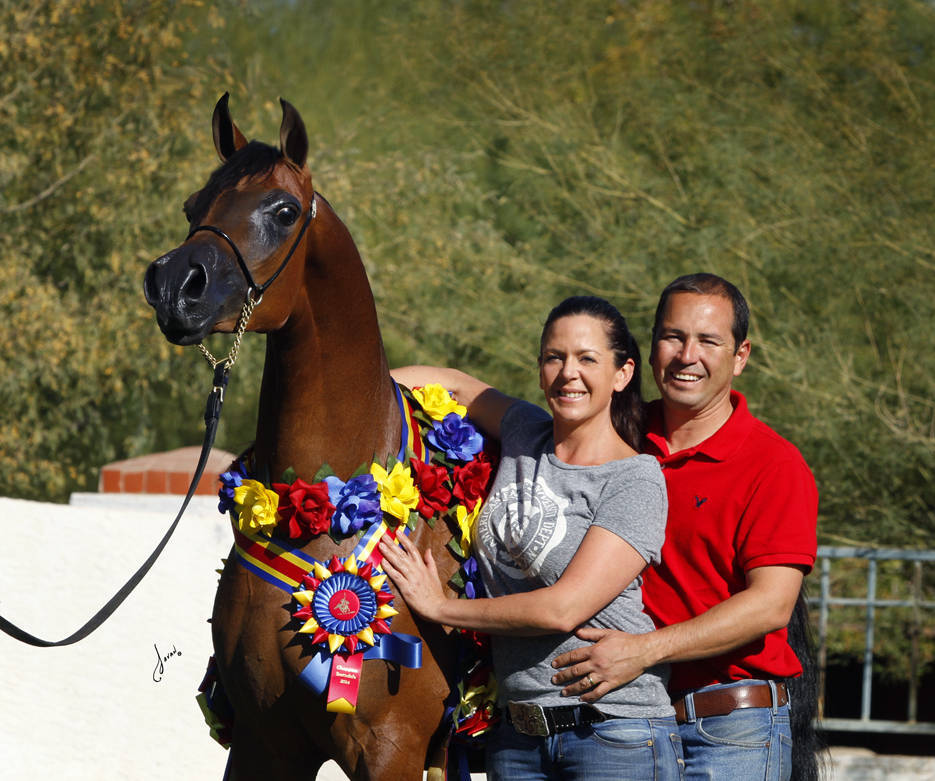 This year, Team Midwest earned an impressive array of championship trophies, ribbons and roses. In addition, they earned over $98,000.00 in prize money! However, the greatest reward for all the long hours, hard work, and commitment was the joy on the faces of David Boggs' family, friends and clients as they gathered to celebrate their success.
David offers his heartfelt, thanks to his team, "Words cannot express my gratitude to Nate White, Alcides Rodrigues and Margo Rodrigues, Dagmar Gordiano, Rinaldo Longuini, Andy Carroll, Pat McGinnis, Louise Detailleur, Nicola Mearelli, Colton Jacobs, Austin Garrett and Kyle Edsall for your dedication, hard work and selfless efforts for the benefit of our farm, our clients and their horses. You are dream makers! Each of our clients has a dream of sharing their life with great Arabian horses and you enable them to make their dreams come true. So, on behalf of Team Midwest, we thank our clients for allowing us the privilege of presenting your horses – the best Arabian horses in the world. Together, we came to the Scottsdale show – the greatest Arabian horse show in the world – and achieved another year of record-breaking success! Cheers!"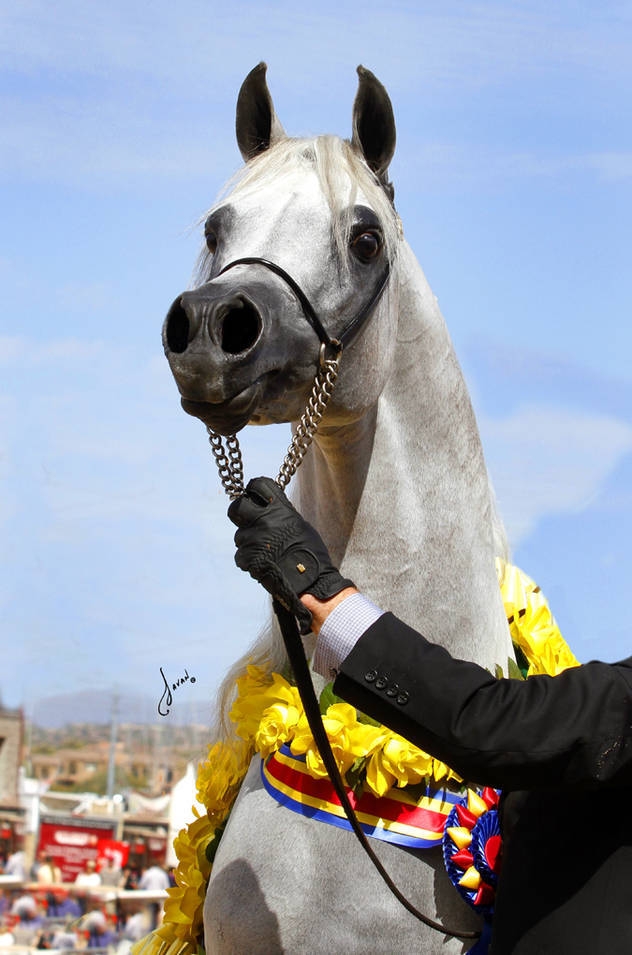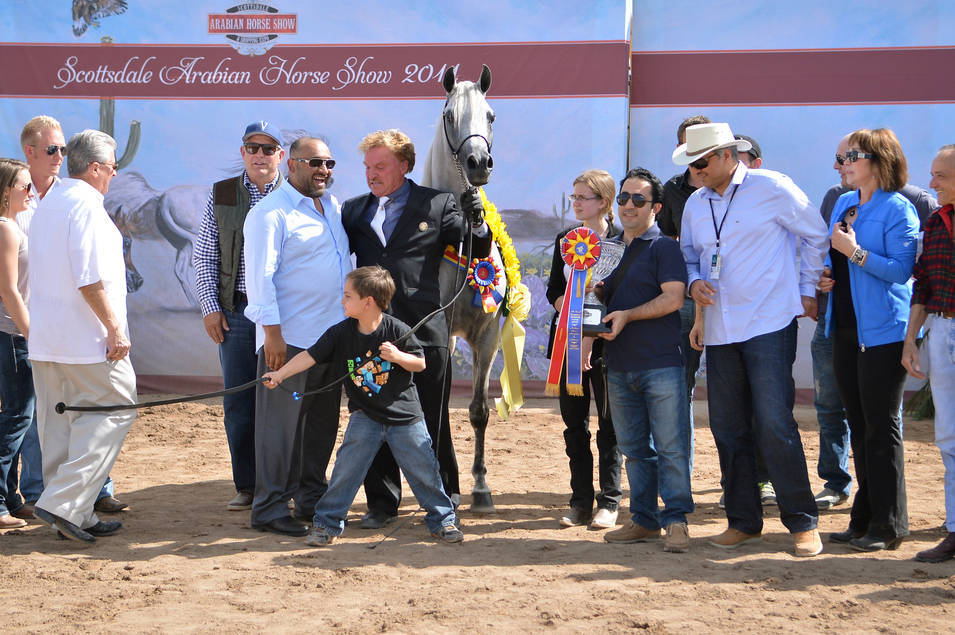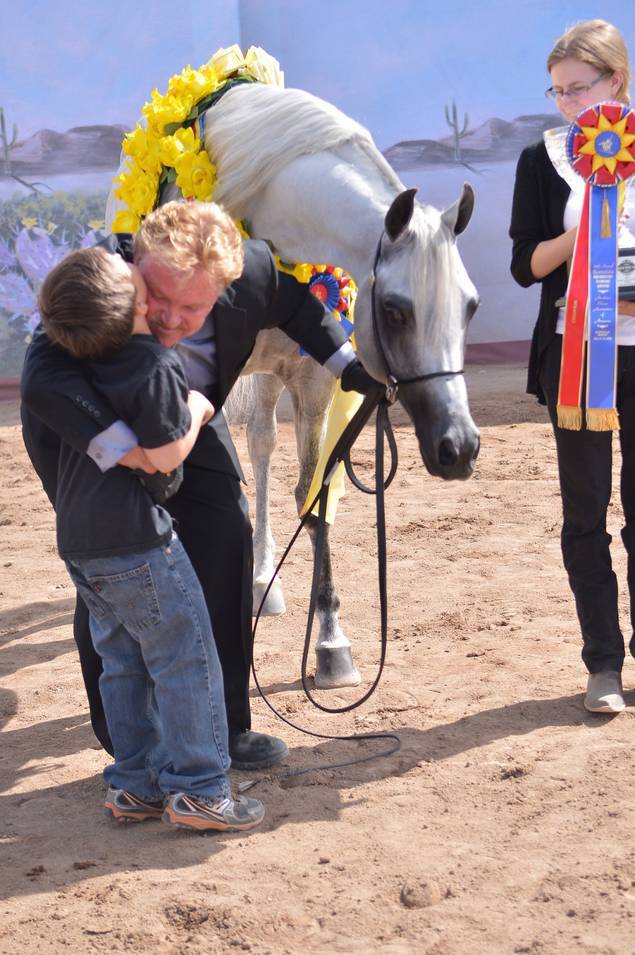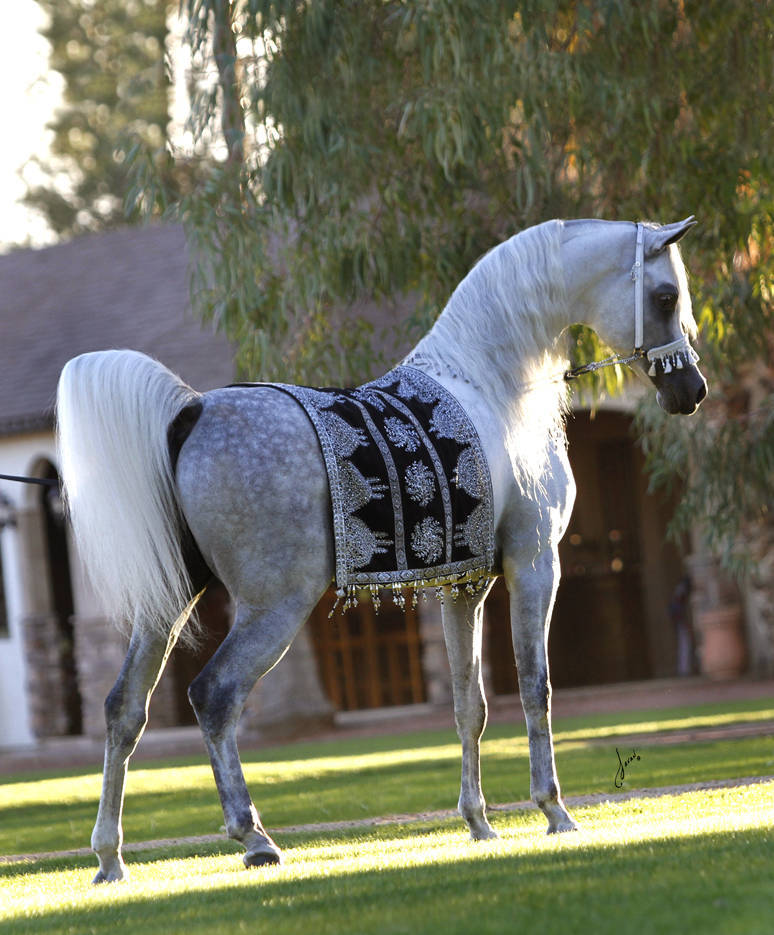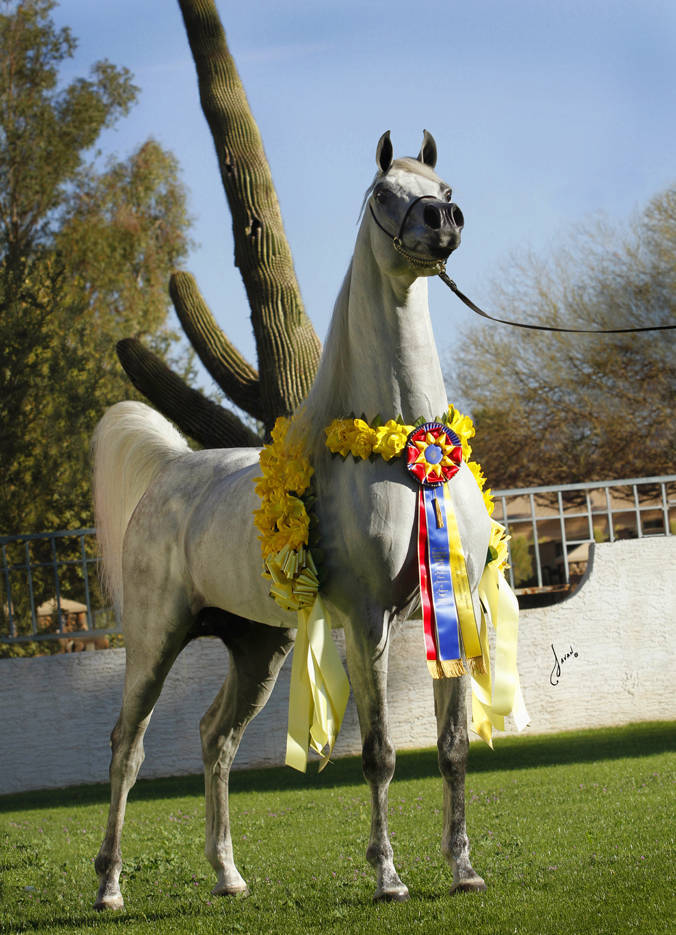 *Baahir El Marwan
(Marwan Al Shaqab x HB Bessolea)
Supreme Champion Halter Horse
Unanimous Grand Champion Senior Stallion
Unanimous Champion 6 & 7 Year Old Stallion
---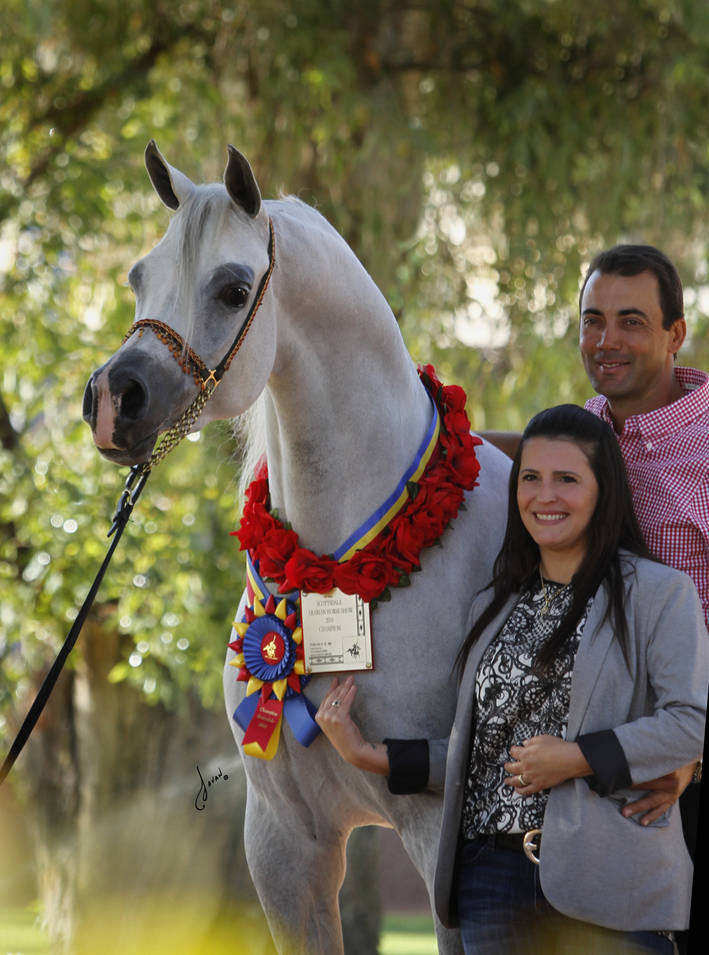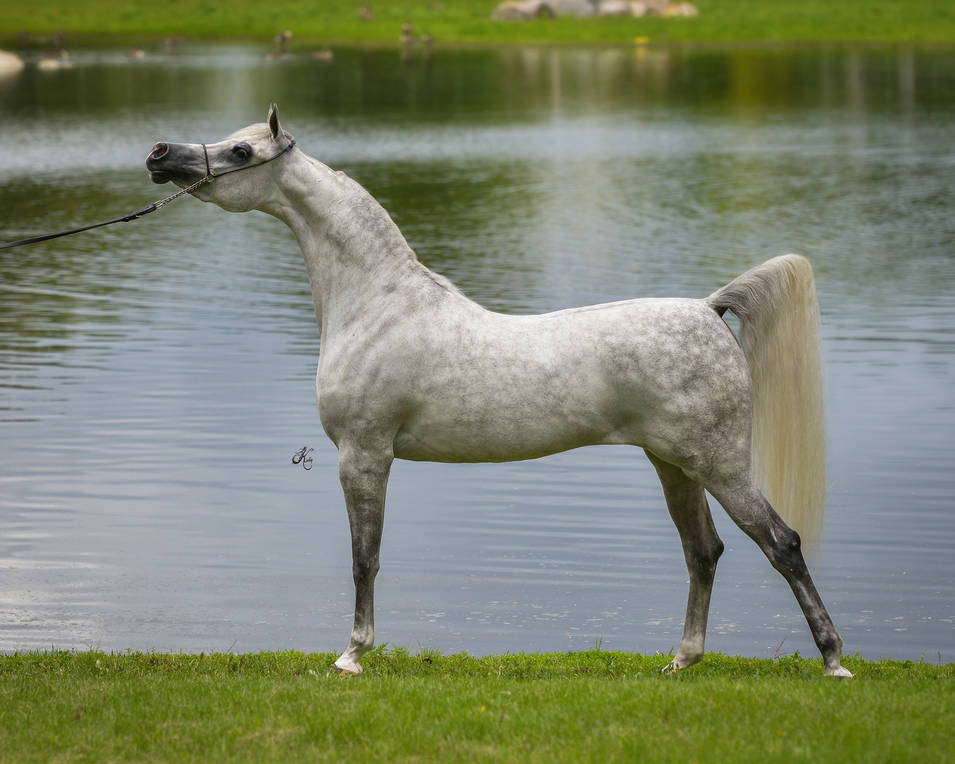 Luxemere Jizette
(KM Bugatti x TA Jihana Bey)
Grand Champion Senior Mare
Champion 5 Year Old Mare
Grand Champion Senior Mare AAOTH
Champion Mare 5 & Older AAOTH
---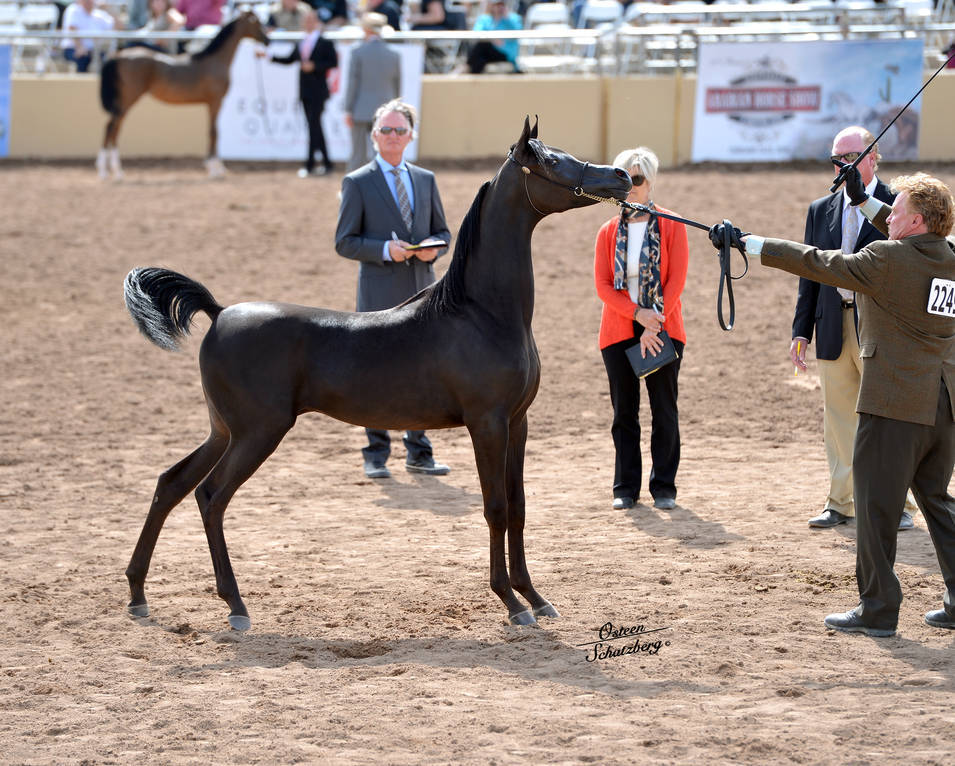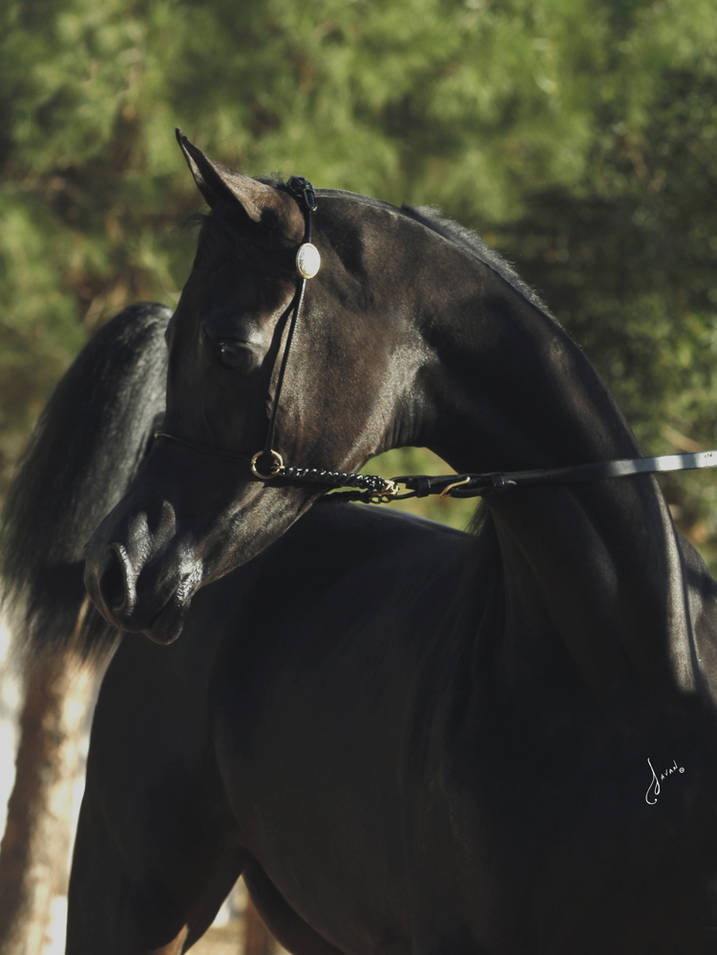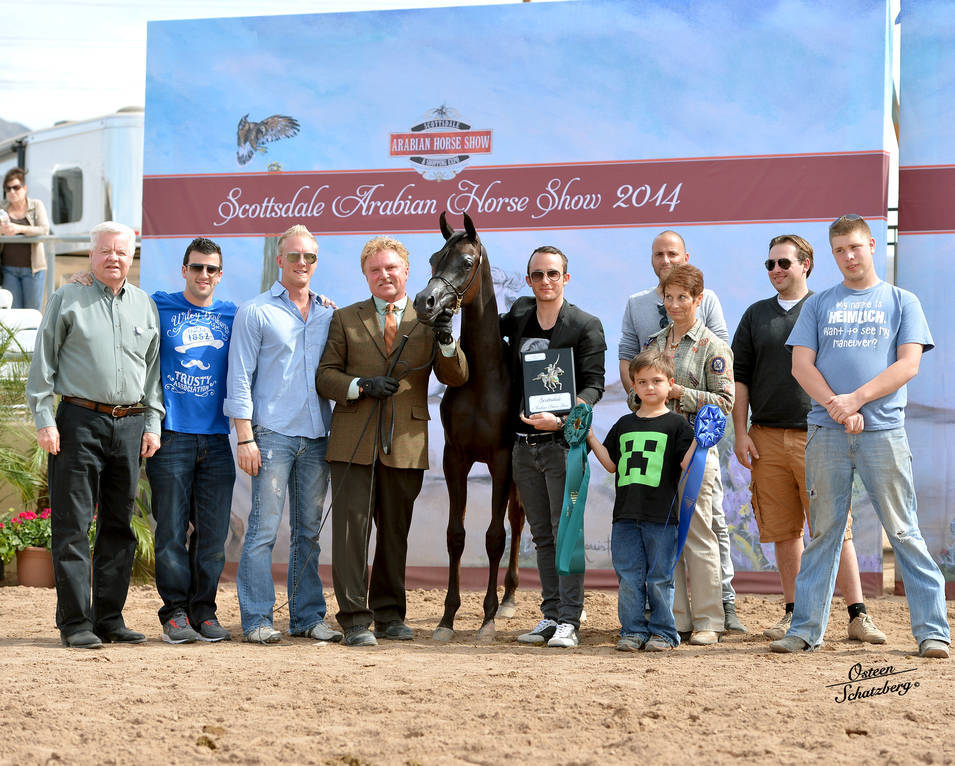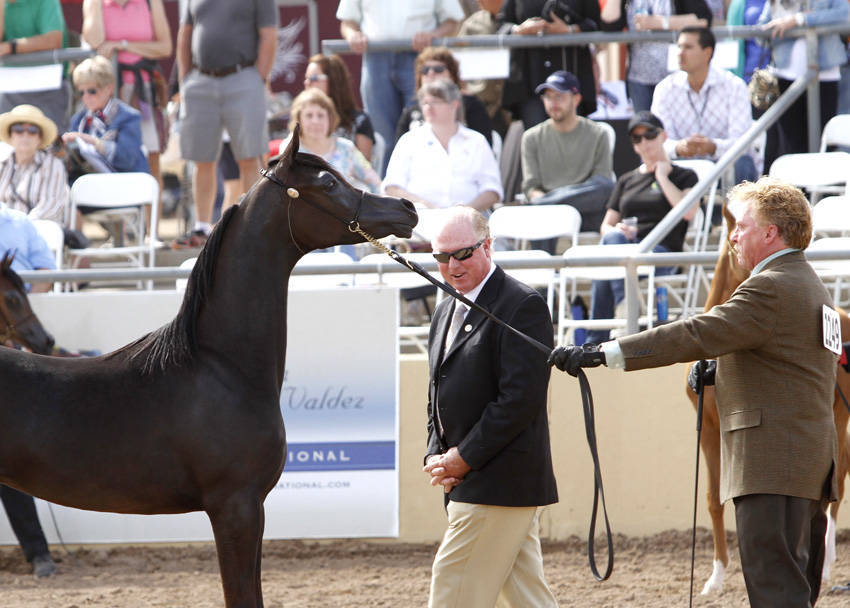 *Zennyatta
(Victorious LD x Love Chimes LD)
Grand Champion Junior Filly
Champion Yearling Filly (April 16th – July 31st)
---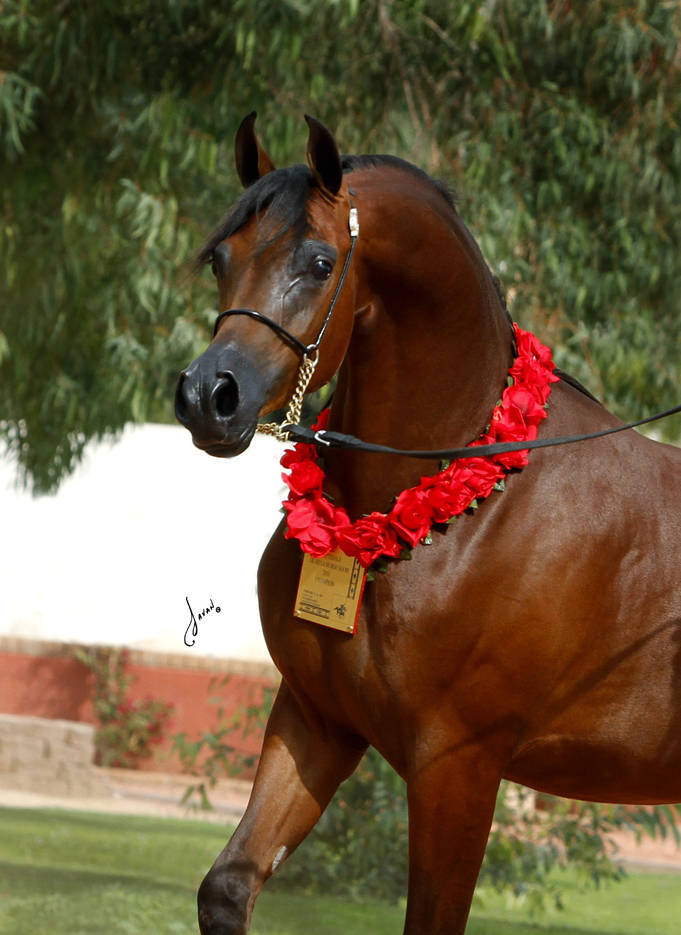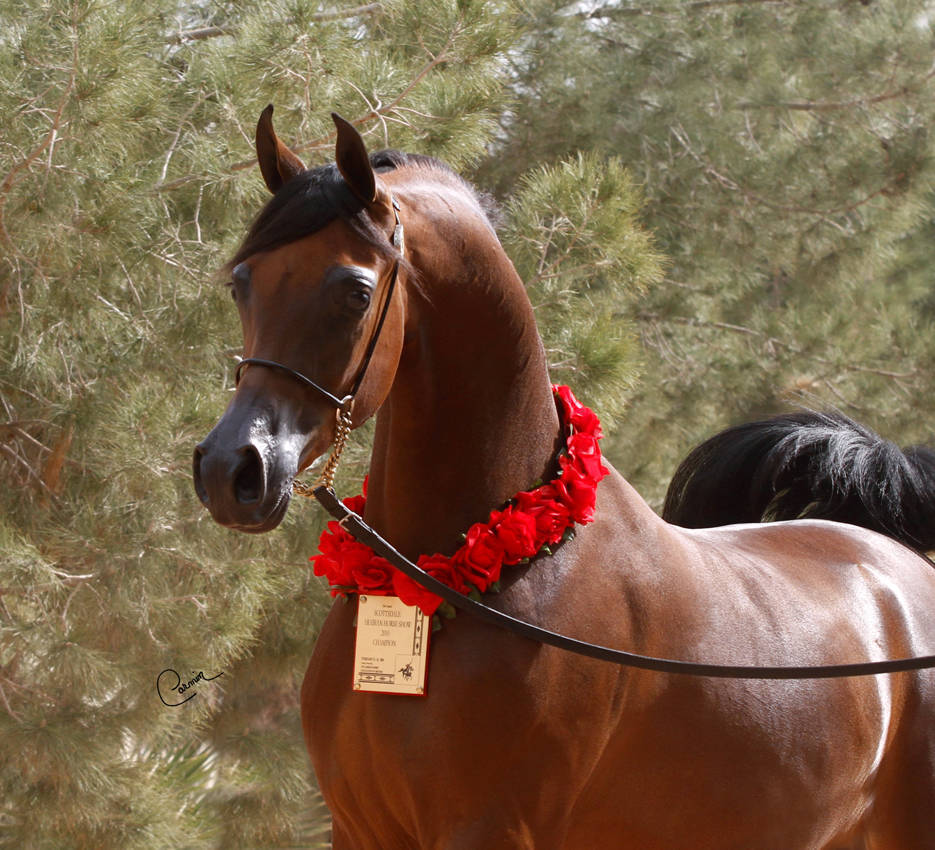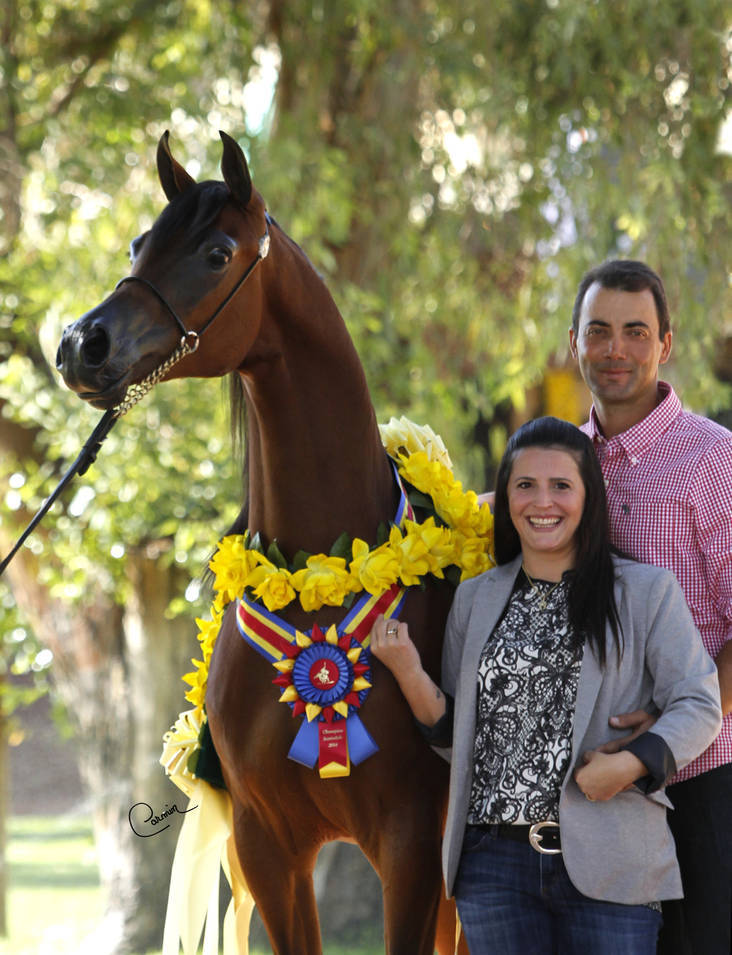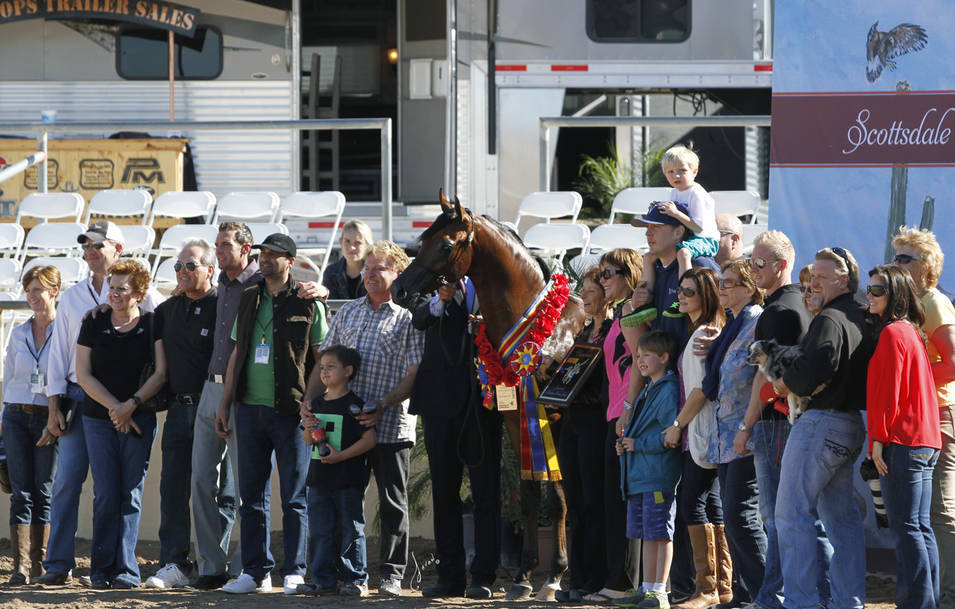 The Big Bopper ORA
(Vitorio TO x She Be Adiva KBS)
Supreme Half Arabian Halter Horse
Grand Champion HA Junior Geldings
Champion HA 2 Year Old Gelding
Champion HA 2 Year Old Gelding AAOTH
Reserve Grand Champion HA Gelding AAOTH
Grand Champion HA Gelding JTH
Champion HA Gelding 3 & Under JTH
---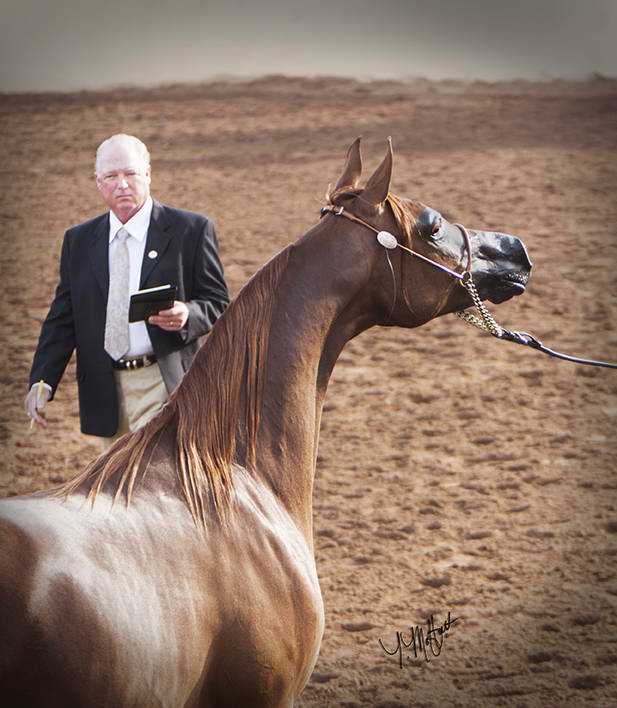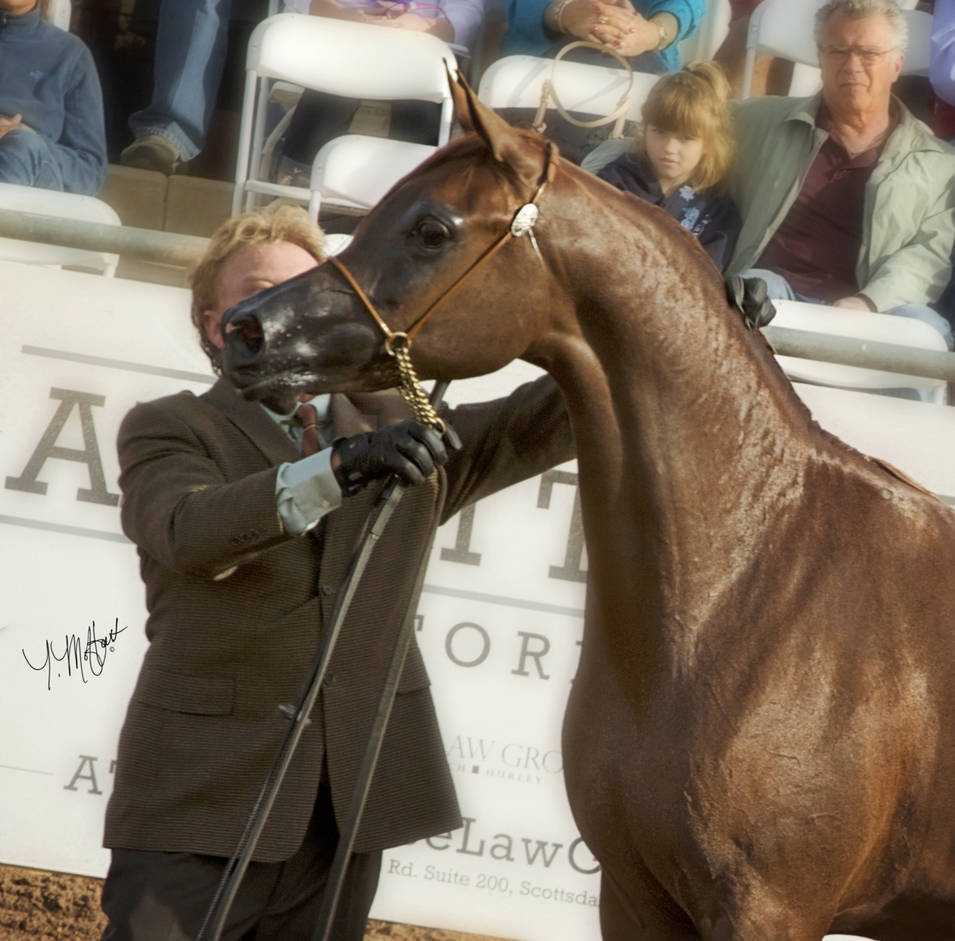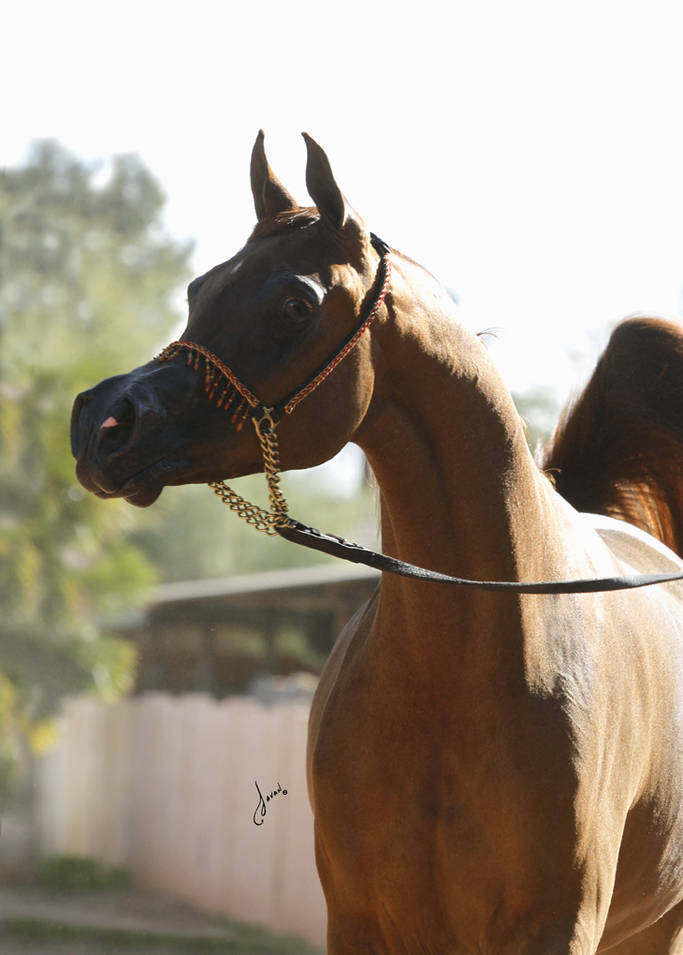 Mervielle
(Padrons Psyche x A Fancy Miracle)
Champion 2 Year Old Filly ( January 1st – April 15th)
---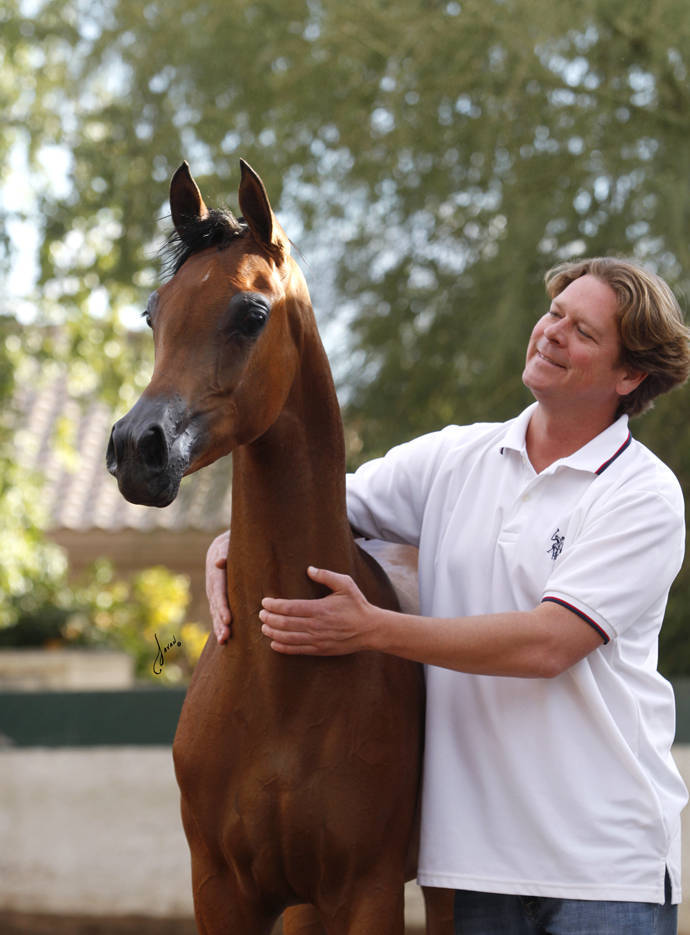 RAH Topaz
(Rahere x Magnums Caress IA)
Champion Scottsdale Signature Yearling AUCTION Filly
---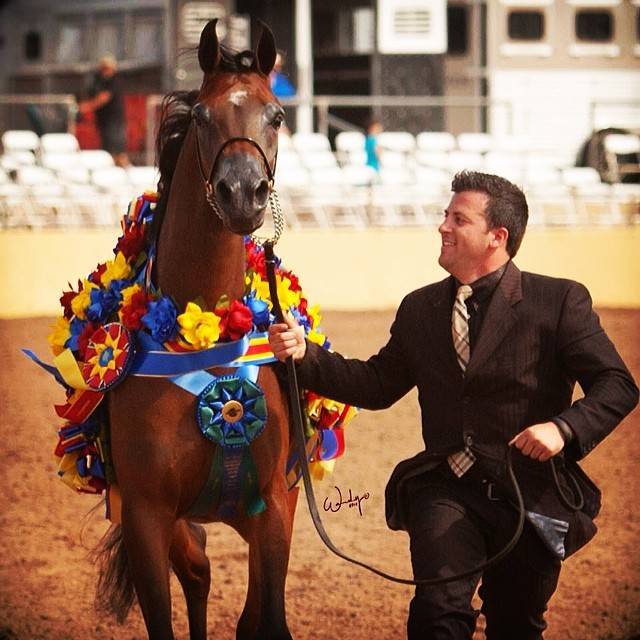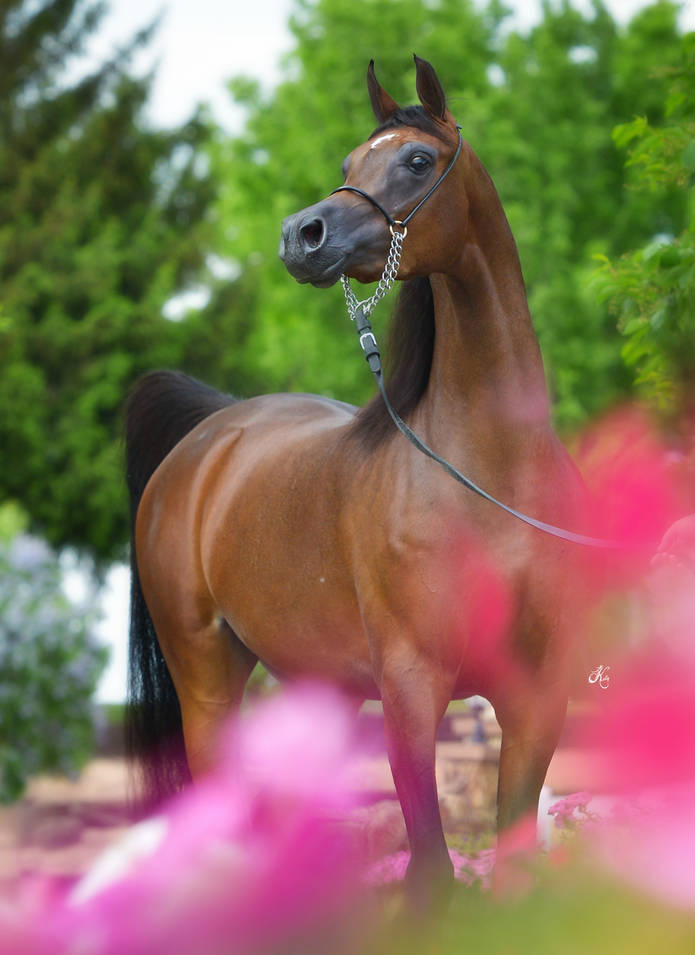 Kharisma M
(DA Valentino x Kharmel BR)
Champion Scottsdale Signature 4 & over Mare
---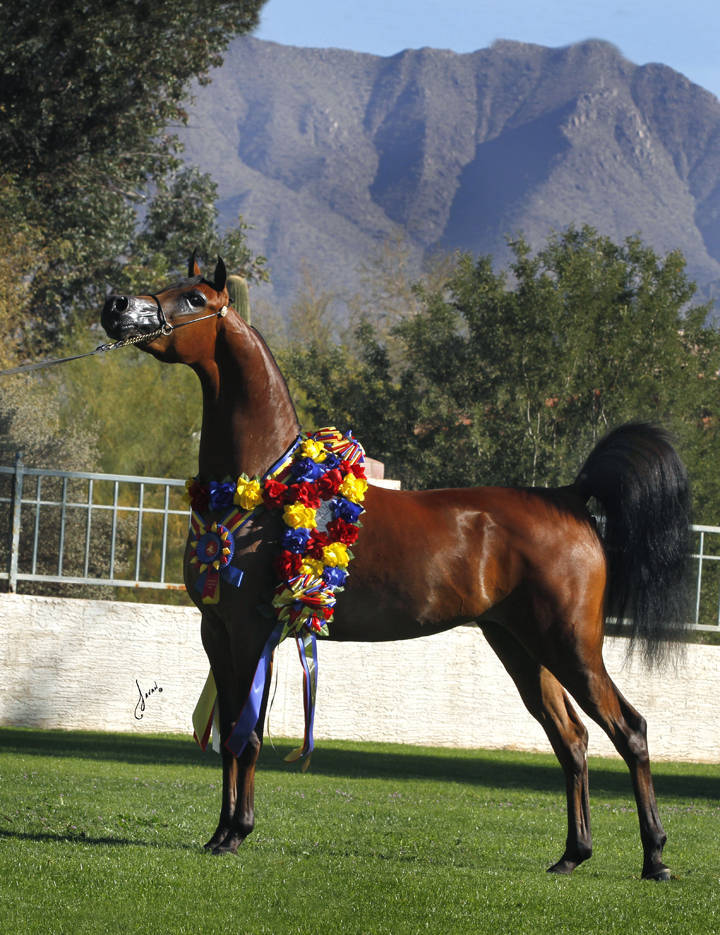 Chantilly Lace ORA
(Vitorio TO x Raherra)
Champion Scottsdale Signature 2 Year Old Filly
Top Ten 2 Year Old Filly (January 1st – April 15th)
---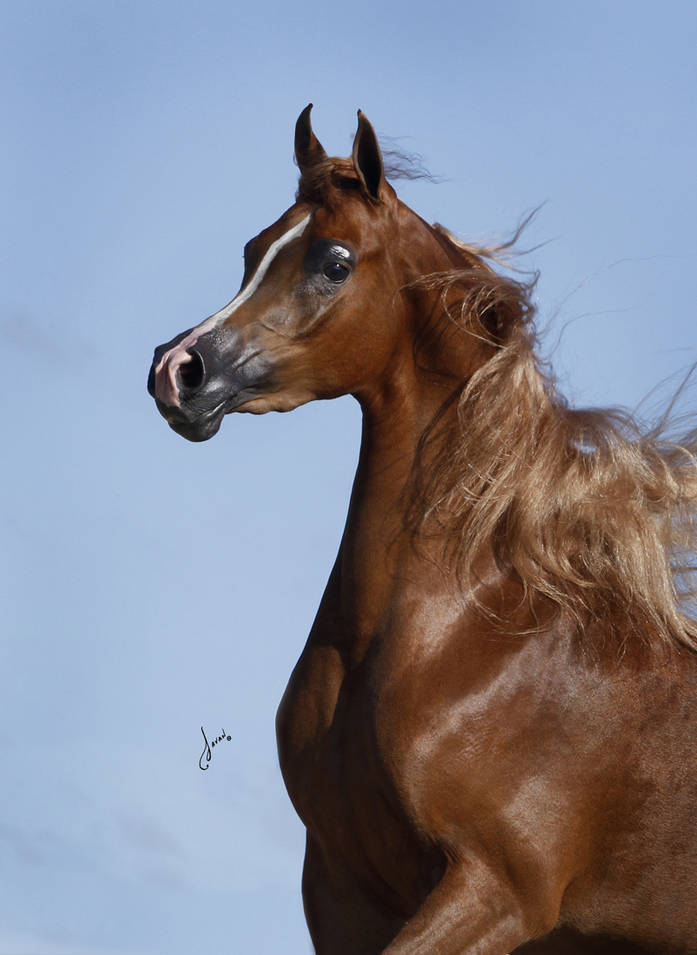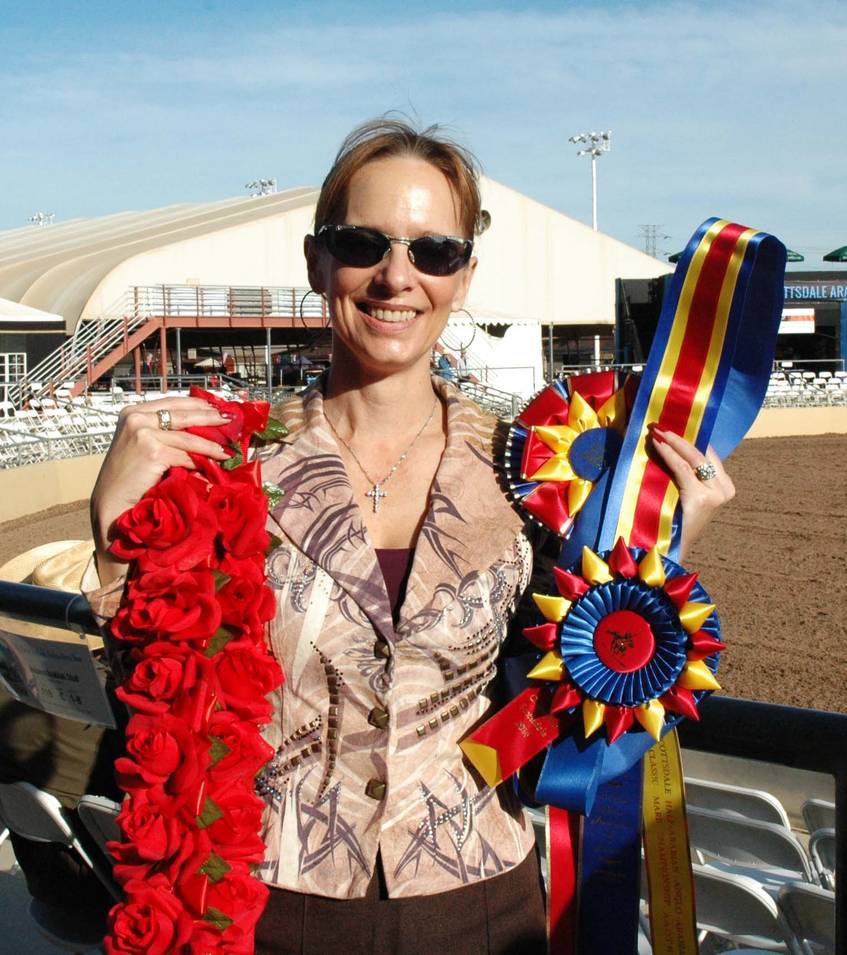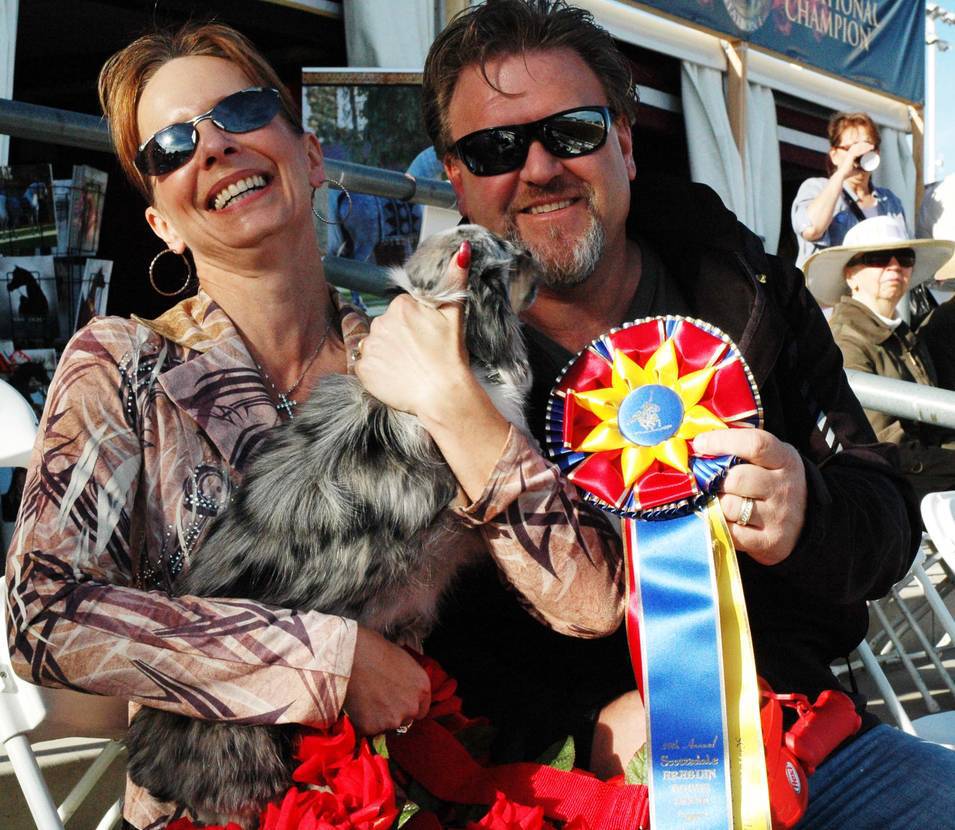 Beni TG
(DA Valentino x Rohara Mademoiselle)
Grand Champion HA Mare
Champion HA 3 & 4 Year Old Mare
Grand Champion HA Mare AAOTH
Champion HA 3 & over Mares AAOTH
Grand Champion HA Mare JTH
Champion HA Mare 3 & under JTH
---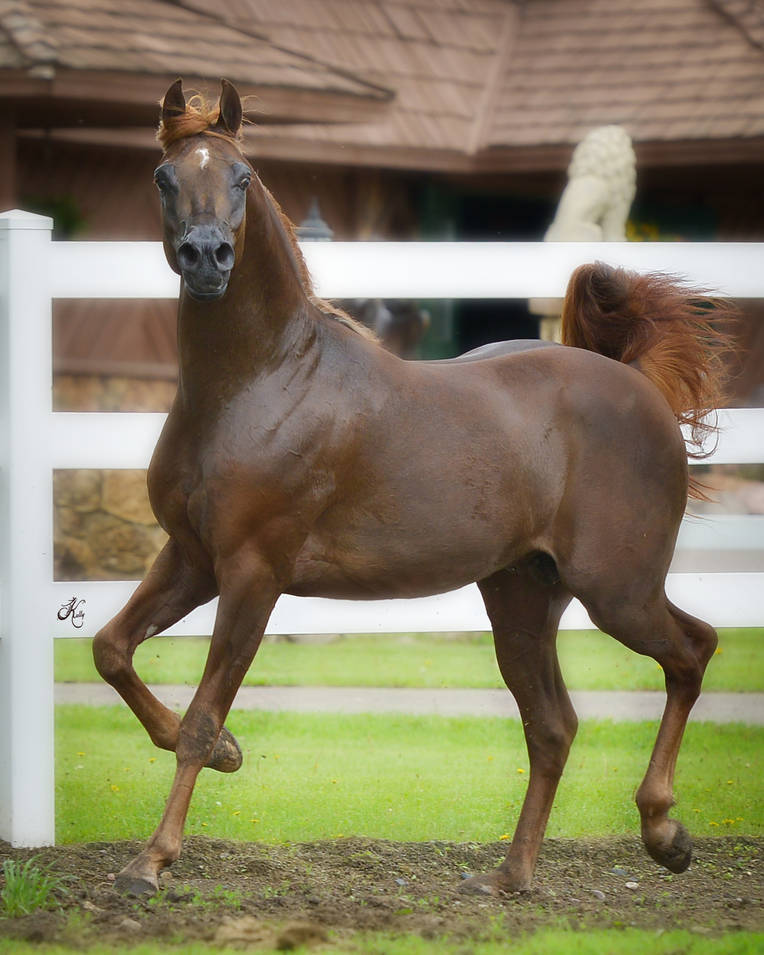 Mi Grand Valentino
(DA Valentino x Mi Grand Lady)
Champion Platinum Performance Liberty Horse
Reserve Champion Scottsdale Signature 4 & Over Stallions
---
MC Vulcan
(Vitorio TO x Lovins Khrush SSA)
Reserve Champion Scottsdale Signature Yearling Colts/Geldings
---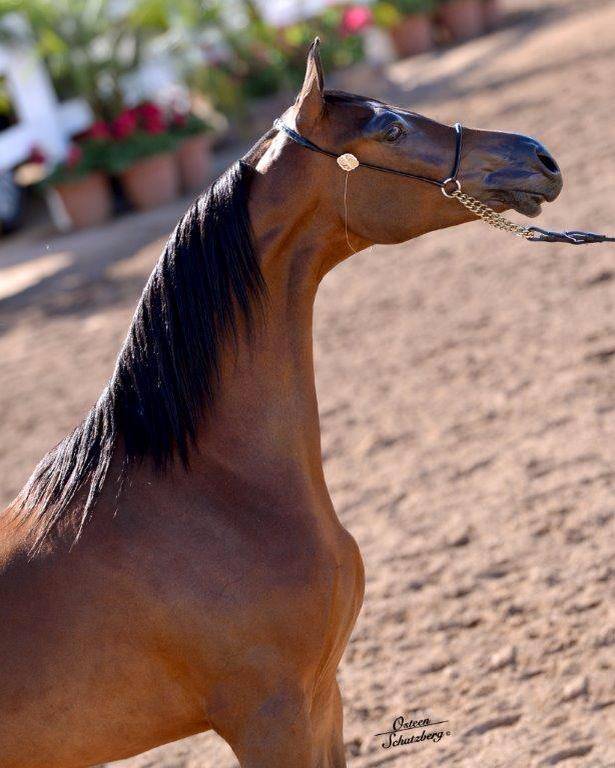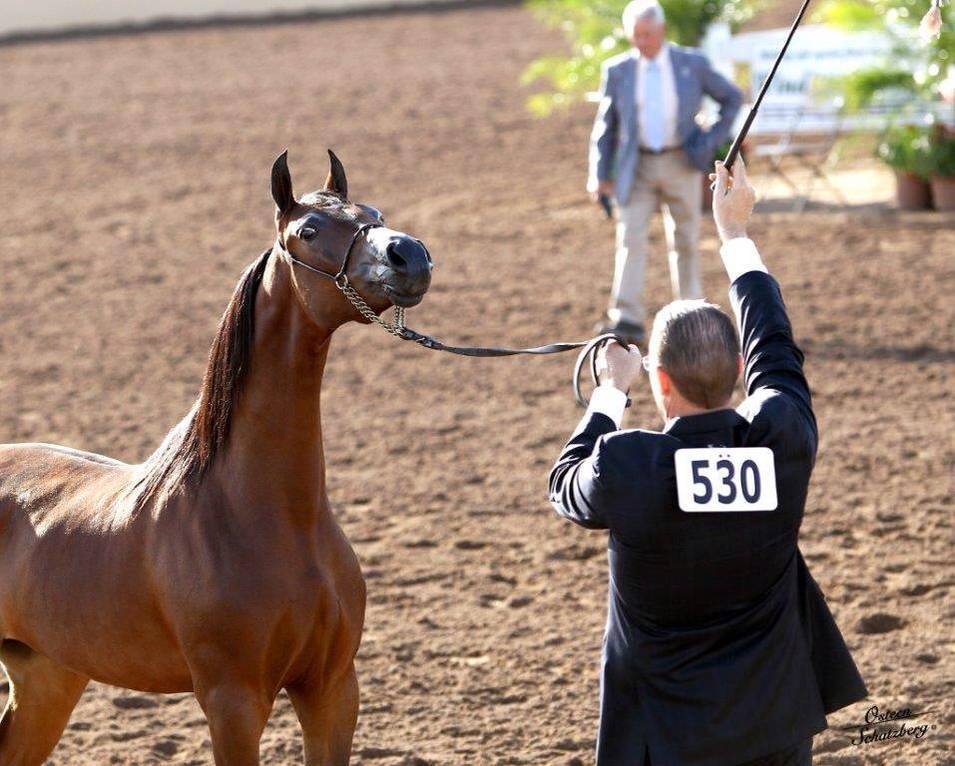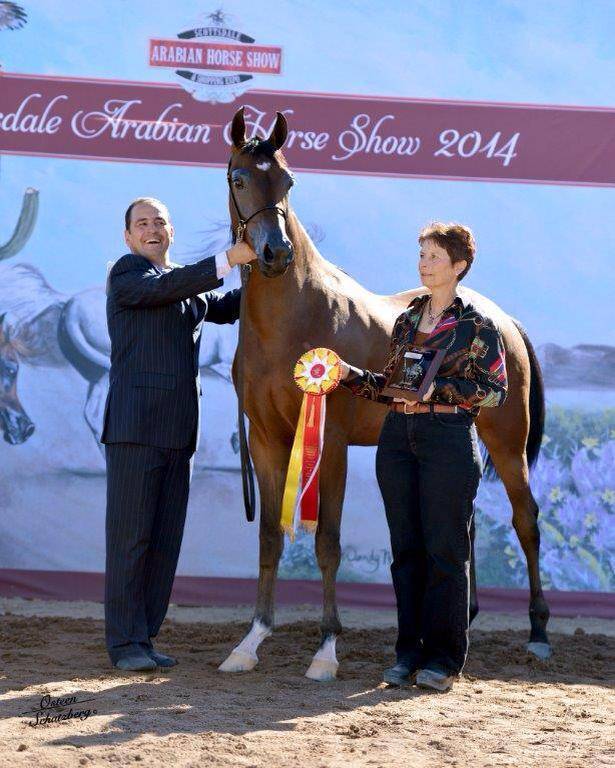 Apollo de Valentino
(DA Valentino x The Merchants Sweetheart)
Reserve Grand Champion HA Junior Geldings
Reserve Champion HA 2 Year Old Geldings
Reserve Champion HA 2 Year Old Gelding AAOTH
---
Remember the Nyte
(Vitorio TO x CF Mamies Night Out)
Reserve Champion HA Yearling Gelding
Top Ten HA Yearling Gelding AAOTH
---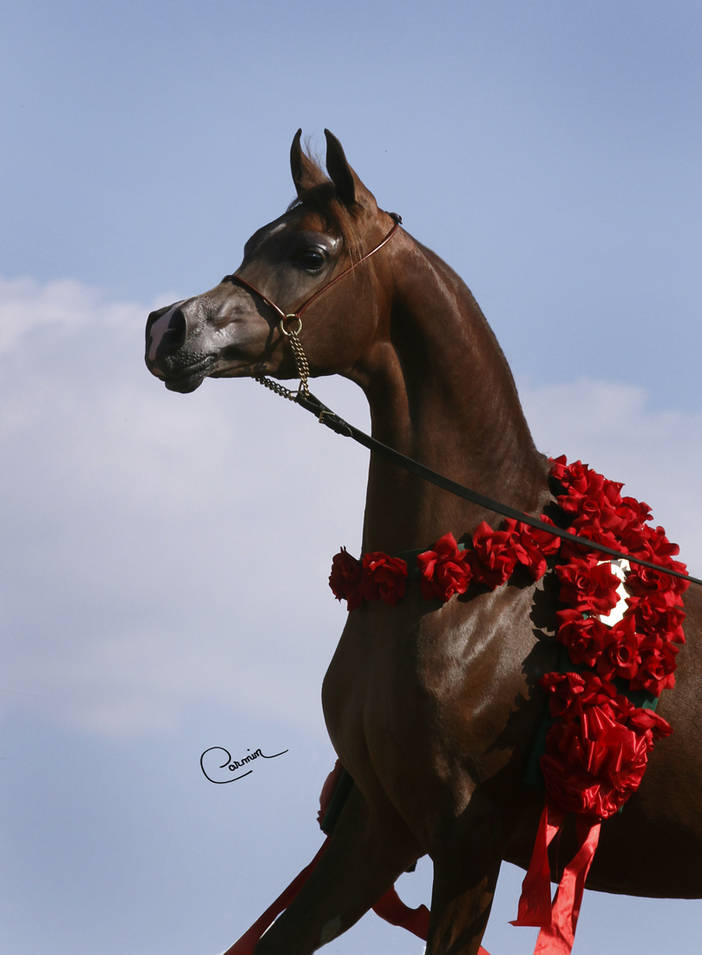 Star of Justice ORA
(WH Justice x Star of Gaishea)
Top Ten 3 & 4 Year Old Mares – AAOTH
---
Layla X
(Xanthuss x PA Mark Me Famous)
Top Ten Yearling Filly ( April 16th – July 31st)
---
Graciela TO
(Vitorio TO x Grace and Glory)
Top Ten Yearling Filly ( April 16th – July 31st)
---
Vitorios Amore
(Vitorio TO x MP Danza)
Top Ten Scottsdale Signature Yearling AUCTION Filly
---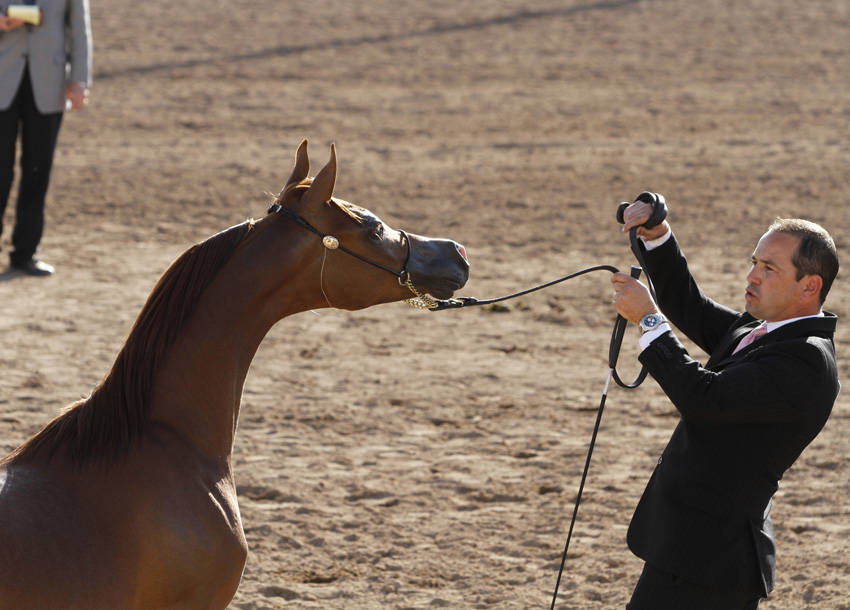 Vitorino DC
(Vitorio TO x Kharalisa BPA)
Top Ten Yearling Colt ( January 1st – April 15th)
---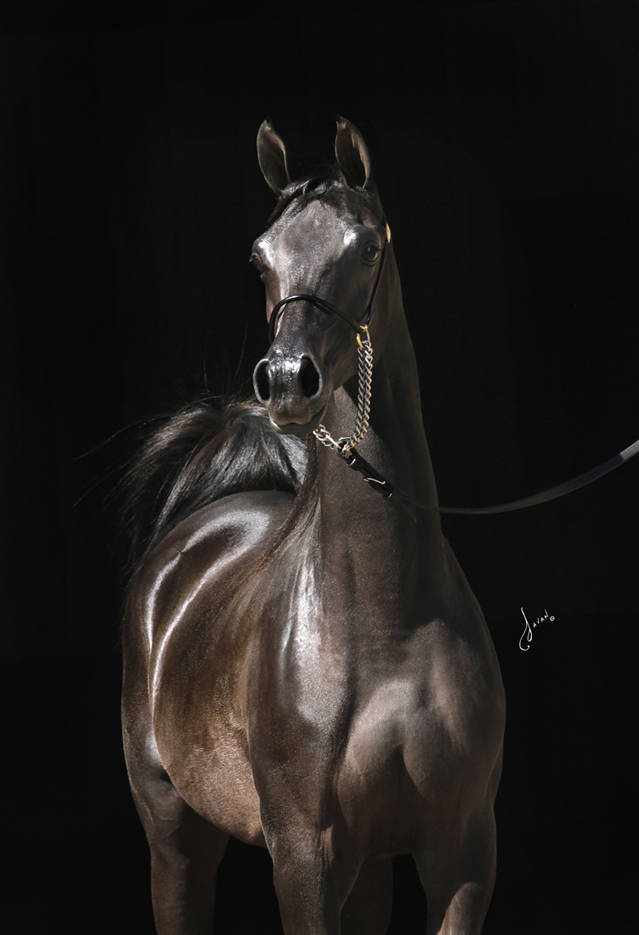 Vitoria Backham
(Vitorio TO x Legacy's American Rose)
Top Ten Scottsdale Signature 2 Year Old Filly
---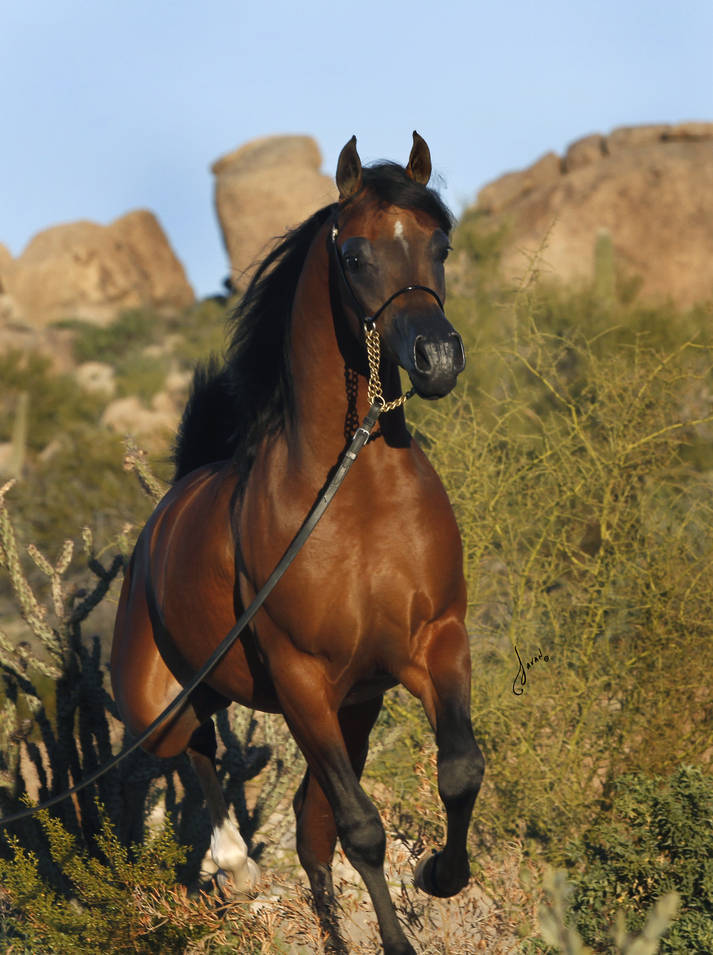 A Jericho
(Jakarta x Destiny VF)
Top Ten Scottsdale Signature 2 Year Old Colt
---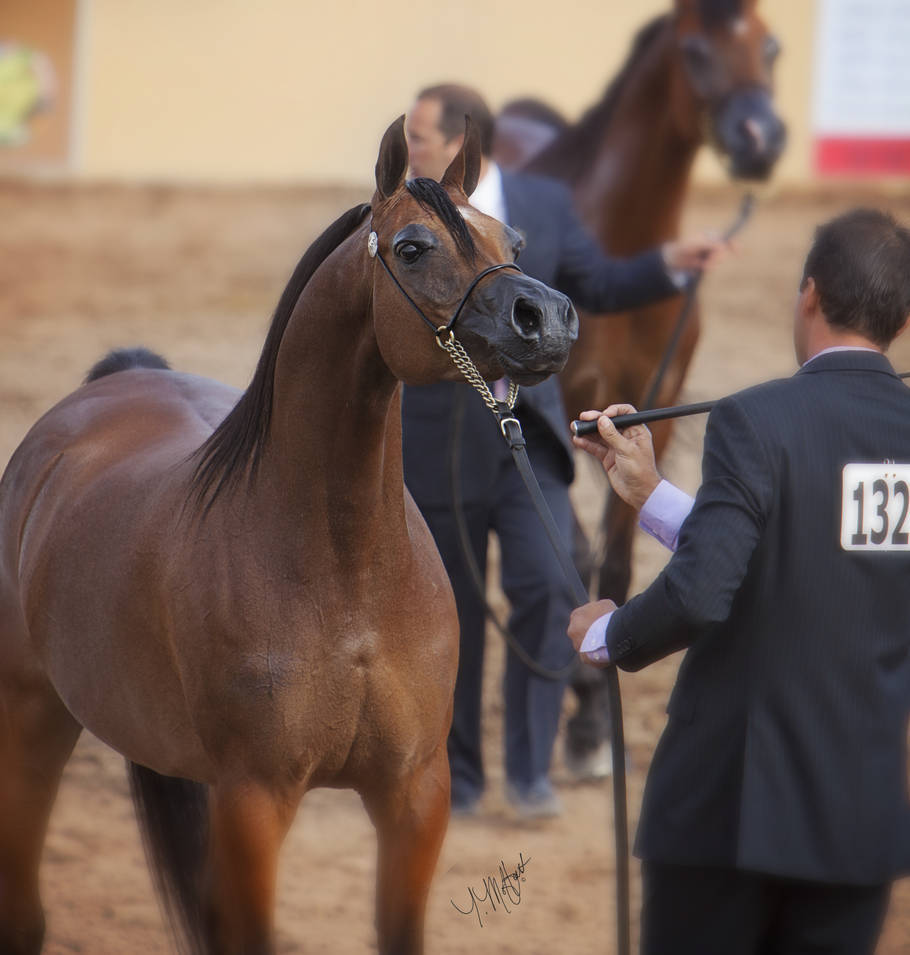 DM Valencea
(DA Valentino x HED Caramba)
Top Ten 6 & 7 Year Old Mares
---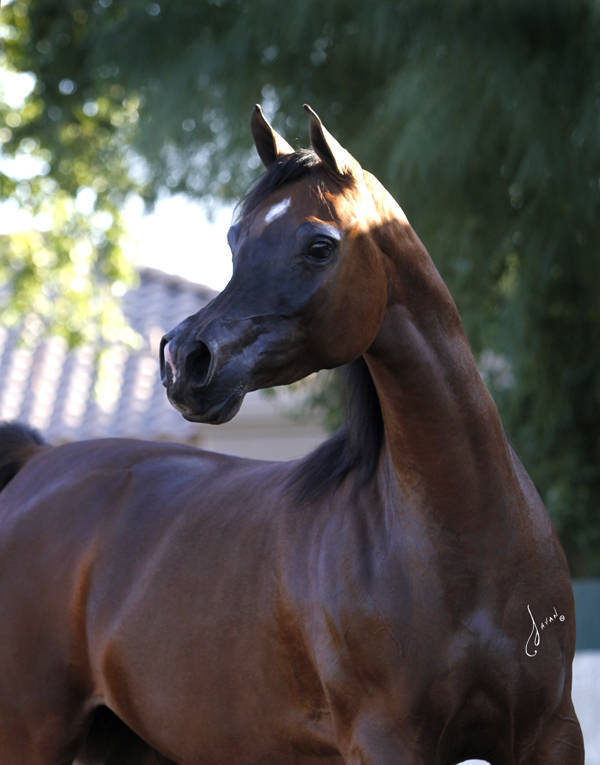 Seraphina ER
(Bey Jullyen x Pretty Tricky)
Top Ten 6 & 7 Year Old Mares
---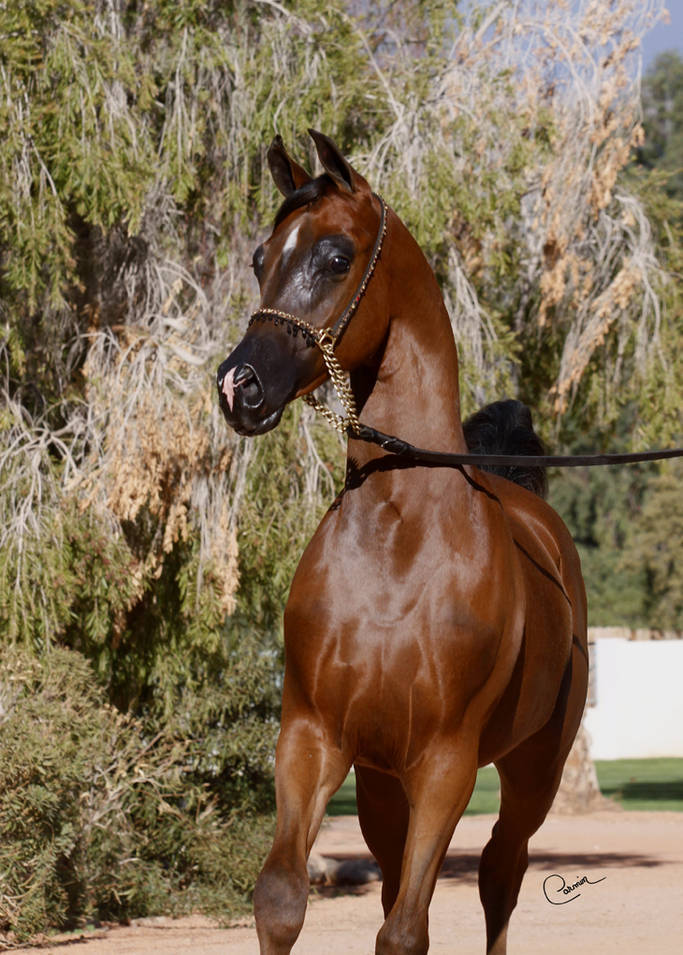 Populace CRF
(Pogrom x Ames Mirage)
Top Ten Scottsdale Signature Yearling Colts/Geldings
---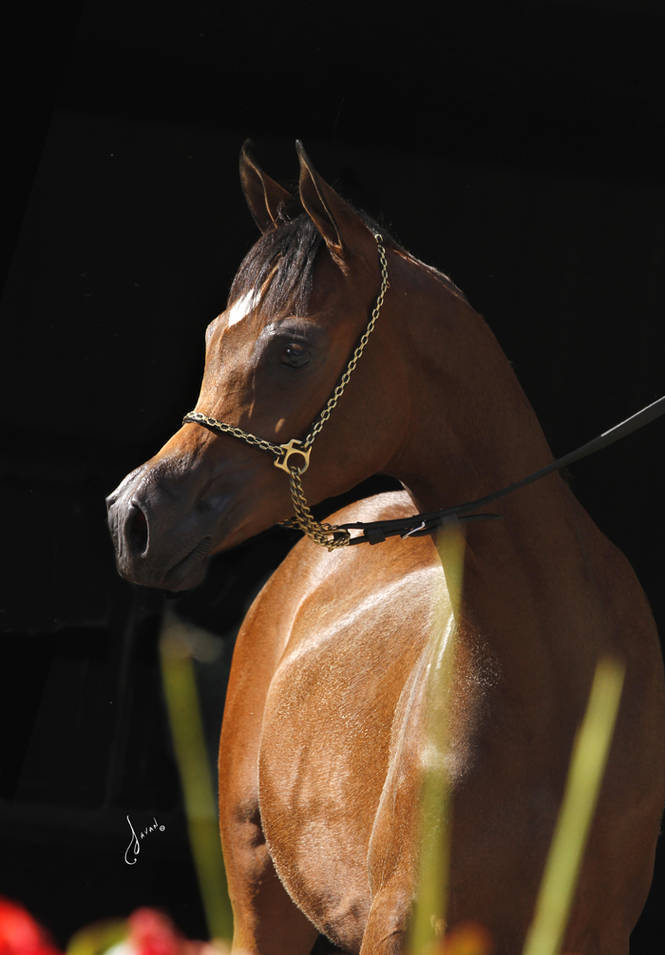 Sultress ORA
(Vegas DPA x Raherra)
Top Ten Scottsdale Signature Yearling Filly
---
Tia Bella
(Barritz SF x Essabella)
Top Ten Scottsdale Signature Yearling Filly
---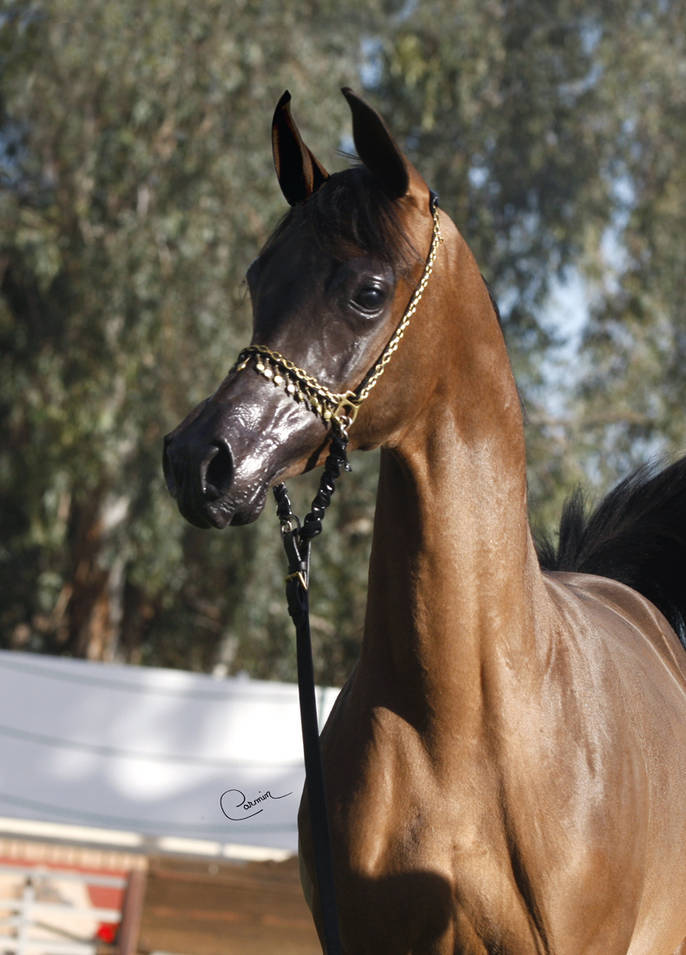 Victoria Principal
(Vitorio TO x Diamond of Versace)
Top Ten Scottsdale Signature 3 Year Old Mares