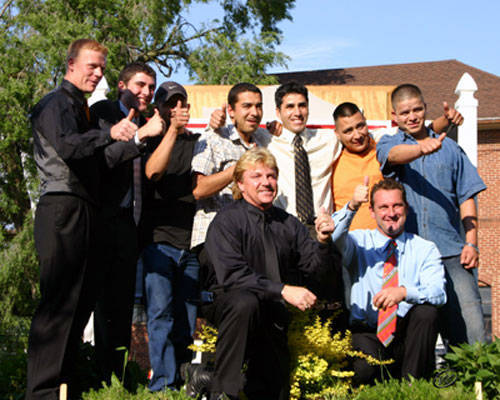 The 2005 Ohio Buckeye Show Results

Magnum Chall HVP Grand Champion Stallion
*JJ La Estrella Grand Champion Mare
DA Valentino Junior Champion Colt
*HED Caramba Junior Champion Filly
Pure Glory Grand Champion Gelding
Magnetic Bey Grand Champion Gelding AOTH
Reserve Champion Gelding open
GAA Millennia Reserve Grand Champion Mare
Forbidden Love LL Reserve Champion Junior Filly
The Empress NA G rand Champion Half Arabian Mare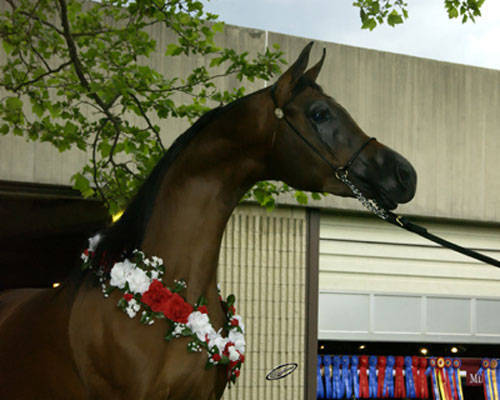 DA Valentino
Saddle Type
ZA Primaverhah Grand Champion Half Arabian Mare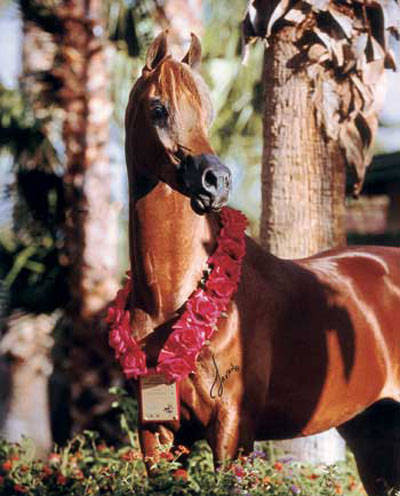 Magnum Chall
Stock Type

Grand Champion AOTH Half Arabian Mare
Shut Up & Dance Grand Champion NSH Gelding
District Champion NSH AOTH Gelding
Rohara Olivia Dhavlin Reserve Grand Champion Half Arabian Mare Stock Type
He Has Risen Junior Champion Half Arabian Gelding
SR Forever Yours Junior Champion Half Arabian Filly
NSH District Champion Mare ATOH
Ames Major Junior Champion Purebred Gelding
RA Miracles Grand Champion AOTH Mare
Lady Magnum First Place Three year old Filly
Magnums Julep Second place Three year old Filly
Metalica IA Second place AOTH Gelding
JJ Princessa Second Place two year old Filly's
Nightingayle Top Eight Yearling Filly's
Destiny By Design Top Eight Yearling Filly's
Magnum Glamourgirl C Top Eight Yearling Filly's
*Donna Chall HCF Second Place Yearling Filly's
Sakilena Top Eight Mares 5 & Over
*Navia HCF Top Eight Mares Five & Over
LC Psouther Star Top Eight Mares Five & Over
Anna Nichole PGA Top Eight Half Arabian Yearling Filly's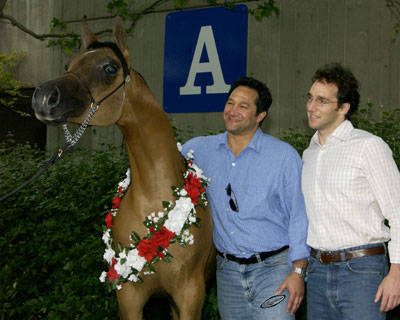 *HED Caramba with owners Jeff & Richard Sloan
Junior Champion Filly
Total Midwest Results:

16 Buckeye Grand Champions
17 First place winners
14 Buckeye Top Eight winners
For pedigrees or more Information, please see
www.midwestarabian.com or contact David Boggs or Travis Rice at
(763) 441-6466
T e a m M i d w e s t
Returns in Triumph
to the
Ohio Buckeye Sweepstakes
By Jo West Lauter & Linda Buss
According to legend, the holding of a buckeye nut in ones pocket promises good luck . . . The warm spring weather and the Midwestern Arabian horse people gave Team Midwest a warm welcome on the occasion of their return to the Buckeye.
Several members of the extended family known as Midwest attended the 42nd Annual Buckeye Show from all parts of the globe. Among these great friends of the Arabian horse, and of one another, were: Fernando de Santibanes of Argentina, owner of International leading sire, AND Buckeye 2005 Leading Sire, Magnum; Jeff & Richard Sloan with their champion filly *HED Caramba, Lucky and Raegan Lurken, proud owners of the Buckeye Grand Champion Stallion *Magnum Chall. Don and Janey Morris carried home the roses for Buckeye Grand Champion Mare JJ La Estrella, Rose Taylor and Patti Kossman celebrated Champion honors with RA Miracles, Forbidden Love and GAA Millennia. And, a large contingent of Terry Anne Boggs family came from New York to cheer her and her daughters on in their amateur halter championship victories! Many attended for first time. For veterans and newcomers alike, the Ohio Buckeye has definitely been added to the list of must attend shows!
A record 625 horses vied for top honors in the best of competition. These beautiful animals were accompanied by owners and trainers who came to celebrate and enjoy the continuation of one of the worlds most prestigious Arabian horse events.
For his own re-entrance into the Buckeye winners circle, David Boggs presented the big four halter winners:
Buckeye Grand Champion Stallion, Magnum Chall HVP
(by Magnum, owned by Lucky and Raegan Lurken)
(The 2004 U. S. National Champion Junior Stallion)
Buckeye Grand Champion Mare, JJ Estrella
(by Magnum, owned by Don and Janey Morse)
Buckeye Junior Champion Colt, DA Valentino
(by Versace, owned by Dan and Maureen Grossman)
(The 2004 U. S. National Champion Sweepstakes Colt)
Buckeye Junior Champion Filly, HED Caramba
(by Magnum, owned by Jeff Sloan)
The 42nd Anniversary Buckeye Sweepstakes not only provided all those who attended a chance to enjoy a terrific horse show, it also gave Midwest an opportunity to celebrate their return by hosting a luncheon on the lawns on Saturday afternoon in the Midwest tradition. To the delight of all the guests, Midwest also presented a small number of sale horses, as well as the magnificent stallions, Legacy of Fame (owned by Ron & Judy Schmid) and *Magnum Chall HVP (owned by Lucky and Raegan Lurken).
True to the good luck promise of the buckeye nut, the rain held off until after the presentation, came back for a while, then let up again in time for Midwest's traditional evening fiesta, abounding, as always, with great food, music, dancing and karaoke.
For proud dad, David's youngest daughter the budding musical diva, Miss Emma Boggs, gave a beautiful rendition of the song That's Amore made famous by Dean Martin. There's no way to adequately describe the pride in David's eyes. You had to be there to get the full impact.
Not to be out done by a 7-year-old, the self-acclaimed rock star Don Morse, took to the karaoke microphone, accompanied by Terry Anne and Courtney Boggs, Linda Lane, and Susie Boggs. And a grand time was had by one and all!
The Buckeye has traditionally served as the proving grounds for the U.S. Nationals winners. In RESULTS, Christy Egan had this to say:
More than ever the winners at the 2005 Buckeye Show will be the ones to beat at the Youth and Open National Championships, and the NSH Finals later on this year and in years to come.
At the 2005 Buckeye Sweepstakes, young Lyndsey Boggs proved herself and her horses on her way to Youth Nationals, winning with Ames Major and WH Eagle Bey. Way to go Lyndsey.
Midwest congratulates all the winners at the Ohio Buckeye and salutes their champions and owners.