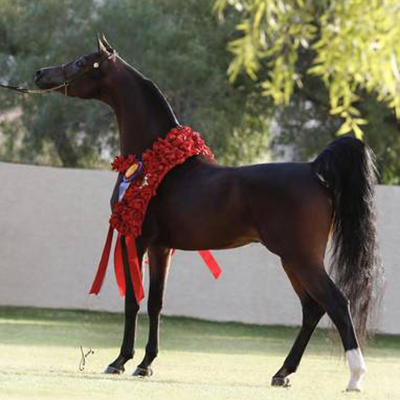 2019 United States Unanimous National Champion Senior Stallion
2017 United States Unanimous National Champion Junior Stallion
2017 Scottsdale GOLD Champion Senior Stallion by UNANIMOUS Decision
2017 Region One Unanimous Champion Stallion
CA and SCID clear
SM Azraff
By Jeff Wallace
Friday, July 8, 2016
3:30pm
Capilla del Señor, Argentina
In a destined and unscripted moment, the liquid eyes of an imposing bay stallion locked with the eyes of a man who recognized the greatness in front of him and would lead him to his rightful place.
*SM Azraff… a name that harkens the great kings of our past, was no accident. George and Debbie Stuart Milne of Haras Maalesh have gifted the breed with Argentinian treasures for over three decades. SM Azraff is a delicate, beautiful, systemic equation of a pedigree that gorgeously embodies the legends of his heritage.
*SM Azraff's sire, the magnificent Marwan Al Shaqab son, Argentina National Champion Stallion Faraa Al Shaqab, pays homage to vintage stars such as Fame VF and Bey Shah and the original Azraff, whose name he embodies. Out of LC Psychesfinesse, his equally evocative dam line brings in the ultra type of Padrons Psyche and a powerful and potent tail female line boasting Bey Shah and U.S. National Champion Stallion, Raffon.
At only four years old, *SM Azraff has turned American heads just as he'd turned David's in South America. Of the three times he's been shown since his importation, *SM Azraff has been unanimous under six different judges, including unanimous 2017 Scottsdale GOLD Champion Stallion, unanimous Region 1 champion stallion, and most recently unanimous 2017 United States National Champion Junior Stallion, where he scored 404.5… just shy of legendary show horse and sire, Vitorio
Even prior to these great achievements, *SM Azraff attracted the attention of legendary mare owners around the world. In 2018, we will witness his siring prowess with a first foal crop of 30-40 foals coming from the likes of:
The powerhouse producer DM Valencea, owned by Dan & Maureen Grossman, who is the dam of the the national winning filly, Pink Rose SRA.
The great United States National Champion Perfirka, owned by Cedar Ridge Arabians, a glorious imported daughter of Gazal Al Shaqab.
Karisma M, owned by the Marino family, also a United States. National Champion
The United States. National Top Ten Mare, Byronica RH, the full sister to the incomparable RH Triana, owned by Lady Gina Pelham.
… And only the beginning of an impressive list.
*SM Azraff is a soul that stirs the heart, as if stepping back in time of his great ancestors and looking forward to the future all in one glorious, satisfying moment.
His story continues to be written alongside the legacy of the heritage *SM Azraff duly represents, as he continues the journey to his rightful throne. We invite you to Midwest for every breathtaking step.
| | |
| --- | --- |
| Year Foaled | |
| Gender | Stallion |
| Color | Bay |
| Breeding | Purebred Arabian |