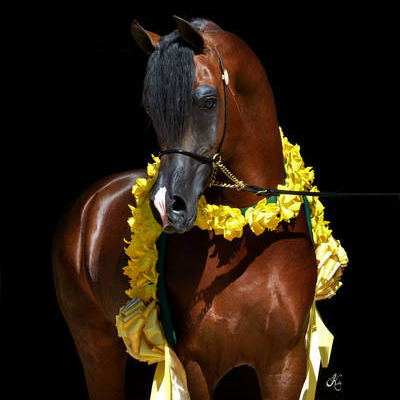 2013 Scottsdale Unanimous Champion 4 Year Old Stallion
2013 Scottsdale Unanimous Grand Champion Senior Stallion
2013 Scottsdale Supreme Champion Halter Horse
2013 Las Vegas Arabian Breeders World Cup GOLD Champion Stallion
2013 United States National Champion 4 Year Old Stallion
2013 United States UNANIMOUS National Champion Senior Stallion
In retrospect, the decision to breed QR Marc to the Polish mare Pętla (pronounced "Pent-la") was easy—a no-brainer. Even, perhaps, inspired. But in reality it was a leap of faith, the vision of an experienced horseman. When the bay colt who would be known as Pogrom dropped into the straw of a Janow Podlaski foaling stall on April 30, 2009, he was a wild card. Dr. Marek Trela, the stud's director and the man who planned the breeding, had high hopes, but he knew there were no guarantees.
Nearly four years later, when he was asked if the colt lived up to his expectations, he had his answer. "Maybe it was more than what I hoped," he said. "He was what I was dreaming of."
Pogrom—The History So Far
It was only three years ago that Marek Trela decided to commit one of the best representatives of Janow Podlaski's famed "P line," Pętla, to the young stallion QR Marc, who stood at Jadem Arabians in Belgium. Marc, to be fair, was a question mark at the time: a U.S. National Reserve Champion Yearling Colt, he was regally bred, but he was just 3 years old and had been imported to Europe only the year before. Owned by Paul Gheysens, of Knocke Arabians, he could boast promising results from his initial foal crop in the United States, but how he would work with the carefully-bred Polish mares was yet to be seen.
"Honestly, I had no expectations because we just didn't know," recalls Christine Jamar, who owns Jadem Arabians and manages QR Marc's career. "We were just hoping that it would work well with Polish blood."
On the night of April 30, 2009, their questions were answered. In Janow's Stable No. 1, the foaling barn, Pogrom arrived. "He was one of the heaviest foals ever born, and we needed a really strong groom to hold him on the scale," Trela recalls with a smile. He was 56 kilograms—123.5 pounds! If you see a newborn foal that big, and strong, correct and pretty, that means that something important has happened."
The question of whether QR Marc would be instrumental for Polish breeders disappeared. "He did work well with the Polish mares," Jamar says. "I have Polish foals at my farm, [Mr. Gheysens] had good results, and they had good results at Michalow as well as Janow. Marc brings refinement, elegance, beautiful eyes and beautiful ears. They all have beautiful, small ears and beautiful eyes."
An international judge, Jamar happened to be booked for the opening show on the Polish calendar. The June 2010 event provided Pogrom's first show ring experience, and Jamar has clear memories of seeing him in his debut. "It is always very exciting in Poland to see the first show," she says. "You see all the yearlings come out for the first time. They all react [to the competition]; one is a little scared, one is really great and so on. Pogrom showed unbelievably—he was 'wow.' He was very impressive, and I just thought, 'that's the one.' I made him junior champion and the best of the show. He was very balanced, with a lot of attitude."
Two months later, when the flashy colt entered the ring at the Polish Nationals for the first time, he was attracting attention. Showing with Gerard Patty, he nailed the silver medal in the Junior Championship for Colts. But three months later, at Paris' Salon du Cheval, he did not fare as well. His connections shrugged that he simply did not appeal to the show's panel of judges, and in the end, as things would turn out nearly a year later, it appears not to have mattered; David Boggs, standing on the rail in Paris, was making plans the colt's future.
"I first laid eyes on Pogrom in Paris, at the Salon du Cheval, where he made a brilliant entrance into the arena," Boggs recalls. "He took my breath away at that first meeting (and he still makes my heart beat fast when I see him in motion)." He quickly consulted fellow horseman Gerald Kurtz, who knew Dr. Trela, about the likelihood of acquiring the youngster for Midwest's powerful stallion roster.
"I went to ask Dr. Trela if it would be possible," Kurtz recalls, "but I knew it would be difficult. At that time, Pogrom was already a champion and he was heading toward being Polish National Champion—and it was clear that Janow had no other horse who could beat him."
As it turned out, the young stallion was not for sale, but when Boggs left Paris, the idea of a lease was a possibility for the future.
Nine months later, Pogrom returned to competition in Poland. He had matured over the winter and had even more presence as he bid to surpass his earlier silver medal. Now on the radar of serious fans, he was scrutinized more carefully than ever as he entered the ring for his 2-Year-Old class. As it turned out, showing with Pawel Kozikowski, he decked his competition; Judges Sylvie Eberhardt (Germany), Ali Shaarawi (Egypt) and Allan Preston (Australia) selected him for the winning ribbon. And against heavy competition in the Junior Championship, he came away with the Gold Medal—sending the buzz that had surrounded him for more than a year into overdrive.
At that point, Dr. Trela agreed to a two-year lease and David Boggs got on the phone to Jeff Sloan at Aria International, which had overseen the lease or purchase of several Polish luminaries—among them Pianissima, Piaff, Emandoria and Elandra PASB—over the past seven years. "David and I have a history dating back to 1982," Sloan notes. "We won our first show in Paris together in 1985 with a yearling filly, and over time, we've done a lot of exciting things together. When he had the opportunity to do this lease on Pogrom, I think he saw it as a good business decision to include me, but also it was in the spirit of my love for the Polish horses."
Trela, for his part, observes that he believes the United States to be the best place for Pogrom at the opening of his breeding career. His only regret is that Pogrom will not have an opportunity to prove himself on the track, but he adds that the stallion has been broken to saddle and is likely to be ridden when he returns to Poland after his time abroad.
"Once the agreement was signed, the news traveled very quickly," Boggs reports. "Pogram was a sensation with the huge crowd that gathered to meet him at the Midwest Gala on the Scottsdale ArabHorse Farm Tour over New Year's. Here is a horse who had just arrived on American soil and cleared quarantine before the New Year's presentation. No one had seen him, but from that point through the Scottsdale Show, he sold over 100 breeding rights. It's amazing.
"This is the next giant in my life," he continues. "It's that top one percent of quality—a great individual—along with correct pricing and incentives, and a great marketing team behind him. It's the whole package with Pogrom. He gives me goosebumps every day; he's a phenomenal horse. I don't know that I've felt such a lightning bolt in my hands since Magnum."
That Gilt-Edged Pedigree
Students of Arabian bloodlines know the value of the Polish breeding program: 400 years old and counting, through wars and upheavals, it has maintained its exacting standards even as individuals both equine and human have come and gone. Most significantly, matings are planned not just for the individual that will result, but for that horse's contribution in generations to come. And so it was with Pogrom.
QR Marc's sire line—he is a son of Marwan Al Shaqab and grandson of Gazal Al Shaqab—is one of the most popular in the world, known for its trademark type and beauty, and familiar to nearly all Arabian breeders. Marc's full pedigree is cosmopolitan; there is no one "straight" influence, but rather generous representations of proven lines from three primary sources—Egypt, Poland and "domestic" North American. The Egyptians Anaza El Farid, Ali Jamaal and Ruminaja Ali are easily recognizable, as are the predominantly Polish Kajora, Fame VF, Kaborr and Bey Shah. In the United States, however, the presence of such names is not unusual. It is Pogrom's damline, in combination with QR Marc, that offers his potential for contribution to the genepool here.
When Marek Trela chose QR Marc, he may have been gambling on the young stallion, but he knew that the bloodline crossed well with the Polish mares. "I was trying to find the right mare for him," he says, "and the mare I chose is a great producer, especially of sires (we have four or five from her who were very strong). She is a correct mare, with a very big black eye and a very good pedigree."
The story of Pętla is an important one in the development of the Polish program. "Pętla was a very interesting cross," Trela says. "We were trying to go back to the pedigree of Kuhailan Ajuz, which was lost in World War II. The idea of sending Pętla's mother to Bábolna to be bred to Visbaden, a Russian-bred stallion on lease there, was Director Krystalowicz's (Janow's longtime director and Trela's predecessor, who served from before the war until the 1990s). We were trying to get a stallion to continue that line; we didn't succeed with a stallion, but we did with the mare. Pętla is really a very good, strong good producer."
"The 'P line' was re-introduced after the Russians stole many of Janow's horses in World War II," elaborates Scott Benjamin, of Benjamin Equine. A student of Polish bloodlines who has lived and worked in Poland, he now serves as auctioneer for the annual Pride of Poland Sale. "It came from Piewica, a mare that the Poles purchased in the early 1950s. She is six generations removed from Pogrom."
Benjamin sketches the individuals in Pogrom's damline. From Piewica came the ethereal grey *Bandos daughter Pentoda, most identified in the United States as the dam of U.S. National Champion Mare Penicylina. "Pentoda was very correct and well constructed, a classic Polish mare," he says. "She is probably best known for her Palas daughters, who went all over the world, but the daughter who stayed in Poland really made her name. That was Pestka, by Probat."
Pestka, like her sire, was a bay. "She was very pretty—incredibly pretty for her time in Poland," Benjamin says. "Very exotic face, smooth topline, typical Probat long neck (not a lot of shape, but very good length). She left a lot of really good fillies in the program; she was bred to Pepton four times and Eukaliptus three, I think, so they took her back on the old Negatiw line." That, in fact, highly intensified the influence of Negatiw a few generations back in Pogrom's tail female: both Pepton and Eukaliptus, like Pentoda, were by *Bandos, who was by Negatiw.
The next step in the line was Petra, Pogram's granddam. "She was one of the Pepton daughters," Benjamin continues. "Pepton was a super athletic horse, one of the best race horses in the history of Polish racing, and a Polish National Champion Stallion. He had incredible conformation and great length of neck. Petra was a young mare, very correct—she was certainly a very good horse and well constructed—but probably not the most exotic for her time."
It was Petra who, as a maiden mare right off track, was one of the five sent by Janow Podlaski to Bábolna in 1993 in a breeding trade. The Polish mares were serviced by the Naftalin son Visbaden, while the Hungarian mares transported to Poland were covered by Eukaliptus.
"Visbaden was of racing descent," says Benjamin. "He was a big, strong, Arax kind of horse with huge eyes and fantastic build—very three-dimensional, with a big chest, huge width through the stifles, very correct. He was really a handsome horse, with lots of style."
Pętla, he says, emerged as the "superstar" of the foals resulting from the trade. "She is very much a combination of her pedigree," he offers. "She has the big, brawny build of her sire; she's very wide through the chest, very 'broody,' typical of what the Poles wanted to bring back in through Visbaden. And she got the huge eyes—huge, black, gorgeous eyes—from his grandsire, Arax. She also has a really good shoulder, very good conformation, and a neck that sets on really high (although it's not as long as you might expect, considering all the length of neck in her pedigree through her damline). But she has always thrown length of neck."
That set the stage for Pętla's most impressive foal. "Everything about Pogrom's pedigree is right," he concludes. He views Pogrom's potential in North America. "Many of the great Polish stallions that have come in lately have been classically Polish, plenty high in quality," he says, "but maybe they haven't been modern enough for what the world is seeking right now. That's not the case with Pogrom. He has that exotic flavor, through Marc, with the structure of the Polish pedigree, plus those huge eyes of his mother. He is the whole package—that ideal phenotypic expression of his pedigree."
The Significance Of Pogrom In The U.S. And The World
In light of what did Pogrom has to offer, it is fair to ask why Janow Podlaski did not retain the stallion for its own use this early in his career. "Our calculation was to give him a chance to be shown and used in America," says Trela. "I think this is the right place for this horse. Americans know the value of the strong, correct horse—one fit to be a riding horse, but who also has the beauty of the show horse. He is an extremely valuable horse for us, and I would like for him to have as good a show record as possible and [the kind of promotion he deserves]. I know that America (and Midwest) are the places which know these values and have the kind of taste I have."
"I thought that was a splendid, splendid idea," Christine Jamar, who has observed Pogrom's career with interest, says. "David is doing a very good job with him; I saw him there and I fell in love with him again—I bought immediately three breedings. Pogrom is really a stallion, and this is what you need for the future. Marek is a breeder, I am a breeder, and we appreciate quality."
What are the most important qualities American breeders should look for? "The bloodlines," she replies. "Those Polish bloodlines are so important. Many people don't realize how important, because the Polish have been so selective. You would breed to Pogrom for his body, for his refinement and because the background behind the stallion is wonderful."
"I think his significance for the U.S. is that, in spite of the fact that he is Marwan line, he brings a lot of 'old world' back to our genepool," says Scott Benjamin, and points out that without *Padron in his pedigree, Pogrom can be an effective outcross for many North American mares. "He represents an opportunity to change the breed in a positive way, like Magnum Psyche and Marwan did."
Even though Pogrom came to North America as primarily a halter competitor and sire, his pedigree, with its conformation, physical strength and willingness to train offers the potential for contributing to the performance ring as well.
"The performance market also needs an outcross," Benjamin nods. "Pogrom's pedigree is built on solid athleticism. Visbaden was introduced into Hungary for his structure and his athleticism, not for his beauty; they already had beauty. Pepton was all about structure and athleticism, and even Probat was useful in performance—his horses here were great western pleasure horses for years, easy to work with and good-minded. All of that is in Pogrom's pedigree. And there is one thing many people never appreciated about the *Bandos horses: they weren't always the fastest on the track, but they would give and try harder than about anyone. They would give you more, every time."
In addition, Benjamin says, Pogrom represents size. "I think [his sire Visbaden] is the first time that the Poles have introduced a stallion outside of their own program who actually has length of leg. We need that, because people are getting taller; they need horses with size."
For Jeff Sloan, Pogrom offers a renewal of ties with Poland, which Sloan feels is an asset to any program. "I grew up with the mystique of the Polish program," he says, "but I had never been there until 2005. We need the ongoing exchange between Poland and the U.S. with respect to the horses—I love the mystique of the Polish program in American now."
For Marek Trela, Pogrom's significance lies in his well-rounded contribution to Arabian breeding programs. "Many people are breeding for nice faces, and many don't care for the other qualities of the horse," he says. "The Polish breeding program tries to combine the Arabian type, beauty and charisma with the performance ability. That's why Pogrom is so important for us. He is a strong, good-looking horse, a combination of beauty, type, power and [athleticism and trainability]. He is what everybody needs; otherwise we will have bred horses that are just for show, and we don't want to do that. We're trying to prove that Polish horses are not only pretty—not only beautiful and typey—but also correct, strong and good riding horses."
And Then There Is That Name
Perhaps it was a measure of the attention Pogrom attracted when he arrived in the U.S., but his arrival in Scottsdale hit the mainstream press as well as Arabian publications—and the standard media noted not only his extreme Arabian beauty, but introduced a note of controversy as well. Why such a name as Pogrom, some of the news outlets intoned, given its association with the Holocaust persecution of the Jews? Even fans too polite to mention it wondered, and Aria International's Jeff Sloan admits to having reservations at first. "I'm Jewish," he says. "I lost family members, so it is not particularly pleasant to me. But no one in Poland had any intention of using the name in any derogatory way. If they had, it would be different, but they didn't."
As it turns out, the name suffers in translation. In modern Poland, the word "pogrom" makes a daily appearance in newspapers (especially in sports coverage of successful athletes) and is largely understood as "invincible force" or "invincible hero."
"I was very surprised [at the controversial reaction]," says Marek Trela. "Here, this word is popular and in use in sports, or any other competitive events or military reports and is also very traditional. In fact, 'pogrom' has to do with the scale of the victory of one team over another. The last thing I would have wanted to do is hurt somebody. Especially in a country like Poland we know what the Holocaust was—no one needs to tell us."
He thinks of the night Pogrom was born, standing in the silence of the spring night, watching the big colt rise, steady himself and nudge Pętla for his first meal, already at ease with himself and his world. Trela smiles at the recollection. "I said to the groom, 'he will be a pogrom of his competitors.'"
Into The Future
Originally, plans called for Pogrom to begin showing this year as his breeding commitments gained momentum. But when the breeding career went from zero to 60 in no time—or more precisely, 100-plus in his first two months here—the agenda had to be rewritten. "U.S. Nationals is our goal, and then Scottsdale 2013," says David Boggs. "There is always good news and bad news when you get that number of breedings. The horse is going to be busy, and it's really hard to condition stallions exactly the way you want them to be when you have the breeding going on, especially if you're working with a young horse. So, the focus is on breeding now."
Sloan reflects on his association with Polish horses, and how Pogrom differs. "Historically, Poland has put up the mares and we've contributed the stallions," he says, and names Monogramm, Gazal Al Shaqab and QR Marc. "There is that hybrid vigor that occurs when you cross the homogenous genepool of mares there with these outcrosses. It worked very well." Pogrom, he says, offers a reversal of the process.
Breeders of Arabian horses over the past half-century take a longer view; in Pogrom, the cycle of Polish/American equine relations come full circle. Beginning with *Bask in the 1960s and carrying on through the early 1980s, Polish stallions traditionally came to this country, where they found a rich pool of domestic mares—and again, the hybrid vigor was valuable for savvy breeders.
Even as he observes Pogrom's promising beginning, Marek Trela is making plans for two years down the road, when the stallion will return to Janow Podlaski. Instead of chafing at the delay, he is using the time to prepare. "I know what kind of mares we will breed when he gets back home," he smiles, "but many of them are still growing up."
In the meantime, Pogrom will be busier than he has ever been in his young life. "He is an unparalleled representative of all the great beauty and power that is everywhere in his royal heritage," says David Boggs. "We predict that he'll be the next great sire in a line of remarkable importance, and we expect him to take his place very quickly as one of the leaders in the United States and around the world.
"It is truly an honor to represent this genetic giant for the fine Arabian horse breeders of Poland," he continues. "I look forward to presenting Pogram here in the United States––as a show horse and as a source of some of the most important blood this breed has ever known. He's a once-in-a-lifetime horse. He's only here for two years and breeders know what a gem they have and the opportunity they have. He's going to be a significant player in the leading sires of the future. You'll see that when these foals hit the ground."
SIDEBAR:
The International Appeal Of Pogrom
"Pogrom is kind of a mix of WR Marc, a young and fashionable stallion, and a Polish/Russian mother who had been very carefully bred for many generations and is very strong. In Pogrom, the new and the traditional came together. He is stylish, masculine and charismatic—and he was even as a yearling. He had that kind of 'stallion look' even then, and he had real Arabian type. You could feel it—you could feel the fire when you approached him."—Gerald Kurtz, Gerald Kurtz Training Center (Poland)
"The first time I heard about Pogrom was through an e-mail from David noting his lease to the USA. I was very excited about him, and promptly call David to ask to be his representative in Brazil.
"Later on, I attended the 2012 Scottsdale Show, and during a 'chocolate party' at Midwest Training Centre, sponsored by my dear friend Luciana Fasano, I saw Pogrom in person and fell in love with him. Dark bay, tall, elegant, impressively masculinity and with tons of type, this young stallion should make his ancestors proud. He should carry on the charisma and beauty from both sides of his pedigree, which generously offers the blood of the great Marwan Al Shaqab through one of his most beautiful sons, QR Marc, and the gracious influence of Pętla, with her Polish/Russian bloodlines.
"I'm honored to be Pogrom's representative in Brazil. The first 10 breedings that David allowed me to sell for the first semester of 2012 were purchased in the first day I offered them. Three of the most important breeders and producers of champions in our country—Haras JM, Haras dos Faveiros and Haras 4 Estações—had made their reservations promptly.
"I'm pretty confident in the reproductive skills of such a special horse, with his impressive and consistent genotype. I salute this Polish National Stallion. May be have many more ribbons to come.—Reinaldo da Rocha Leão, Breeder, Judge and Consultant for Fine Arabian Horses (Brazil)
"What I saw first was a photo of him, and I just thought, 'wow, what an exciting horse!' It wasn't even a conformation 'body shot'; it was his head. I liked the pedigree, and then the next photo I saw of him was a body shot—and then I really liked him.
"We bred two of our best mares to him. One is Ames Mirage, who has produced Ames Charisma, Sir Marwan CRF, Ames Image and Ames Celebration, and the other one is G Kallora. When I finally saw him in person, they brought him out for Dick and Lara and me, and we just stood there with our mouths open. He is just one beautiful horse! He's big, he's tall, he has a neck that won't quit, he's exotic and he's a nice mover. I truly just like the horse."—Lollie Ames, Cedar Ridge Farm (USA)
| | |
| --- | --- |
| Year Foaled | 2009 |
| Gender | Stallion |
| Color | Bay |
| Breeding | Purebred Arabian |