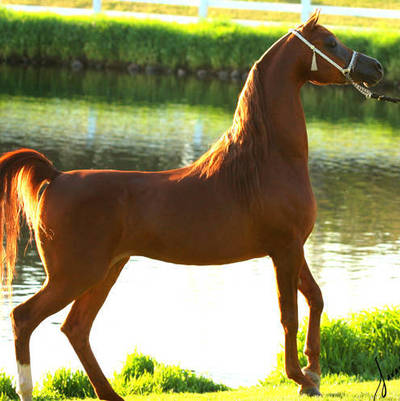 At the heart of humankind's romance with the horse is the image of a glorious Arabian stallion, a creature of indescribable beauty that represents our most deeply cherished freedoms. Magnum Psyche epitomizes this vision. An undeniable gift from God, a paradox in the most elemental sense, Magnum mirrors the love and the liberty, the strength and the gentleness toward which we travel on this road of life.
So what makes Magnum worthy of such high praise?
"First of all," says leading Brazilian breeder, Polé Levy, "it's a rare and wonderful thing to run across a horse of Magnum's stunning beauty and conformational perfection. But when such a horse turns out to be a great sire, invariably stamping his offspring with his own finest qualities ~ well ~ that's just not too far short of a miracle."
And then, of course, there's his virtually unparalleled record… Join us, won't you, for a look at the miracle that IS Magnum.
| | |
| --- | --- |
| Year Foaled | 1995 |
| Gender | Stallion |
| Color | Chestnut |
| Breeding | Purebred Arabian |